[BOOK REVIEW] Pains of life amplified in 'Exit Ghost'
Nearly 30 years ago, Philip Roth began writing the Zuckerman series, now, he kills off its hero, Nathan, after following him through the indignities of old age
It's been almost three decades since Philip Roth published The Ghost Writer, the first of his many novels chronicling the adventures of his best-known alter ego, Nathan Zuckerman. In that book Nathan was a starry-eyed young writer, eager to worship at the altar of high art and convinced that he had found a role model in the reclusive writer Lonoff, who led a quiet existence in the Berkshires, Massachusetts, far from the distractions of the city and far from the literary hubbub.
"Purity. Serenity. Simplicity. Seclusion," young Nathan thinks. "All one's concentration and flamboyance and originality reserved for the grueling, exalted, transcendent calling. I looked around and I thought, 'This is how I will live.'"
In subsequent Zuckerman novels, we learned that Nathan went on to achieve a very un-Lonoff-like fame with a scandalous best seller (not unlike Roth's own Portnoy's Complaint) that cut him off from his family and his past, and forced him to grapple with the unreckoned consequences of his art. We also learned that after a series of tumultuous, passive-aggressive relationships with various women and an assortment of medical and psychological woes, Nathan had finally come to replicate Lonoff's reclusive existence. For over a decade now, he has lived alone in a small house on a dirt road in the Berkshires, seeing few people and hearing little news. His days are spent turning sentences around; his nights are spent reading the great masterworks of literature he discovered as a student many decades ago.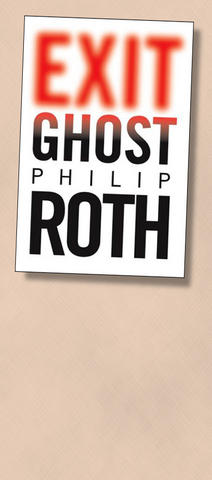 EXIT GHOST By Philip Roth 292 pages Houghton Mifflin Hardcover: US
"I don't want a story any longer," Nathan declared in Roth's 1998 novel, I Married a Communist. "I've had my story."
Now, in Roth's elegiac new novel, Exit Ghost - a kind of valedictory bookend to The Ghost Writer - Nathan returns to New York to visit a doctor, and finds himself being tempted, against his better judgment, back into the maelstrom of life. He agrees to swap homes for a year with two young writers, Jamie and her husband, Billy, who live in a small Upper West Side apartment. And he finds himself suddenly smitten with Jamie and hoping, against all odds, that this vibrant, 30-year-old, happily married woman will leave her husband for him - a famously self-absorbed 71-year-old writer, who, after prostate surgery, is both impotent and incontinent.
He also re-encounters Amy Bellette, Lonoff's former mistress, only to discover that the beautiful young woman he glimpsed in The Ghost Writer is now an invalid recovering from brain surgery.
From these bare bones of a plot, Roth has created a melancholy, if occasionally funny, meditation on aging, mortality, loneliness and the losses that come with the passage of time - very much the same themes he examined in his sketchy 2006 novel, Everyman, and his equally slight 2001 novel, The Dying Animal.
Compared with Roth's big postwar trilogy (American Pastoral, I Married a Communist and The Human Stain), which unfolded into a bold chronicle of American innocence and disillusionment, this volume is definitely a modest undertaking, but it has a sense of heartfelt emotion lacking in Everyman and Dying Animal, and for fans of the Zuckerman books, it provides a poignant coda to Nathan's story, putting a punctuation point to his journey from youthful idealism and passion through midlife confusion and angst toward elderly renunciation.
Although Nathan thinks he's embraced the ascetic life - "by paring and paring and paring away," he says, "I found in my solitude a species of freedom that was to my liking much of the time" - he's been living in a monkish bubble that's cut him off from ordinary human commerce and connection. He often goes days at a time without speaking to anyone, save his housekeeper or caretaker. He doesn't watch movies or television, doesn't own a cell phone, a VCR, a DVD player or a computer. He continues "to live in the Age of the Typewriter," claiming he doesn't know what the World Wide Web is and no longer bothers to vote.
"I had banished my country," he says, "been myself banished from erotic contact with women, and was lost through battle fatigue to the world of love."
Attracted to Jamie and shocked at what has happened to Amy Bellette in the years since he last saw her, Nathan finds himself grappling with feelings he'd thought he'd stifled many years ago and experiencing "the bitter helplessness of a taunted old man dying to be whole again." The two women's stories converge in the person of Richard Kliman, Jamie's former boyfriend, who now happens to be working on a biography of E.I. Lonoff that Amy wants to prevent.
Kliman is another one of those annoying and importunate characters - like Alvin Pepler in Zuckerman Unbound and Moishe Pipik in Operation Shylock - who pester Roth's heroes, and Nathan regards him as everything he detests: an unworthy rival for Jamie's affections and an ambitious literary parasite out to topple Lonoff from his pedestal (by revealing an incestuous affair this great writer purportedly had when he was young).
Kliman also represents youth to Nathan's decrepitude: While Kliman is one of the "not-yets" with "no idea how quickly things turn out another way," Nathan belongs to the group of "no-longers," "losing faculties, losing control, shamefully dispossessed from themselves, marked by deprivation and experiencing the organic rebellion staged by the body against the elderly."
It's unclear just how much of Kliman's agenda is imagined by Nathan, who after all once endowed Amy Bellette with the legendary biography of Anne Frank, and who's begun turning all his conversations with Jamie into an imaginary dialogue between an imaginary "He" and "She" - a dialogue that "was an aid to nothing, alleviated nothing, achieved nothing" and yet "seemed terribly necessary to write."
This, of course, is Nathan's habit - continually to complicate his life on paper, while continually complaining about readers who would confuse fact and fiction, life and art.
As usual, Nathan, like his creator, anticipates the reader's question: "But isn't one's pain quotient shocking enough without fictional amplification, without giving things an intensity that is ephemeral in life and sometimes even unseen?"
His answer: "Not for some. For some very, very few that amplification, evolving uncertainly out of nothing, constitutes their only assurance, and the unlived, the surmise, fully drawn in print on paper, is the life whose meaning comes to matter most."
Comments will be moderated. Keep comments relevant to the article. Remarks containing abusive and obscene language, personal attacks of any kind or promotion will be removed and the user banned. Final decision will be at the discretion of the Taipei Times.