Herman the German paints icons for peace
A modern-day icon maker, Herman the German has arrived in Taipei with a small show that he hopes will lead to bigger things
He goes by only one name, Herman, and the images he makes have become recognized around the world, in all sorts of places, ranging from club logos to monumental icons. He is in Taiwan to launch a small show at the German Cultural Center here in Taipei. This is Herman's first visit to Taipei, and in his optimistic way, he is sure that from small things, great things will grow.
His paintings have a rough, simplistic look, but are full of verbal and pictorial humor. A professional cartoonist, Herman gave up his battle against the big cartoon syndicates, and decided to adopt a style of drawing that would differentiate him from the smooth, fluid lines of comic strips such as Garfield and Alfie.
His images are now notable for their jagged lines, which make them distinctive, as does the direct, innocent humor. It is this innocence and simplicity that is behind their appeal to a wide audience all over the world.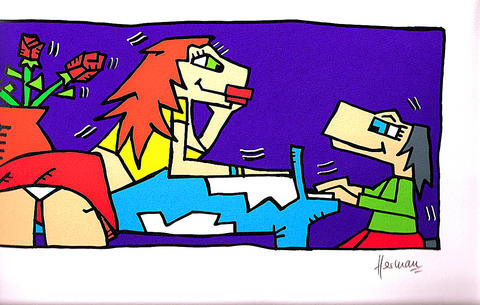 Herman the German and several of his new paintings, which he says launch a new style in his work.
PHOTO: IAN BARTHOLOMEW, TAIPEI TIMES AND COURTESY OF HERMAN
"Lots of artists have tried to imitate me, but it doesn't work," Herman said in an interview with the Taipei Times last Tuesday. "When I paint a picture, it is like I write the words ... for me, when I paint, it is like writing. All that I put inside the picture comes out if you like it and look at it. This is perhaps the reason for its success. They don't see the edgy (jagged lines), but they see the round meanings behind them."
Herman's work, often initiated on a monumental scale, is then reproduced in limited-edition prints. These are the tools with which he conducts his charity work, auctioning them at various events where they often fetch high prices.
His painting Angel, stands 50m high, and at its base there is a button with a counter attached. "[People] can press the button and can be counted as someone who wishes for peace. If lots of people push the button, there is the addition of many people looking for peace, and the wishes come up to the universe, and then float back down into the world. I would like to make a network with this angel and the counter, ... but you need sponsors, for it is a lot of work." A limited edition of an A4 silk-screen print signed by the artist fetches around US$112.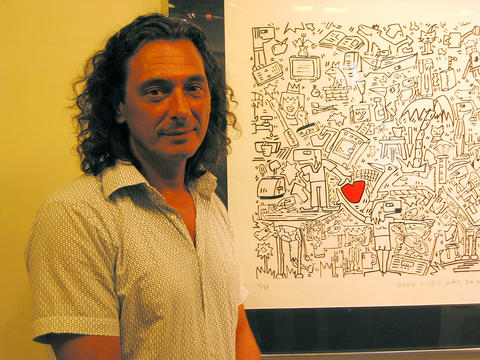 Herman is unabashed at his commercial success. "In Germany, to go the museum way, you must be quiet and shy and paint two pictures a year. But there is only a small community who likes it. When many people like my work, I am commercial: I don't understand this." He talks about merchandising his images in ways that would make the quiet, shy, two-pictures-a-year artist blush, but Herman responds that "I do not make some nobody-understanding pictures ... . I catch some of people's smallest wishes, what everybody wants. It is not a marketing strategy. I do not think in marketing terms. At first, I paint a picture because inside there is something that has to come out, but after that, it is not for me, this picture. It is for anybody. Or everybody."
Herman's language of colors and lines translates all around the world. "It allows me to work with children or adults from all around the world, for I show them the picture and they know what I mean." Some of the jokes in the current exhibition, based on word games in the title, might require an understanding of German, but even in these the humor is simple and direct, once the joke is explained, and it is easy to see how the artist's mind works at capturing people's "smallest wishes" for such things as peace, or the enjoyment of the simple pleasures of life.
These tiny vignettes which zoom in on a single idea, with all the external detail ruthlessly cut away, is what makes Herman such an adept maker of icons.
Publication Notes
Exhibition notes
What: Herman the German - First Time Crazy About Taiwan
Where: German Cultural Center located at 12F, 20, Heping W Rd Sec 1, Taipei (台北市和平西路一段20號12樓)
When: Monday to Friday, 10am to 8pm
Until: Oct. 26
Comments will be moderated. Keep comments relevant to the article. Remarks containing abusive and obscene language, personal attacks of any kind or promotion will be removed and the user banned. Final decision will be at the discretion of the Taipei Times.