Political cinema prevails at Venice
A US film tackling the war in Iraq and a movie about migrant workers in the UK picked up key awards this weekend at the world's oldest film festival
Taiwanese director Ang Lee (李安) on Saturday picked up his second Venice Film Festival Golden Lion for best picture for his new erotic spy thriller Lust, Caution (色·戒).
Lee, who won the Golden Lion and an Oscar for his groundbreaking 2005 gay cowboy movie Brokeback Mountain, dedicated his win to Swedish film legend Ingmar Bergman who died this year.
Australia's Cate Blanchett and US star Brad Pitt won the awards for best actress and actor while veteran US director Brian De Palma won a special Silver Lion award for his hard-hitting Iraq war film Redacted.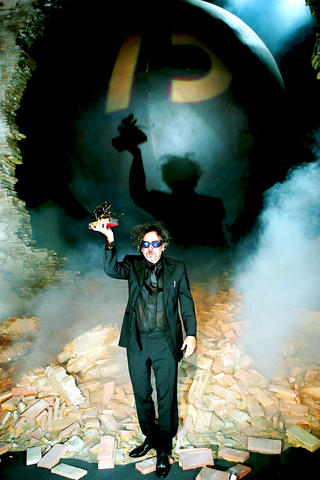 PHOTO: EPA
The best screenplay prize went to British director Ken Loach for his depiction of exploited immigrants in London in It's a Free World.
Lee said he was accepting the prize "in the shadow of the passing of two great giants, Michaelangelo Antonioni and Ingmar Bergman, I realize how huge this festival has become."
He dedicated the award to Bergman, whom he saw while working on Lust, Caution." Bergman died on July 30, and Antonioni of Italy one day later.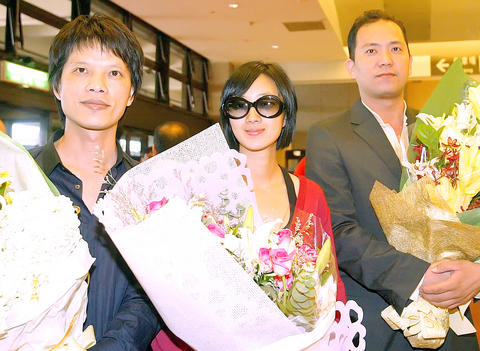 Taiwanese director Lin Jing-jie, left, actress Guey Lun-mei, center, and actor Chia Hsiao-kuo at Taiwan Taoyuan International Airport. The three returned to Taiwan yesterday after winning the International Critics' Week Award for their movie The Most Distant Course.
PHOTO: TAIPEI TIMES
"Ingmar hugged me the way a mother hugs a child," Lee said, adding: "This hug was not for me, it was for you, the keepers of cinema."
The movie, called Se, Ji in Mandarin, is a tense drama set in Japanese-occupied Shanghai in the 1940s.
Novice actress Tang Wei (湯唯) plays a resistance spy who slowly lets her target, a powerful political figure played by Tony Leung (梁朝偉), take over her heart.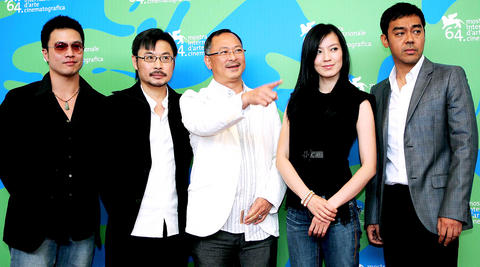 Chinese actors Lau Ching Wan, right, Kelly Lin, second from right, and Andy On, left, pose with film directors Johnnie To, center, and Wai Ka Fai, second from left, during the presentation of Shentan (Mad Detective).
PHOTO: EPA
Lust, Caution, Lee said, "has taken me to some very difficult places. I have invited you to come along with me and in the end to stay down there with me."
Also honored was Taiwanese director Lin Jing-jie (林靖傑) whose The Most Distant Course (最遙遠的距離) won the International Critics' Week Award.
De Palma's Redacted, a dramatization of the rape and murder of an Iraqi girl by US soldiers, was honored on Friday with the Future Film Festival Digital Award, for the best use of animation or visual effects.
De Palma, who is best known for the psychic thriller Carrie and the gangster movie Scarface (1983), turns 67 tomorrow.
Redacted, which is based on the actual March, 2006 rape and murder of a 14-year-old schoolgirl by US soldiers who also slaughtered her family, is a reaction to what De Palma sees as sanitized media accounts of the Iraq war presented in the US.
In 1989, De Palma made 1989 Casualties of War about the gang rape and murder of a young girl in the Vietnam War.
Blanchett played one of seven characters representing different phases of Bob Dylan's life in the kaleidoscopic biopic by Todd Haynes, I'm Not There. She was not present to accept the best actress award.
"I'm sorry I can't stand here throwing my arms around Todd, weeping just like a woman," she said in a statement read out at the ceremony.
The movie also won one of two special jury awards bestowed by the all-director jury led by Zhang Yimou (張藝謀) of China.
Nor was Pitt on hand to accept his best actor award for The Assassination of Jesse James by the Coward Harold Ford.
The two-and-a-half-hour saga directed by Andrew Dominik explores the complex relationship between the outlaw and his admirer turned traitor.
The jury bestowed a special 75th anniversary Golden Lion on legendary Italian director Bernardo Bertolucci, 67, who was given a standing ovation lasting more than 10 minutes.
A second special award went to Franco-Tunisian director Abdellatif Kechiche for La Graine et Le Mulet (The Secret of the Grain), a saga about a Tunisian immigrant family in France that also picked up an award for Best Young Actress, Hafsia Herzi.
Russian director Nikita Mikhalkov won a special Lion for the "consistent brilliance" of his work, which reflects "great humanity and emotion and the complexity of existence."
Mikhalkov, 62, presented 12 at this year's festival, a rowdy courtroom drama about a Russian jury asked to convict a Chechen youth for the murder of his stepfather.
In accepting the best screenplay award, Loach paid tribute to his cast, which starred upcoming UK actress Kierston Wareing as a gritty single mother and entrepreneur.
"Of course a screenplay means absolutely nothing if you look into an actor's eyes and don't believe them," he said.
Publication Notes
Following are the main prizes awarded Saturday at the Venice film festival:
Golden Lion for Best Film: Lust, Caution by Taiwanese director Ang Lee
Best Actor: American Brad Pitt for his role in The Assassination of Jesse James by the Coward Robert Ford
Best Actress: Australia's Cate Blanchett for her role in I'm Not There
Silver Lion for Best Director: American Brian De Palma for Redacted
Special Jury Prize: Franco-Tunisian director Abdellatif Kechiche for The Secret of the Grain and US director Todd Haynes for I'm Not There(AFP)
AFP
Comments will be moderated. Keep comments relevant to the article. Remarks containing abusive and obscene language, personal attacks of any kind or promotion will be removed and the user banned. Final decision will be at the discretion of the Taipei Times.