Planet Pop
Kiss lead singer and guitarist Paul Stanley had to bow out of a Southern California concert because of heart problems before the show, according to his Web site.
Bandmates Gene Simmons, Tommy Thayer and Eric Singer played the Friday night gig at Soboba Casino, about 145km east of Los Angeles, as Stanley was taken to the hospital.
"During sound check yesterday, my heart spontaneously jumped to 190 plus beats per minute where it stayed for over an hour necessitating paramedics to start an IV and give me a shot to momentarily stop my heart and get it into a normal pattern,'' Stanley said in the Saturday Web site posting.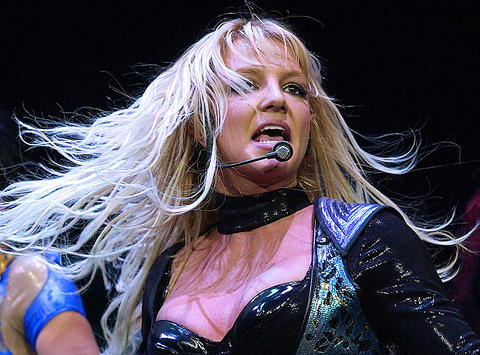 Britney Spears' fall from grace gathered pace last week.
PHOTO: AP
"Not knowing if this episode was life threatening made it even more exhausting,'' the statement continued.
First there was the Rat Pack, then the Brat Pack, but now, it seems male stars' monopoly on behaving badly in Hollywood is at an end.
Celebrity socialite Nicole Richie pleaded guilty on Friday to driving under the influence of drugs and was sentenced to four days in jail, a month after TV co-star Paris Hilton completed a three-week stint behind bars. Richie, 25, the waif-like daughter of singer Lionel Richie who co-stars with Hilton on the reality series The Simple Life, was ordered to serve her time by Sept. 28, but it was not immediately clear when or where she would be incarcerated.
A new audio tape and other details from Lindsay Lohan's car chase and arrest last week reveal a woman pleading for help and witnesses saying the actress believed she was immune from punishment. On the tape of a call to an emergency 911 line, which became public late on Thursday, the woman being chased by Lohan - who police said was the mother of her personal assistant - describes what happened.
Lindsay wasn't the only Lohan to have a brush with the law last week. A judge on Friday chided Michael Lohan for his failure to make any child support payments to Lindsay's younger brother and sister since his release from prison earlier this year.
"The obligation to pay child support is absolute. ... It is not to be taken willy-nilly,'' state Supreme Court Justice Robert A. Ross told Lohan in a packed Long Island courtroom.
The court appearance by Lohan and his estranged wife Dina - who have been separated since 2005 - attracted a brigade of photographers, reporters and camera crews eager for any snippet of Lohan news following the arrest earlier this week of their daughter in California.
"She's in a safe place and she's doing well,'' Dina Lohan said of Lindsay outside the courthouse; she did not speak in the courtroom.
The actress, who grew up in Merrick, New York, and her plight were never mentioned in the courtroom on Friday.
Since his release from state prison in March after serving more than 20 months for attempted assault and other charges, Lohan said he has lived and worked at a rehabilitation center called Teen Challenge, but receives no salary that could be used to pay child support to his two youngest children.
An exasperated judge imposed a US$500-a-week child support order and instructed Lohan to provide proof that he is seeking employment by the next court date on Aug. 10.
Not to be outdone in column inches, Britney Spears sat back and watched as her Yorkshire terrier puppy defecated on a US$6,700 designer gown at a photo shoot for OK! magazine.
"I wasn't in the room but I was there to hear the upset shrieks of the stylist," editor in chief, Sarah Ivens, said Wednesday. "Her assistant dealt with it in the end, after being asked to take care of it. They had to be asked to clear it up."
Spears also wiped grease on a designer dress, treating it like "a napkin," took frequent trips to the bathroom - leaving the door open - and complained that the high-end clothing put together for the July 19 fashion shoot was not sexy, short or tight enough, the magazine said.
After about three hours, the 25-year-old singer bolted, walking away with more than US$14,000 of borrowed apparel, Ivens said.
"I've never seen anything like it," she said. "It's definitely the most bizarre shoot I've ever been on." Representatives for Spears had offered an exclusive interview that was intended as career comeback for the singer, Ivens said.
"What actually transpired on the day was a shock to us and left me and the whole crew feeling quite shocked and sad, really," she said.
OK! publicist Brian Strong said the magazine did not publish the photos in its latest issue because they "weren't up to standard."
A bodyguard for the pop star was cited by police in Las Vegas on a charge of battery stemming from a scuffle with two photographers who approached Spears, police said Friday. The altercation occurred on Thursday morning at the Wynn Hotel & Casino when one of the photographers reportedly bumped into the bodyguard, Julio Camera, while Camera was holding one of Spears' two sons in his arms.- agencies
Comments will be moderated. Keep comments relevant to the article. Remarks containing abusive and obscene language, personal attacks of any kind or promotion will be removed and the user banned. Final decision will be at the discretion of the Taipei Times.