Hardcover US: 'Peony in love' is weak at the knees
Tragedy stalks Peony, the main character, from cradle to grave and beyond in Lisa See's new novel, which is set in turbulent 17th-century China
Lisa See's Peony in Love is a novel built on research about prettily oppressed 17th-century Chinese women who yearn for literacy and freedom. Her book would sound like pure contemporary contrivance without this factual basis. Plodding on piteously bound feet, it trumpets the superiority of women while dwelling endlessly on things thought to interest them: romance, heartbreak, victimhood, sumptuous domestic detail, eating disorders and even the self-satisfied preciousness of book clubs. All these elements conspire to congratulate the 21st-century female reader simply for showing up.
See, the popular author of Snow Flower and the Secret Fan, uses the Chinese opera The Peony Pavilion (牡丹亭) as a trellis for her clinging vine of a story. Her heroine, Peony, is a sheltered girl with a literal mind. ("I smiled inwardly, knowing that the flower and I shared the same name.") Peony is obsessed with The Peony Pavilion even before her life starts to mimic its plotline.
Peony in Love is not a book to leave such parallels unnoticed. On Page 24, Peony tells the reader that her father has taught her that life imitates art. On Page 28, she talks about the lovesickness of the opera's heroine, Du Liniang (杜麗娘), and asks, "Do you think that could happen in real life?" On Page 30, Peony's mother says to Peony's father: "Are you suggesting our daughter's fate will be like that of Du Liniang?"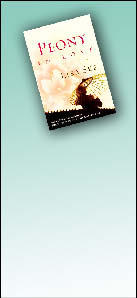 By Lisa See 283 pages Random House
So it comes as no surprise when Peony's fate turns out to be like that of Du, who sustains her love for a poet named Liu Mengmei (柳夢梅) even when she is a ghost. To expedite this parallel Peony must meet a poet of her own. She does this at the very moment when The Peony Pavilion is being staged at her family's compound. Her mystery man's amorous question ("Are you betrothed?") coincides exactly with the opera's lyrics. It should be noted that Peony's Mr Right also delivers the ultimate Chinese come-on for a man of his time (which is just after the fall of the Ming Dynasty): "If you were my wife I would never have need of concubines."
Sadly, a girl like Peony is a prisoner to her fate. It cannot be changed. "I didn't understand that my cousins and I were trapped like good-luck crickets in bamboo-and-lacquer cages," she says. Little does she know (a phrase often handy in discussing the plot coincidences of the novel) that Wu Ren, the man with whom she is smitten, is actually the man to whom her family has promised her. But by the time this dawns on Peony, she has starved herself to death.
The character of Wu Ren is based on a real figure, a man whose spouses all contributed to a book called "Wu Wushan's Three Wives' Collaborative Commentary of the Peony Pavilion." But the ease with which See's story prompts interest in such source material does not bear much other fruit (this book loves fruit metaphors) for her readers. Although Peony is said, mostly by herself, to write beautifully ("My words floated out one by one, like peach flowers flowing on a grotto stream"), her eloquence is overrated. More often her story is one of repetitive misery and exhausting ritual, even after she roams through the lives of her loved ones as a hungry ghost.
See's research into the Chinese rules of virtue (there are Four Virtues, one of which is "virtue"), marriage ("Every marriage
encompasses six emotions"), heartbreak ("Just remember that jealousy is one of the seven reasons for divorce") and mourning (Peony's family posts 16 white streamers and hires monks to chant for her every seventh day) gives the book a museum-quality exoticism. So do the settings (Peony's family has an Always-Pleasant Pavilion, a Lotus-Blooming Hall and a Riding the Wind Pavilion, the last good for dangerous liaisons), which foster the atmosphere of a literary travelogue.
But Peony herself is less alluring. Despite the book's overripe use of flowery touches, she lacks color and variety. She suffers. She schemes. She is frequently surprised, hurt, devastated and shocked by cruel twists of fate. And the preaching never stops. When she meets her grandmother in the afterlife, the book delivers one more screed on the vast superiority of loving, artful, creative women to selfish and oppressive men.
Peony in Love provides sufficient background about the Cataclysm, the Manchu overthrow of the Ming regime beginning in 1644, to put the men's fearfulness in some kind of context. And as she did in Snow Flower and the Secret Fan, See dwells on the kinks provided by the binding of women's feet for reasons of eroticism, caste and subjugation. But this novel is more commonplace than its preoccupations with history, ritual and the afterworld would suggest. It relies heavily on its heroine's one-note scholarship and false naivete, neither of which is a source of drama or inspiration.
For all its attention to formal rules, Peony in Love becomes puzzlingly inconsistent once it wafts Peony out of her earthly body. She becomes a vapor, but she is still able to hug, speak, think about her clothes and drip tears on her tunic. She watches her family from a balustrade above them, but she can also invade the body of a woman to put thoughts in her mind or unite sperm and egg in her womb. And she is not beyond carnal pleasures, even to the point of participating in Wu Ren's wedding nights.
One timeless quality common to all the book's realms: ambition. "Isn't it a miracle?" Peony exclaims, when at long last the trio of wives finds a publisher. "We're all going to be remembered and honored." Despite the tragedy that stalks this 17th-century martyr from the cradle to beyond the grave, See finds a very modern way to make her live happily ever after.
Comments will be moderated. Keep comments relevant to the article. Remarks containing abusive and obscene language, personal attacks of any kind or promotion will be removed and the user banned. Final decision will be at the discretion of the Taipei Times.