Hardcover US: Richard Nixon's unnecessary lies
British broadcaster David Frost interviewed the former US president four years after he fell on his own sword. The results are only now appearing in print
Richard Nixon stalks through the 20th century like the bizarro Lincoln - instead of the "better angels of our nature," Nixon invariably invoked the worst. In so many ways, he defines and anticipates our present political stew, especially in regard to his prophetic utterance, "If the president does it, that means it's not illegal."
So much for a government of laws.
Yet, nobody ever called Nixon stupid. Paranoid, alcoholic, bitter, anti-Semitic, misanthropic, self-destructive, but never stupid. Except when it came to Watergate.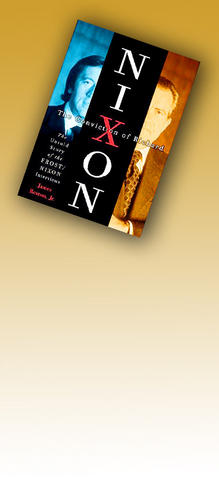 By James Reston Jr 207 pages Harmony
Four years after his resignation, it was time for Nixon's first try at reconstituting his disastrous identity as the only president to resign his office into that of statesman. Nixon needed the money - more than a million US dollars; David Frost needed the gravitas and the respect. And the two men sat down for a marathon series of interviews.
On the one hand, Nixon wanted to shift the focus from Watergate; on the other, Frost wanted Nixon to admit culpability. Ultimately, the interviews came down to whether Nixon could admit guilt, express contrition and apologize, overcoming his pride and essentially deceitful nature.
James Reston Jr was one of two full-time researchers hired by David Frost to prepare questions for the 24 hours of interviews that were edited down to six hours. This manuscript was written soon after the events it describes - Reston doesn't tell us why he waited 30 years to publish - and playwright Peter Morgan had access to it for his recent play Frost/Nixon.
Reston was a flaming liberal who would have loved to have seen Nixon hanging from a yardarm; Bob Zelnick, at the time a lawyer and later a correspondent for ABC News, was the other researcher, and far more conservative. It was Reston who discovered some transcripts of conversations that Nixon had with Charles Colson that proved Nixon was far more culpable in regard to Watergate far earlier than he had ever let on, and it was those transcripts, which nobody else seemed to be aware of, that provided most of the drama of the Frost/Nixon interviews.
Reston's portrayal of Frost is largely of an overbooked coaster, who sails through most of the interviews, preferring to spend time wining and dining in Hollywood than prepping. Mostly, the interviews fell into a pattern: a general question from Frost; a categorical denial of any wrongdoing from Nixon; another question from Frost with factual evidence showing the denial had no basis in reality.
This pattern became a necessity, because Nixon's capacity for self-justification was astonishing; one answer went on for 23 minutes. "Nixon's anecdotes became Nixon's filibusters, and they often bore no relevance to the questions," writes Reston. As a lawyer himself, skilled in diversionary tactics, Nixon liked to introduce extraneous issues into his responses that clouded the actual question.
Bob Zelnick was furious at Frost. "You sound like two old chums, sitting around a pork barrel, talking about a bowling game, rather than about the incredible divisiveness that Nixon himself deliberately caused."
But Frost buckles down for the Watergate section, in the knowledge that his credibility will stand or fall on that. "If Nixon's guilt and his authoritarian impulses were not clearly demonstrated," Reston writes, "Frost would take an equivalent position in the history of television to that of Nixon in the history of politics."
The staff consulted with the columnist Joseph Kraft, who told them that Nixon's answers had to be kept to roughly the length of a paragraph; at the end of that paragraph, Frost had to jump in with another question, otherwise Nixon would obfuscate and the thread would be lost. Above all, generalizations could not be swapped; questions had to be linked. It was this technique that led to Nixon's bitter admission: "I gave them a sword."
Nixon's uneasiness in his own skin manifested itself in various small ways during the tapings. One Monday morning, he inquired about Frost's weekend activities: "Did you fornicate?" The question was so stunningly out of any context, not to mention ill-phrased, that nobody could remember Frost's response, including Frost. Reston's own contact with Nixon was limited, but Reston did observe that the waves outside the house where they were taping were excellent and he was going to take a break and go surfing.
This interested Nixon. "We have the best surfing beach on this whole coastline off the (San Clemente) complex," he said. "You ought to come down and surf there, and afterward you can come and use our showers."
The Conviction of Richard Nixon is not overwhelmingly well-written, and Reston has an irritating tic of referring to Nixon as "Proteus," for his shape-shifting nature. He also has a weakness for cliches, but he does offer some penetrating insights. Nixon's self-destructive core meant he had to make "an ideology out of crisis," and there is much here about what the historian Fawn Brodie called "Nixon's unnecessary lies" - lies told, not for rational reasons like political survival or advantage, but for emotional justification or self-aggrandizement, or just for the hell of it.
The book's problems are less important than its undoubted historical value. It's one more volume for historians' groaning bookshelves on the subject of Nixon - a destructive personality who was somehow elected twice.
Comments will be moderated. Keep comments relevant to the article. Remarks containing abusive and obscene language, personal attacks of any kind or promotion will be removed and the user banned. Final decision will be at the discretion of the Taipei Times.