The best things in Tokyo are hard to find
Tokyo's trendiest clubs do not keep people out with bouncers and velvet rope, they simply make sure they can't be found
It was the middle of the night as a Japanese skateboarder and concert promoter named Chris led me through Tokyo's Shibuya district — a sort of futuristic Times Square — with its hyper-commercial vertical sprawl of glass office towers and flashing neon billboards advertising the latest cell phones and pop stars. We threaded past the sleeping shopping malls and shiny multiplexes, down a series of winding streets and through a stone pedestrian tunnel, until we emerged beneath raised train tracks.
In what seemed like a prewar red-light district, dozens of pocket-size bars are tucked in a long, ramshackle shed pieced together shanty-style with slabs of corrugated metal, mismatched wooden boards and battered shoji rice screens mended with newspapers and ragged cloth.
We trolled up and down until Chris found a particular dusty glass window. He looked through a peephole, but rather than going through the front door, we ducked down a small side alley where an older woman, presumably the owner, greeted Chris by name and bowed. After trading our sneakers and stiletto boots for Japanese house slippers, we slipped inside the club, Shisui.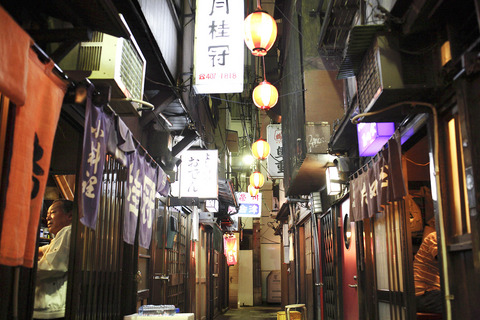 Bars along Nonbeiyokocho, or Drunkard's Alley, in the Shibuya district
PHOTOS: NY TIMES NEWS SERVICE
It was a cramped space, with a few older men sitting at a thatched bamboo bar. The hostess pointed to a ladder and up we climbed into an even smaller room, furnished with nothing but a straw mat, a few cushions and a low table. A kimono clown doll and a dusty wooden guitar hung on the wall – boho signs, Chris pointed out, of the Ben Harper-listening, yoga-taking skater set who have adopted this as their unofficial, VIP-only clubhouse that fits about four. A very elite club by the size of things.
Such hidden nightspots have become all the rage among a certain Tokyo set — weaned on anime and text messaging — that has graduated from dancing under the strobe lights at big Western-style nightclubs. Infused with a knowing, postmodern nostalgia for pre-Sony Tokyo, these hard-to-find hangouts feel as intimate as living rooms and are often just as small. They are not advertised on party fliers or virally hyped on Mixi — Japan's answer to MySpace — but, oddly enough for a society intravenously hooked up to high-speed gadgetry, traded solely by word of mouth.
Tokyo, especially after dark, is notoriously hard to penetrate. With its winding mazelike streets, the city is a challenge for even seasoned taxi drivers. (Many bicyclists have GPS devices on their handlebars.) So imagine hunting down the restaurants, bars and clubs stashed away in patchwork alleys, nondescript apartment buildings, faceless office towers and basement stairwells illuminated by red bulbs.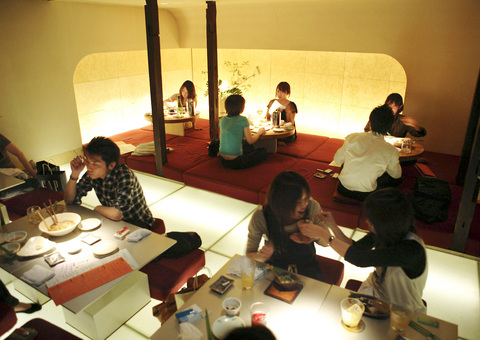 Diners at Cha Cha Hana
Discreet, out-of-the-way bars have been a staple of Japanese culture for decades. Before World War II, Tokyo was filled with these pocket-sized dives called nomiya (counter bars) with space for just six or seven stools. Behind the counter was a proprietor whose role was confidant and caregiver to the regulars. When the city was rebuilt, most were bulldozed in favor of larger, glossier, more Westernized offerings.
Now a younger, postwar creative class is reviving nomiya culture — with a decidedly modern spin.
"I don't go out that often, but when I do, I like to go to these little secret places," said the contemporary artist Takashi Murakami, tinkering with a trademark anime sculpture. "There is something very familiar and personal about them that I find comforting. They may have a modern design, but the feeling is more like traditional Japan."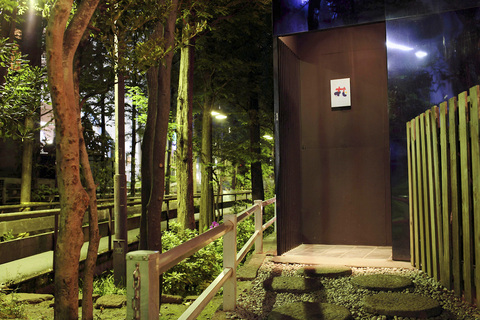 The entrance to Cha Cha Hana, a restaurant, in Shinjyuku
For those looking to trade their track suits for a kimono, the retro-chic is partly a reaction to Tokyo's bloated cosmopolitan nightlife, which continues to be dominated by huge dance clubs with aspirational American names like Harlem, Air and Unit.
A sip of history
One of the more popular these days is Womb in Shibuya, which draws thousands on Friday nights dressed in almost identical T-shirts and limited-edition sneakers, dancing to techno under blue lights, a giant disco ball and the ubiquitous chill-out lounge with white vinyl banquettes.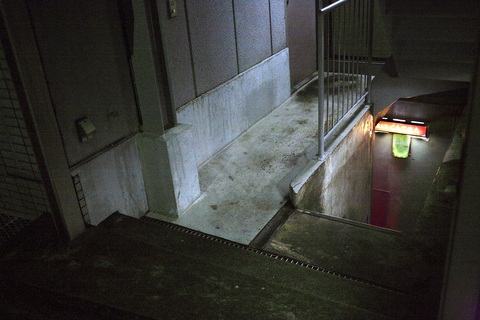 The entrance to Casba, a basement lounge favored by the fashion crowd; The scene at Casba
Hidden bars, by contrast, are as Japanese as geishas and toro. Some are the unadulterated originals, built as brothels before the war and somehow overlooked by bulldozing developers.
The largest remaining tract is Golden Gai, a ghetto of vintage bars on a bamboo-lined backstreet in the Shinjuku district that is clogged with so-called hostess bars. In the 1960s and 1970s, when prostitution moved elsewhere, the Golden Gai became a refuge for boozy intellectuals, including the writers Yukio Mishima and Akiyuki Nosaka. (It is also where Wim Wenders filmed scenes for his 1985 documentary, Tokyo-Ga.)
On a Tuesday evening last January, the narrow alleys of Golden Gai exuded a seedy air, lined with a few rusty chairs and mops leaning against walls. A bar, Flapper, retained its forlorn plastic sign, a cartoonish silhouette of an hourglass-shaped temptress, with red letters rendered in a pre-computer font. Through a crack in the door, I spied a rumpled, bleary-eyed bartender holding court with a group of young men in crisp jeans and expensive sweatshirts.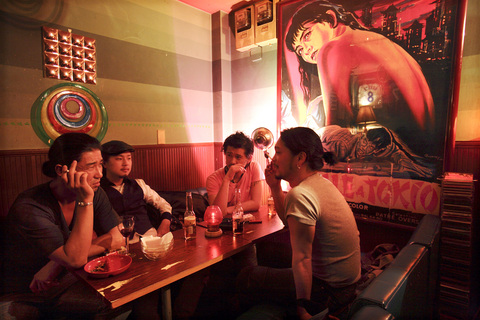 The scene at Casba
I was with Travis Klose and Masa Sakamaki, filmmakers who made a documentary on the bondage photographer Nobuyoshi Araki. Their friends wanted to go across town, to a harder-to-find, and therefore more exclusive, bar in the residential Koenji district.
It was 2 am when the taxi let us out at a vegetable market. Metal grates were pulled down, the aisles were empty and bits of lettuce were strewn on the concrete. We pushed aside a quilt-like curtain and stepped into Oiwa (Big Rock), a tiny sepia-toned room with jugs of amber liquor that looked like Asian moonshine, a few Polaroids tacked to the wall and wooden sculptures carved by the owner. The wallpaper was so shoddily applied it sagged like old canvas.
Klose and his entourage slouched on the five stools. Without even asking, the owner fired up a two-burner hot plate and whipped up buckwheat soba noodles and omelets. When two new people crammed in, the conversation flowed like an intimate dinner party — a rarity in a society that frowns on small talk among strangers.
"There's a new focus on traditional culture developing among my Japanese friends," Klose said. "They are starting to wear kimonos and reject the Western ideology pushed on them by their parents' generation. I think it's the new punk."
Sampling Japanese tradition as a way of subverting stereotypes is also a theme in contemporary art. At the Mizuma Art Gallery in Meguro and at the Mori Art Museum, emerging artists like Hisashi Tenmyouya, Makoto Aida and Fuyuko Matsui are using Nihonga — a traditional painting style that uses mineral pigments and charcoal — in a way that imbues their drawings of flowers, birds and mountains with social awareness.
Flowers and birds are not exactly common in modern Tokyo, a city of impersonal glass towers and seedy boulevards.
The closest thing to a mountain may be Roppongi Hills, a sprawling four-year-old complex with cinemas, apartment towers and the Mori museum centered around the 54-story Mori Tower, neatly mapped out in an air-conditioned and artificially illuminated grid marked with a giant M that looks like the ruling empire out of a science fiction movie.
The gritty and low-tech aesthetic of hidden bars, by contrast, feels positively homey — even when the nomiya has been tricked out beyond recognition.
After our impromptu late-night snack at Oiwa, we headed down the alley to Piano Bar, hidden behind an ornate wooden door. A couple of years ago, several young upstarts took over the shoebox-size space and remodeled it in King Arthur style. Crystal chandeliers were hung from the ceiling, a faux fireplace mantel installed and the walls covered in red velvet and gold frames.
The right groove
Despite the tight fit, the three Japanese men with Beatles Liverpool-era haircuts sitting on the velvet cushioned stools invited us to join them and the drinks began to flow.
This hidden-bar craze may have its roots in retail. More than a decade ago, a street wear label, A Bathing Ape, opened an unmarked shop in a deserted part of Tokyo. It became an instant hit in the fad-obsessed, brand-saturated city. Copycats sprouted.
"Everyone knows that the best stuff in Tokyo is in a small room on a little side street," said Nicole Fall, a trend spotter who recently started a concierge service, Bespoke Tokyo, that helps tourists find the city's secret treasures. "Not Found," an appointment-only clothing boutique that opened last winter, is among the latest. Wander down a main thoroughfare in Azabu Juban near Roppongi and you might stumble across it. From the sidewalk, it looks like another concrete office building with a sign-less door. The rail-thin space, which carries only a few articles of precious clothing hanging behind thick-glass displays, was opened by the 33-year-old founder of a tech company as a sort of luxe closet for his closest friends.
"Imagine trying to find the words 'Not Found' on Google," Fall said. "There's about a million entries. It's brilliant camouflage. Japanese are hobbyists and obsessives. They'll trek to a little town so they can eat a certain type of asparagus or mushroom that's only available a few days out of the year because that's when it's in season."
Hidden bars, of course, tap into the same desire to be in the know. They are as exclusive as a limited-edition sneaker, and addresses are guarded by their patrons like PIN numbers.
That might explain the white-hot popularity of Casba, a groovy haunt in Shibuya that draws fashion elites like the Rei Kawakubo and Marc Jacobs. From the sidewalk, it is virtually undetectable; the only clue is a little sign at the bottom of a dark stairwell.
But at about 3am on a winter night, a stream of taxis began pulling up. Inside, the scene resembled a fashion photo shoot, with Japanese surfers mingling with beau monde types in what looked like a 1970s California living room with turquoise banquettes and shag pillows.
Reiko, the owner, flitted about in a leopard-print mini-dress and pink tights, greeting guests with hugs and gossip. To be accepted into this clique, one must befriend Reiko. Her approval, it turns out, is granted if she shows you her Polaroids or, better yet, takes one of you.
Mark Dytham, a British architect who is an owner of a gallery-cum-nightclub, Super Deluxe, took me there. The secrecy cultivated by a bar, he explained, serves the same weeding-out function as a velvet rope, but in a Japanese way.
"If you are intruding on a close-knit scene, the proprietor will ignore you and maybe overcharge you," Dytham said. "You won't be asked to leave, but you will want to leave."
We stayed several hours, until Reiko came by with her camera.
Hidden bars have become so pervasive that like all trends, they are beginning to seep into the mainstream. Le Baron, a branch of the celebrity-packed Parisian club, opened near Omotesando Street last December. Marc Newson, the product and furniture designer, is an owner.
It is not easy to find. After wandering down narrow lanes and dead-ending at darkened storefronts, we finally spotted a single neon pink "B" next to an empty parking lot. The doorman nonchalantly directed us to the basement, which looked like a sex club in a Hong Kong action film, with pin-size red lights and sealed Plexiglas stripper booths.
There were model types from Paris grooving on the elevator-size dance floor, a filmmaker from New York, a couple of graphic designers from Seoul and a Mexican fashion designer enthroned on a chocolate leather club sofa who called himself Jesus. Apparently, they were all in on the secret.
Comments will be moderated. Keep comments relevant to the article. Remarks containing abusive and obscene language, personal attacks of any kind or promotion will be removed and the user banned. Final decision will be at the discretion of the Taipei Times.