Atopia: It's more than a feeling
Six local artists are showing their work at the 52nd Venice Biennale
Taiwan is not a utopia, or a dystopia. It's not a place. Diplomatically it has no space. Politically it does not exist. We can't even agree on its name.
Even so, its presence will be felt at the 52nd Venice Biennale in Italy next month, when six artists from the "nation without nationality" will be exhibiting their works.
The theme of the entry is Atopia and refers not only to the political position that Taiwan finds itself in, but also a 21st-century condition that applies to us all.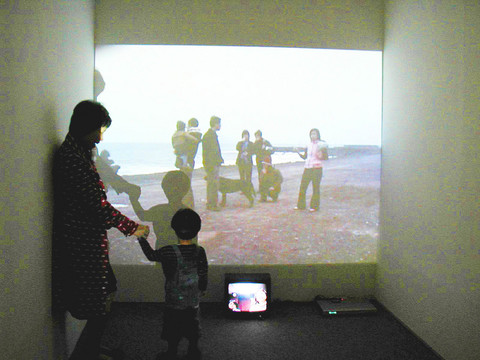 I Go Traveling by Tang Huang-chen
PHOTO: COURTESY OF ARTISTS
"Atopia refers to the situation of post-colonialism we are in. There has not been much time to become a country. Many other places are like this, nations without nationality," curator Hongjohn Lin (林宏璋) said yesterday at a press conference introducing Taiwan's Venice Biennale entry.
"Atopia" features work from the auteur Tsai Ming-liang (蔡明亮), photographer Lee Kuo-min (李國民), video director Tang Huang-chen (湯皇珍), bricoleur Huang Shih-chieh (黃世傑) and comic-book artist VIVA.
The range of artists chosen makes it a colorful as well as a challenging show that peers into the abyss to explore the concept of Taiwanese-ness.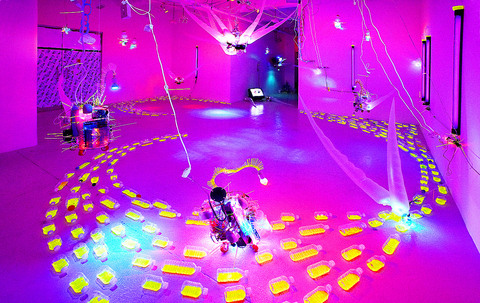 Huang Shih-chieh's interactive installation EX-DD-06
PHOTO: COURTESY OF ARTISTS
Lin has borrowed the term atopia from the German sociologist Helmut Willke, who defines it as a non-place, or society without borders.
Globalization, multinational companies and the Internet are creating a world in which international markets, non-governmental organizations and multi-culturalism erase the relevance of nationhood.
Lin has adapted the term for his own purpose and localized it. The artist, academic and drummer said that Taiwan was an "atopian state par excellence."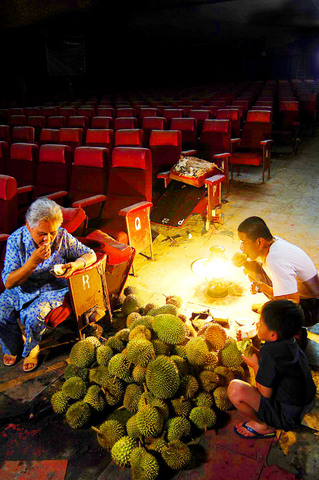 It's a Dream by Tsai Ming-liang.
PHOTO: COURTESY OF ARTISTS
It is not recognized as a state by most countries because of pressure from China, which claims it as its own. Even so, it has its own government and is a powerful economy.
Taiwan's identity is so amorphous it's name keeps changing, Lin said. When it competes in the Olympics it is called Chinese-Taipei. Officially it is the Republic of China, but this technically refers to the state formed in 1912 by Sun Yat-sen (孫逸仙), the "father of modern China."
Putting politics, sociology and names aside, Atopia captures the flavor of Taiwanese contemporary art in all its diversity.
Tsai Ming-liang's film installation Is It a Dream? is said to be "like a sculpture in time" and is set in a fading cinema in Malaysia, which refers to the golden age of flim and its current malaise. There is also a theme of displacement, which ties in with atopia.
Lee Kuo-min is a photographer who has documented disappearing lives, such as Treasure Hill and the Losheng Leprosarium, by taking pictures of people's living accommodation. They are intensely personal but also represent a contemporary reality.
Tang Huang-chen has explored the theme of personal memory in her video; while Huang Shih-chieh's bright technological inventions propose a vision of the future that is both humorous and slightly unsettling.
The comic artist VIVA explores the idea of copying other countries' culture and making it one's own. A series of cartoons (with translations by former Taipei Times reporter David Frazier) are memorable for their glocalized messages.
The Venice Biennale was first held in 1895 and is one of the world's major contemporary art exhibitions.
"Atopia" opens in the Taiwan Pavilion, at the Palazzo delle Prigioni in San Marco, Venice, Italy, from June 10 to Nov. 21. See www.labiennale.org.
Comments will be moderated. Keep comments relevant to the article. Remarks containing abusive and obscene language, personal attacks of any kind or promotion will be removed and the user banned. Final decision will be at the discretion of the Taipei Times.