Alice Waters, organic to the core
Thirty-five years ago in Berkeley, California, Alice Waters set up a ground-breaking restaurant that has since become the template for eco-eateries the world over
I am sitting all of a jitter in Sally Clarke's much-respected restaurant, named after the chef-patron herself, in Kensington Church Street, London, about to meet one of my absolute heroines, Alice Waters. I've got a pot of peppermint tea with lemon verbena (both from Clarke's garden) in front of me in the vague hope that their soothing effect will help with my nerves when the great lady comes in.
Alice Waters started championing organic food some 35 years ago, after she opened her seminal restaurant in Berkeley, California, called Chez Panisse, and over the next 10 years, what it developed into has become the benchmark for eco-eateries all over the world.
Her work was the precursor to everything from the organic movement, to farmers' markets, to foraging and educating children about what they eat. Most of those concepts have only come into public consciousness over here in the past five or 10 years, while Waters was doing it in the 1970s, all on her own, driven by nothing except her own views on what was really important. A true visionary and free-thinker, Waters is in the UK to collect her Lifetime Achievement Award at the prestigious World's 50 Best Restaurants awards.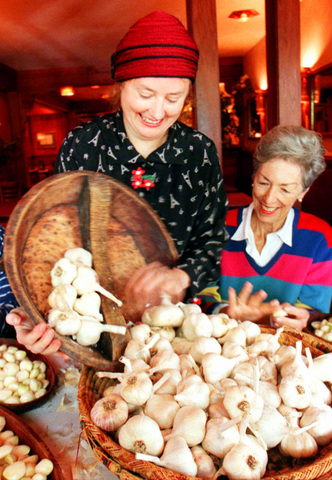 Doris Muscatine, right, watches Alice Waters dump garlic cloves into a basket for the 1997 garlic festival at Chez Panisse in Berkeley, California.
PHOTO: NY TIMES NEWS SERVICE
It was Rose Gray and Ruth Rogers at London's River Cafe who introduced me, through Waters' books, to what this extraordinary woman was doing 9,650km away. And when I bagged a visa to work in America a couple of years later, I headed to California at the first opportunity to check it out. Unfortunately, because of the nature of my visa, I was not allowed a permanent job in the States, but I happily worked at Chez Panisse for free just to watch and learn. And learn I did: I was shown around by the chef Paul — who had a pet project, taking a year to make his own prosciutto in a cupboard under the stairs in the restaurant. I met some of their dairy suppliers — or "co-producers" in Waters' parlance — in Sonoma County, which has a strong tradition of cheesemaking. And I learned about really great pizza. The atmosphere in the kitchen was a revelation for me too, having come via the hustle and bustle of a typical New York kitchen. By contrast, the kitchen in Chez Panisse was calm beyond belief — like they'd all had a team epidural before service.
The main thing I learned was both enormous and slightly intangible — an almost ethereal respect for the produce, to really feel the seasons, and acknowledge that flavor-wise any given thing, be it bird or beetroot, is simply a result of its history.
Waters' manner is gentle, and her mood is calm; she dresses simply, with a little peace symbol on a chain around her neck, and she has a slightly other-worldly voice — so far she's conforming nicely to the Mother Earth view of her I've had for the past 12 years or so. It would be all too easy to categorize her as an idealist hippy, who cut her teeth and grew her hair in San Francisco in the 1960s, but that would be selling her criminally short.
We talk about the beginning: she loved having friends round to eat, so much so that she ended up doing a big supper nearly every night and thought "they might as well pay." She had no chef training, but grew up with a health-conscious mother — "we always had fruit for dessert" — and a father who tended a victory garden, one of those relics from the war effort where folk were encouraged to grow food and then send it over for the boys.
So when she opened her doors she aimed to serve up the flavors of her home, freshly plucked from the garden outside. She made this work by operating a prix fixe menu, ie. no choice but the dishes changed daily (the restaurant still operates like that today, but a cafe opened in 1980 offering an a la carte menu). And that in itself was revolutionary. Initially she went to specialty producers for ingredients, not content with what the standard suppliers had to offer, and not quite having the resources around her yet to do her own thing. But she says that over the next eight to 10 years, the importance of seasonality and provenance gradually sunk in.
"We used to pick from people's gardens, and from the roadside, and then over the years we started meeting organic local producers, and that's how it all started," she says. "It came to me that what made food really tasty was understanding how it was grown and produced."
Waters (along with Alain Ducasse of the 12 Michelin stars and many others) firmly believes that "85 percent of an ingredient's flavor happens before it even reaches the kitchen — that was way more important than what I was going to do with it at the end," she says. Even back then she had a forager on full-time staff, a term that's really only taken off here in the past couple of years, who would busy himself in the amazing countryside of the San Francisco Bay Area, sniffing out berries for desserts, and nuts and wild leaves for salads.
In terms of her cooking style, Waters credits the year she spent in France as a young woman as her greatest influence. The dishes on the menu at Chez Panisse are still in French and she talks about her "taste-bank memory" of everything she ate there nearly 40 years ago as if it were yesterday. A few of the mouthwatering dishes that have been offered at the restaurant over the years include green garlic pudding souffle with Bob's broccoli and scarlet turnips, Sierra Beauty apple huckleberry clafoutis, and pizza with wild nettles and Parmesan. "I was obsessed with those little tiny green beans," she says. "They had awakened me and changed my life. I'd found my purpose and my passion." Waters' list of foodie icons reads rather like mine, except where I can just read and admire Elizabeth David, Alice prepared a picnic for her — grilled quail with grapes, and some fine peaches. This is serious food royalty I'm sitting with.
So if provenance was her big thing back then, her new crusade is "eco-gastronomy" which came about when her daughter Fanny, "the greatest achievement of my life," started school and she began to realize what was going on in the schoolyard. It's a program so expansive in educating children about what they eat, Jamie Oliver's brave efforts pale in comparison.
Chez Panisse funds a local school to have an "edible food garden," where the kids grow, cook, learn and eat. Her belief — backed up by the evidence of doing this school project for nearly 12 years — is that if the kids have close contact with what they are going to eat, there will be no pickiness or tantrums about what they eat, and they won't have an inherent distrust of vegetables, which will lead to them choosing fresh food over fast food and ready meals.
"Every school on the planet should have a program like this, or else our kids and our planet are really going to suffer," says Waters. "It's about re-connecting to nature, about behavioral patterns and about teaching children the importance of eating well and taking care of the land and themselves." If this reads like a mission statement, that's because it is.
We finish by playing my favorite game for long car journeys (as all answers lead to much heated debate): desert island ingredients (after the radio show Desert Island Discs for which a famous guest has to choose eight records to take on to a desert island). "Assuming fish? It would have to be something from the vegetable world ... . I've always been in love with tomatoes and garlic but I think it has to be salad — I just couldn't live without salad. I really need those leaves."
Your death-row meal? "Something from the grill, could be spring lamb. Or maybe a peach." Butter or olive oil? "Olive oil, definitely." Spuds or rice? "Spuds, just dug up. I just love potatoes." And finally, how would she like to be remembered? "One of my great friends from the 1960s just recently signed his book to me: 'For my friend Alice, who never sold out' and I was very pleased when he said that because I've always tried to stay on the high road, but it's hard."
Comments will be moderated. Keep comments relevant to the article. Remarks containing abusive and obscene language, personal attacks of any kind or promotion will be removed and the user banned. Final decision will be at the discretion of the Taipei Times.