Brain drain
Though mental abilities inevitably decline as we age, the good news is intellect remains the same, as does the ability to grow intellectually and emotionally
If you can't remember why you walked into the room (or picked up this newspaper), don't worry. You're probably just getting older.
During your 30s, the blood flow to your brain begins to decrease, making it more challenging to remember events or details as well or as quickly. Despite the decline in mental abilities, your intellect remains the same, as does your ability to grow intellectually and emotionally.
"This is great news," says Larry Tune, professor of psychiatry at Emory University School of Medicine, referring to a former belief that the brain essentially stopped growing at a certain age. "The brain continues to develop, and we continue to grow, but in different ways," he says.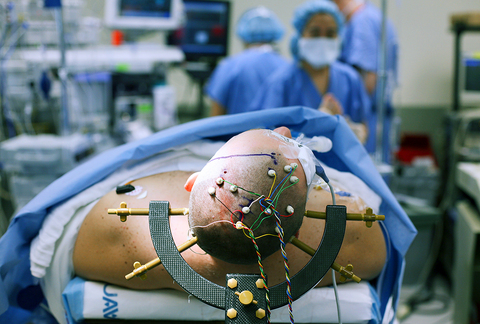 Chris Ratuszny, 26, is prepped for surgery for a brain aneurysm at St. Luke's Roosevelt hospital in Manhattan.
PHOTO: NY TIMES NEWS SERVICE
Fighting the inevitable mental decline takes the same effort as does the fight against the body's aging process. The brain and body are intimately related, so what's good for one is also good for the other. And that's diet and exercise.
The brain requires a continuous source of fuel from the foods we eat, so start each day with a nutritious breakfast and continue with healthy meals and snacks throughout the day, recommends the American Dietetic Association. Studies indicate that green leafy vegetables, fruits like blueberries and strawberries and fatty fish aid short-term memory and delay dementia.
Along with eating a well-balanced diet, keep your blood pressure and cholesterol levels low to reduce your risk of heart disease and stroke. Both illnesses contribute to dementia and Alzheimer's disease.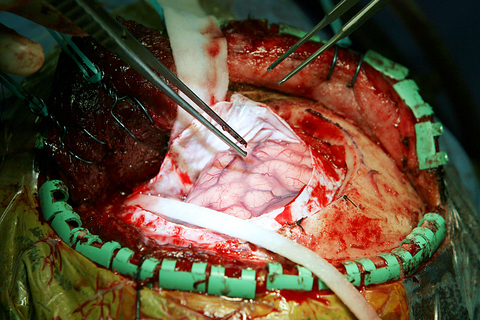 Chris Ratuszny, 26, undergoes surgery or a brain aneurysm at St. Luke's Roosevelt hospital in Manhattan. Knowing what's normal, and what's not, is important in maintaining mental health.
PHOTO: NY TIMES NEWS SERVICE
Exercise not only helps lower blood pressure but also helps your body deliver oxygen-rich blood to the brain. Staying physically active is essential to keep the mind healthy.
The brain operates on the "use it or lose it" principle, says Carol Dallas, a neurotherapist. Depending on what we use or don't, the network of highways carrying information in the brain can be reduced to a few roads and sidewalks, she says.
Dallas says there are key exercises that work the brain, such as cross-lateral movements that require both sides of the body and the brain to operate together.
"Down the road, there might be a room at local health clubs where you can do brain exercises," says psychologist Neal Cohen, referring to brain workout programs now available online and on DVDs. By working the body and mind, "you can do something to offset senior moments," he says.
Studies suggest that challenging your mind with crossword puzzles, memory tests and reading may also contribute to better brain function. Mental calisthenics keep the brain stimulated and active.
"I usually tell people it's much better to read a book than to watch Gilligan's Island," Tune says.
KEEPING THE HARDWARE HEALTHY
Here are some recommendations to keep the physical plant going strong:
— Stay active. Regular physical activity helps to maintain and improve memory, maintain and improve mental ability and prevent dementia.
— Check your numbers. Keep blood pressure and cholesterol levels low. A healthy blood pressure (below 120/80) helps reduce the risk of stroke, which may lead to dementia and Alzheimer's disease. An excess of cholesterol slows down and can block blood flow to the brain, contributing to stroke and dementia. In one study, those who had high cholesterol and high blood pressure had six times the risk of dementia.
— Eat your vegetables. A diet rich in fruits and vegetables, whole grains and nonfat dairy products provides ample nutrition for the brain.
— Add folate. This B vitamin helps slow cognitive decline in older people. Good sources of folate, aka folic acid, include fortified breakfast cereals, dark-green leafy vegetables, asparagus, strawberries, beans and beef liver.
— Get E and C. Studies suggest that, when taken together, these vitamins may lower the risk of Alzheimer's disease. The recommended dietary allowance of vitamin E is 15 milligrams per day from foods such as nuts, vegetable oils, seeds, wheat germ, spinach and other dark green leafy vegetables. The recommended daily allowance of vitamin C is 75 milligrams per day for women and 90 milligrams for men. Food sources include oranges, grapefruits, asparagus, brussels sprouts, broccoli, bell peppers, collard greens, cabbage, cauliflower, kale, potatoes, spinach and turnip greens.
— Monitor medication use. Some memory loss and dementia can be traced to harmful drug combinations or inappropriate drug use. Read labels and follow instructions carefully.
— Drink moderately. Alcohol damages brain function. According to a University of North Carolina study, brain cells are restored when people abstain from excessive alcohol consumption. Limit yourself to no more than one drink a day if you are over 65. (One drink translates to 350ml of beer, 45ml of distilled spirits or 150ml of wine.)
— Stop smoking. It causes long-term changes in the chemical function of the brain, according to the National Institute on Drug Abuse. Smoking also significantly increases your risk of stroke, heart disease, lung cancer, emphysema and chronic bronchitis.
— Maintain a healthy weight. Obesity in middle age has been linked to development of dementia in later life. Being underweight also carries risks such as poor memory.
— Take care of your teeth. Gum disease is linked to Alzheimer's disease and heart disease. Brush and floss daily and see a dentist regularly.
— Exercise the mind. Challenge yourself intellectually to stimulate new areas of your brain and grow more brain connections. Solve a puzzle, read a book, learn a new musical instrument, play a board or card game or write a short story.
— Reduce stress. The hormones our bodies release when we are under stress may shrink the brain, affecting memory and learning.
— Protect your head. Head injuries impact brain function.
— Stay connected. Join a book club or a volunteer group and interact with the world around you.
Source: Geriatric Mental Health Foundation, National Alzheimer's Association
WHAT'S NORMAL, WHAT'S NOT
As we age, simple tasks can become increasingly challenging. Here's a little help to determine between a typical sign of aging and what could be the beginning stage of something more serious.
— Memory loss.
What's normal? Forgetting names or appointments occasionally.
What's not? Forgetting recently learned information is one of the most common early signs of dementia. A person begins to forget more often and is unable to recall the information later.
— Difficulty performing familiar tasks.
What's normal? Occasionally forgetting why you came into a room or what you planned to say.
What's not? Finding it hard to plan or complete everyday tasks. People with dementia may lose track of the steps to prepare a meal, place a telephone call or play a game.
— Problems with language.
What's normal? Sometimes having trouble finding the right word.
What's not? Forgetting simple words such as "toothbrush." People with Alzheimer's disease may often substitute descriptions, such as "that thing for my mouth," making their speech or writing hard to understand.
— Disorientation to time and place.
What's normal? Forgetting the day of the week or where you were going.
What's not? People with Alzheimer's disease can become lost in their own neighborhoods, forget where they are and how they got there and not know how to get back home.
— Poor or decreased judgment.
What's normal? Making a questionable or debatable decision from time to time.
What's not? Dressing inappropriately, such as wearing several layers on a warm day or little clothing in the cold. People with Alzheimer's disease also may show poor judgment about money, like inappropriately giving away large sums.
— Problems with abstract thinking.
What's normal? Finding it challenging to balance a checkbook.
What's not? Forgetting what numbers are and how to use them. Someone with Alzheimer's disease may have great difficulty performing complex mental tasks.
— Misplacing things.
What's normal? Misplacing keys or a wallet temporarily.
What's not? A person with Alzheimer's disease may put things in unusual places — an iron in the freezer or a wristwatch in the sugar bowl, for example.
— Changes in mood or behavior.
What's normal? Occasionally feeling sad or moody.
What's not? Someone with Alzheimer's disease may show rapid mood swings — from calm to tears to anger — for no apparent reason.
— Changes in personality.
What's normal? A slight personality change with age.
What's not? A dramatic change in personality. A person with dementia may become extremely confused, suspicious or fearful or dependent on a family member.
— Loss of initiative.
What's normal? Sometimes feeling weary of work or social obligations.
What's not? Becoming very passive. A person with Alzheimer's disease may sit in front of the TV for hours, sleep more than usual or not want to do usual activities.
Source: Alzheimer's Association of Georgia
HELPING YOUR MEMORY
Can't find your car keys? Don't know where you put your reading glasses? Try these tips to keep yourself from going crazy.
— Write it down. Don't expect to remember everything; use lists, calendars, reminders and other memory aids. Jot down appointments on your calendar, and keep a list of chores in your pocket.
— Develop routines. Take medicines the same time every day. Leave your keys in the same place.
— Visualize. Visual memory tends to be better than auditory memory. That is, it's easier to remember what we see than what we hear. Using both at the same time will enhance memory. For example, if you need to pick up fruit at the grocery store, picture blueberries in the produce aisle.
— Pay greater attention. Increasing attention improves learning and memory. When learning something new, limit the distractions (turn off the TV and choose a quiet room) and focus your attention.
— Take more time. Allow yourself additional time, and have patience.
Source: Geriatric Mental Health Foundation.
MENTAL CALISTHENICS
Like your body, your brain needs a good workout. Here are some helpful resources and tools to challenge your mind and keep it fit:
— AARP Games and Puzzles: www.aarp.org/fun/puzzles
— Alzheimer's Association, Maintain Your Brain:
www.alz.org/maintainyourbrain
— Brain-Muscle Workout:
www.thebrainmuscleworkoutdvd.com
— Happy Neuron (online brain workouts):
www.happyneuron.com
Comments will be moderated. Keep comments relevant to the article. Remarks containing abusive and obscene language, personal attacks of any kind or promotion will be removed and the user banned. Final decision will be at the discretion of the Taipei Times.