Restaurant: Shinyeh 101 (欣葉101)
In ancient times tao hua yuan (桃花源) was a kind of utopia, a harmonious society, far from the maddening crowd, tucked away inside a valley. This is the kind of atmosphere that designer Syu Da (徐達) was tasked with creating at Shinyeh 101, a restaurant serving new-style Taiwanese cuisine on the 85th floor of Taipei 101.
It was a lot to ask for, but it's not a bad effort if your idea of heaven is seating for 210 people, five VIP rooms and seven semi-VIP rooms. White, linen-covered tables, plush red chairs and decorative lampshades give the place an Eastern chic and the lighting is subtle but imaginative. Sensibly, nothing dramatic detracts from the magnificent view.
The food was not as spectacular. It was a few notches above the usual fare served at Taiwanese banquets, but in this reviewer's opinion that is not saying much. The appetizer was a combination of four different cold dishes, including a large mussel, a satisfyingly salty mullet roe, a scallop and a portion of eel. As appetizers should, they switched the taste buds into on mode. The stewed shark's fin soup with chicken, pork tendon and knuckle, though ecologically unsound, was surprisingly good, with a strong taste and satisfying broth.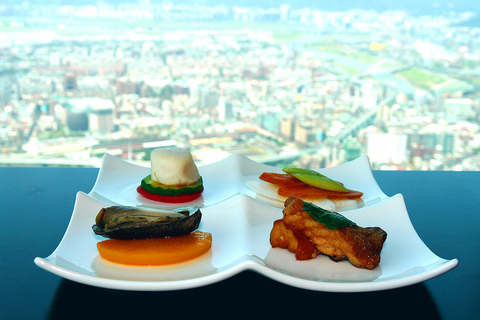 On top of the world, at Shinyeh 101.
PHOTO: JULES QUARTLY, TAIPEI TIMES
Moving on, it's hard to fail with a lightly cooked giant prawn, if it's fresh and arrives on the table warm and this was another success. The wok-seared vegetable would have been instantly forgettable without the scallop. A dim sum combination sounded better than it tasted, while the seasonal fresh fruits were … fresh and nicely presented. The meal ended with homemade dessert and hot almond soup. As for the service, it was Western in style, polite and reasonably attentive.
Shinyeh has been operating 30 years and has six Taiwanese-style restaurants, two curry houses, four Japanese-style buffet eateries and one hot pot place. It has proven to be an able operator and its latest catering establishment does not disappoint. It will be popular with the expense account crowd and no doubt this is the clientele mentioned in the business plan. Tourists looking for ambiance, good Taiwanese food and the best view in town could do a lot worse. While it wasn't heaven it wasn't a bad try.
Publication Notes
Restaurant Info
Address: Taipei 101, 85F-1, 7 Xinyi Rd Sec 5, Taipei (台北市信義路五段7號85樓之1)
Telephone: (02) 8101-0185
Open: 11:30am to 3pm and 5:30pm to 10pm
Average meal: NT$880 to NT$1,350 for the set menus
Details: Chinese and English menu; credit cards accepted
Comments will be moderated. Keep comments relevant to the article. Remarks containing abusive and obscene language, personal attacks of any kind or promotion will be removed and the user banned. Final decision will be at the discretion of the Taipei Times.