Restaurant: Qiuyue's Shop (秋月的店)
The region around Sandimen (三地門) in Pingtung County (屏東縣) provides some of the most breathtaking scenery in southern Taiwan. Perched on the side of a mountain is Quiyue's Shop, an art space that was recently renovated into an outdoor restaurant and cafe by renowned Aboriginal artist Sakuliu (撒古流) for his wife Qiuyue (秋月).
The restaurant is open plan and affords wide vistas of the surrounding valleys.
A huge fire pit in the center of the restaurant is sometimes used to roast mountain pig and is surrounded by slate-topped tables, some of which are intricately decorated with Aboriginal motifs. There is a gallery filled with paintings, sculptures, pottery and clothing, all with distinctive Aboriginal themes. When customers enter the restaurant at night, they are greeted by Aboriginal musicians strumming on guitars or beating drums.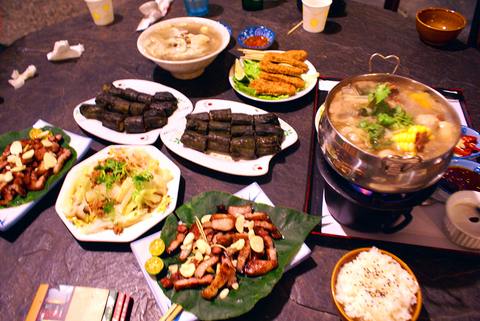 Aboriginal fare comes with folk tales, culture lessons and spectacular mountain views at Qiuyue's Shop.
PHOTO: NOAH BUCHAN, TAIPEI TIMES
When Sakuliu is at the restaurant, which is not often, because he now spends most of his time in Taitung, he can be found close to the fire pit teaching or discussing Aboriginal culture with the many patrons who make the trip for this purpose. Sakuliu's openness and willingness to talk at length about his culture extends to the staff, all of whom are courteous and attentive.
For meat lovers, nothing tastes better than boar (NT$150) barbequed to perfection and served with slices of fresh garlic and strips of ginger. Another traditional food is cinavu (NT$150), a baked taro dumpling with meat wrapped in a leaf. The taro is soft and piping hot while the leaves are crunchy. There is also the simple yet satisfying roasted sweet potato, though at NT$150 it is a little pricey for such a simple dish.
For patrons with bigger appetites, there are set meals that included pork stewed with millet wine (NT$250) and Aboriginal taro hot pot (NT$280). Both are served with rice, soup and pickled vegetables. Be sure to order some millet wine, by the cup (NT$80) or by the bottle (NT$300), as it brings out the flavor of these traditional foods. The rest of the menu is standard Western and Taiwanese fare.
Publication Notes
Restaurant Info
Address: 53 Tashe Village, Sandimen Township, Pingtung County (屏東縣三地門鄉大社村53號)
Telephone: (08) 799-1524
Open: Everyday 10am to midnight
Average meal: NT$300
Details: Menu in Chinese
Comments will be moderated. Keep comments relevant to the article. Remarks containing abusive and obscene language, personal attacks of any kind or promotion will be removed and the user banned. Final decision will be at the discretion of the Taipei Times.