Mount your 'iron horses' and take a ride
The air was sweeter and there were no motorbikes or cars but the traffic was like Taipei central, on a recent visit to the Houfeng Bicycle Path (后豐鐵馬道) in Taichung County (台中縣).
It's an 18km route from Houli (后里) to Fengyuan (豐原) that was built on an abandoned railway line and is the only bicycle path in Asia that tunnels through a mountain. It's also the country's most popular biking destination.
Thousands of city dwellers had migrated to the countryside for the day and were mounted on their "iron horses" (鐵馬). Some had racers, others shared tandems and there was the option of electrically powered bikes that hummed as they zipped by.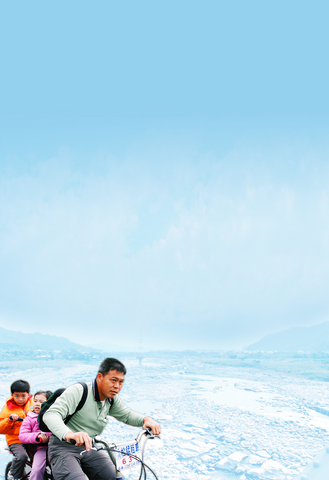 Taichung County's popular Houfeng Bicycle Path is for families rather than serious bikers.
PHOTO: JULES QUARTLY, TAIPEI TIMES
A primitive shoaling instinct kept groups together as they negotiated for space and avoided accidents. Markets selling lunchbox meals and souvenirs lined the route and lights regulated the traffic at busy junctions.
Bicycle rental stores were doing a roaring trade, while bread and breakfast accommodations catered to the migratory visitors. The trills of bike bells were everywhere. There was even a go-kart track by the side of the path, for those who were missing motorized transport.
Though Kuanshan township (關山鎮) in Taitung County (台東縣) is generally credited as building Taiwan's first bicycle path, in March 1997, Taichung County Government has led the way since then.
It has opened up three main routes, including Houfeng, the Tungfeng Bicycle Way (東豐自行車道) and the Tantsu, Taya and Shenkang Bicycle Way (潭雅神自行車道).
According to Taichung government statistics over 30,000 people a week, on average, take to the county's bike paths and this generates around NT$500 million a year. There are even bicycling festivals with "Miss Iron Horse" contests and lotteries.
In Houfeng, being part of the crowd is part of the fun and the metropolitan experience has been transplanted to the countryside. But if running with the pack isn't your idea of a good time there are alternatives.
Mark Williams, who completed a 960km ride around Taiwan in five days for charity, said most of his biking was on tarmac but many national parks had paths that were practically deserted.
In the mountains, Williams said, bikers used hiking trails without a problem and these off-road tracks were an exciting alternative to pedaling along tourist-friendly cycling paths.
"That isn't really cycling, it's piddling around. Those paths are for families and visitors, not serious bikers. There are routes through strawberry fields from Hualien (花蓮) to Tainan (台南) and country roads that double for biking elsewhere. Off-road cycling is great here because we have the mountains, but battling with traffic on the roads is a nightmare."
For cyclists who're not weekend warriors but don't want to piddle around, either, there are a variety of options and destinations.
In the south, around Kaohsiung (高雄), there's a 70km grid of bicycle paths that takes in the shoreline, Love River and various lakes. Yunlin County (雲林縣) has a route that begins in Ershui (二水) and has earned good reviews for its scenic fields and charming temples along the way. Sun Moon Lake (日月潭) in Nantou County (南投縣) has a track that circles the lake.
In the north, Pinglin (坪林) has a 20km cycling route through picturesque mountains and valleys, where the weary rider can take refreshment at the many teahouses dotting the area. Taipei, too, has a comprehensive network of cycling paths by its riversides.
Taiwan has something to offer for every level of cyclist, from the electrically supported to bike pros. For information about mountain biking trails and tours check out www.formosanfattire.com. The Taichung County Government Web site in English and Chinese is at www.taichung.gov.tw.
Comments will be moderated. Keep comments relevant to the article. Remarks containing abusive and obscene language, personal attacks of any kind or promotion will be removed and the user banned. Final decision will be at the discretion of the Taipei Times.