Mind over machine
Artist Hsu Jui-hsien uses complex engineering techniques to create intricate mechanical art that expresses the inner landscape of his sensitive soul
Walk into artist Hsu Jui-hsien's (徐瑞憲) studio in Chungli (中壢) and an uninformed visitor could easily mistake the place for a small factory: A myriad machine components, large mechanical apparatuses and thousands of motors pack the space where Taiwan's foremost artist devoted to kinetic art spends most of his time studying mechanics and making gadgets for his complex works.
When demonstrating his work methods on a lathe, the artist accidentally cut a finger and blood spurted out from the wound. "Oh it's nothing. Injuries are my daily routines," said Hsu, smiling and pointing to the numerous scars on his hands.
Behind the warm smile lies a sensitive artist who comes from a dysfunctional family.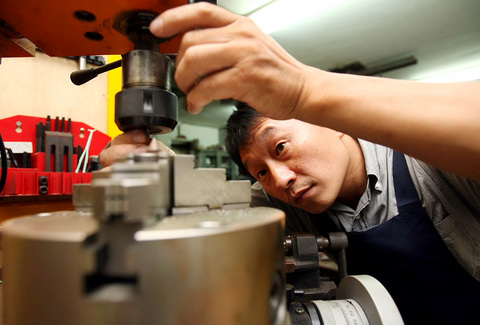 Hsu Jui-hsien is renowned for his attention to detail and meticulous preparation in producing mechanical works of art. His passion for art, however, comes at a cost: His lungs have been permanently damaged from years of inhaling metal particles.
PHOTOS: WANG I-TSAI. TAIPEI TIMES
Raised in a poor family with an abusive and alcoholic father, the young Hsu was close to his late sister and mother who provided for the family by recycling trash from Taipei's streets.
Hsu often joins his elderly mother at night on the streets and brings home discarded objects that he later molds into works of art.
"It is impossible for a family like mine to send their kids to college, but my sister encouraged and supported me to further my education," Hsu recalled, seemingly lost in the memory of his sister who committed suicide before he left for France to study art.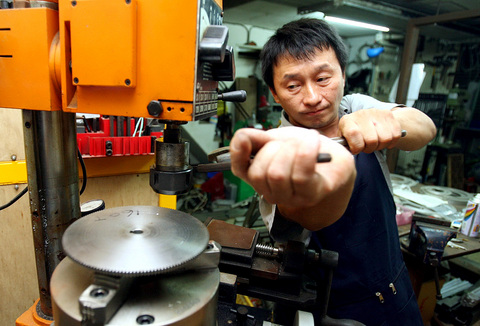 During his five years of study at Aix-en-Provence art college, Hsu followed various disciplines like a hyperactive kid. "At one point, the principal had to lock the lab so I wouldn't sneak in to work on my projects," Hsu said.
A compulsive worker, the artist comes across as a workman with a feverish creativity who can only find peace of mind in labor. And it is no coincidence that Hsu chooses a physically demanding approach to express his creativity — his work is meticulous and his studio is stuffed with highly intricate art works.
Hsu makes hundreds of mechanical sketches before construction begins and the numerous components of his intricate works are repeatedly modified to make sure they meet the precise requirements of the drawings. The completion dates for Hsu's works are set in years rather than months.
"Bodily involvement is the key element in my art. I toil with my flesh to complete the work and it will offer its most beautiful gestures and spirit in return," Hsu said.
A self-taught mechanical engineer, Hsu incorporates mechanical kinetics in his sculptures that are deemed elaborate and complicated even in the eyes of industry professionals.
"I guess I am addicted to challenging myself. I rarely repeat myself and always seek out new kinetic principles, to explore the unknown and to go beyond the old me," Hsu explained.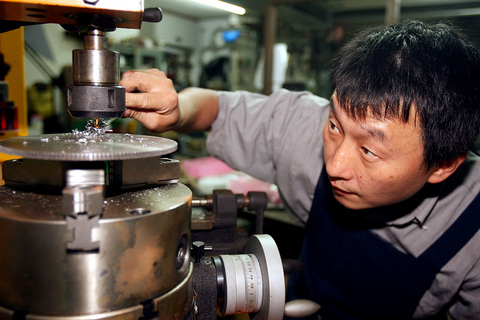 Though they sound like puzzling scientific projects, Hsu's works are similar to the Tin Man from The Wizard of Oz, which ached to have a heart under his mechanical facade.
In his kinetic installation piece An Author's Boat (作家的船), feathers Hsu collected on his way to the studio are attached to a large motor-driven axle and dance gracefully in all directions. Childhood memories of floating paper boats on a river provided the inspiration for River of Childhood (童河) in which arrays of boats, affixed to iron bases, rhythmically sail up and down, mimicking the motion of waves.
Unlike the works of many contemporary artists in which kinetic motion is implied, hidden and subservient to visual representation, Hsu's installation pieces emphasize mechanical structure.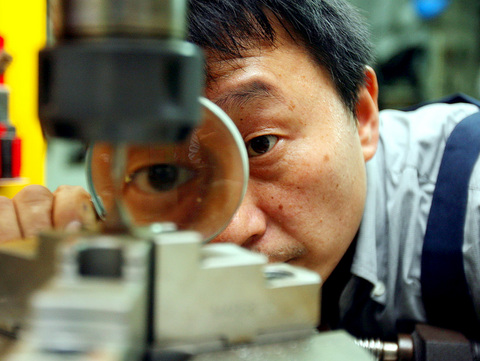 Hsu's art is said to reflect the troubled relationship between man and nature. But when talking to Hsu about his works, you will find an unpretentious man who awkwardly expresses his thoughts in words.
"My art comes from life, and there is no profound philosophy to it. I guess you can say my hands and body are my philosophy … . Through my works, I just want to deliver shared life experiences and languages with the viewer, to touch on people's souls. My works are complex but they are used to express the simplest of things," Hsu said.
An artist who is forever haunted by his past, Hsu is also a purist when it comes to art. "I don't let exhibitions determine the creation of my art. I can't create if there is an end to meet," Hsu said.
Such an attitude means Hsu is a less productive artist than some of his peers and his austere life makes him a low-profile member of the local art circles.
Hsu's lungs have been damaged by years of inhaling metal particles and he has trouble breathing. "When the time comes where I can no longer take up the challenge [of creating new works], it will be the beginning of a new chapter in my life," Hsu said.
Comments will be moderated. Keep comments relevant to the article. Remarks containing abusive and obscene language, personal attacks of any kind or promotion will be removed and the user banned. Final decision will be at the discretion of the Taipei Times.