The way of 'otaku'
Stanley Tsai (蔡長泰) doesn't look like a man with uncontrollable obsessions. Sitting at a table in his Fatimaid cafe, dressed in a button-down shirt and wire-framed glasses, he could pass as just another Taiwanese office worker. But carefully tucked beside him is a model of a busty, doe-eyed Japanese anime character needing days of work to assemble and paint.
Tsai is an otaku, one of a growing number of Taiwanese devoted to the geeky Japanese subculture of mostly men obsessed with anime, comic books and other forms of escapism. Their spiritual homeland is the Tokyo neighborhood of Akihabara, a nerd's nirvana and possibly the best shopping place on earth for electronic gadgets, computer parts and anime-related goods.
For Akiba-types who can't make the pilgrimage to otaku town, Fatimaid is the place to be. A direct copy of Akihabara's meido cafes, in this fantasy escape, young women wearing French maid costumes pamper customers with exaggerated humility and carefully scripted dialogue — just like the heroines in maid romance anime and comics. "Welcome home, master," says a maid, greeting a guest.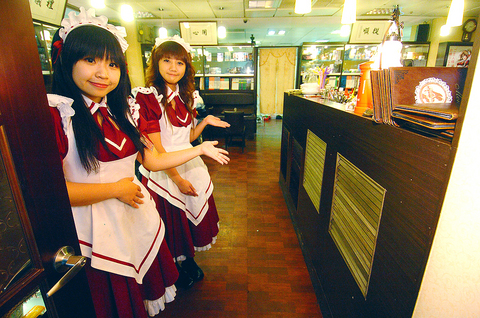 Geek chic comes in all shapes and sizes at Fatimaid cafe in Taipei.
PHOTO: GEORGE TSORNG, TAIPEI TIMES
Fatimaid is moe — sounds like "moe-EY" — a popular concept among otaku that means "burning," as in the innocent, sexy-cute anime characters who excite a passionate love or nurturing desire in their fans. The slang is represented by the character (萌), meaning "to sprout."
You can be moe for lots of things. In Taiwan, for example, there are military otaku who reenact World War II battles, car otaku who know everything there is to know about cars, and a huge number of female otaku who draw and trade homoerotic Boy's Love comics. The local twist: otaku who dress up as their favorite bu dai xi, or puppet, characters at cosplay conventions.
Roughly translated, otaku means "nerd." Geek chic took off in Japan with the Train Man film, in which a nerd successfully wooed a girl by collecting advice from the Internet. But some otaku are so obsessed and homebound that they can't interact with the opposite sex, so the next cultural innovation was the maid cafe, where men can live out their fantasies as if they were characters in an anime film.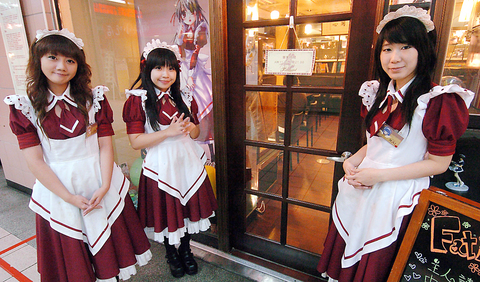 For many Taiwanese otaku, the Fatimaid cafe in Taipei's Metro Mall is the next-best-thing to being in Tokyo's Akihabara neighborhood.
PHOTO: GEORGE TSORNG, TAIPEI TIMES
There are three maid cafes in Taipei, and one each in Kaohsiung and Tainan. Opening late last year in Ximenting was the Moe Moe Center (萌萌動漫資訊館), with bookstores, a maid cafe and a shop where cosplay fans can get made up to look like their favorite anime characters. Nearby is a large concourse devoted to the sale of Gundam robots and other anime action figures.
Tsai first realized moe could provide a viable business model eight years ago while on a trip to Akihabara. Then head of a cosplay club at National Taiwan University, he accompanied a friend to a convention for a Japanese "girl game," video games where players date — and sometimes really fall in love with — computer-generated women. Once there, the friend burst into tears. Why? The real-life actress portraying his computer crush was hopelessly inadequate.
Tsai's first maid cafe failed after his partner's mother and sister refused to wear maid costumes. No chance of that at Fatimaid: the maids are always in character. "It's a stage where [anime fans] can live in their dream," Tsai says of his cafe. "The more they believe in this dream, the happier they feel."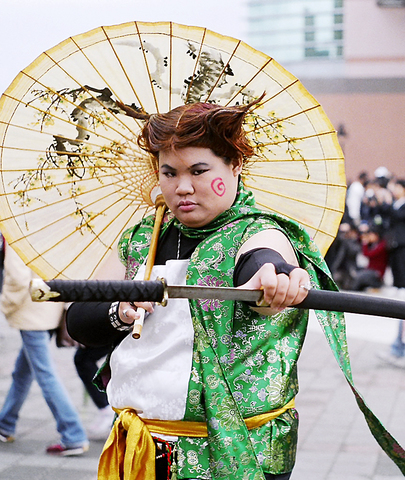 Not all cosplayers are otaku, but many otaku like to attend cosplay conventions dressed as their favorite anime or bu dai xi characters. A few even dress as anime characters they have fallen in love with.
PHOTO: JONATHAN ADAMS, TAIPEI TIMES
Dabblers looking for a more relaxed approach can visit Moe Point, the maid cafe in Ximenting's Moe Moe Center. Here, customers not exhibiting otaku behavior are greeted in an ordinary fashion to avoid making them feel weird. Recalling an early mishap, manager Lin Tzu-yi (林姿儀) says: "One of our waitresses addressed a pregnant woman as 'mistress,' and she ran out the door."
Lin estimates half of her customers are otaku. They draw pictures of their favorite waitresses and leave comments in a guest book. "For a beautiful maid," one reads. Among other feedback: requests that maids curtsey more gracefully and wear shorter skirts.
"otaku like it when maids mix their drinks or pour ketchup in the shape of a heart," Lin says, Hsu Ching-ling (許經夌), aka "Zero," a physics professor at Academia Sinica and member of the Shuffle Alliance (傻呼嚕同盟), which publishes books on otaku topics, estimates roughly 70 percent of anime characters in Taiwan are moe. "Ninety percent of comics and animation in Taiwan are from Japan," he says. "As a former colony, we understand Japanese culture and feel close to Japan."
As with many subcultures, however, the moe concept is losing its appeal with purists as it goes mainstream. "None of the customers in my cafe are otaku," Tsai sniffs. And many otaku were never interested in moe to begin with. "I never use that word," says Zax Ma (馬成賢), a Taiwanese otaku who works in Australia for gaming studio FK Digital.
It's becoming cool to identify yourself as otaku, a badge of honor for many Taiwanese fans of Japanese culture, even those who have other hobbies and can talk to girls. "otaku means anyone with a special interest in something, not just ACG [animation, comics, games]," says Ma's coworker Mickey Lin (林宗泰). "That person must have a deep understanding of their subject of passion, and must be deeply involved with it."
But purists say few are worthy of the term. "A real otaku spends 80 or 90 percent of his time watching anime and collecting anime- or comic-related stuff," says Hsu of the Shuffle Alliance, who heads an anime club at Academia Sinica. "'Light' otaku can socialize. But real, 'deep' otaku have no social skills. You can't find them because they always stay home."
Tsai estimates only 50 Taiwanese are sufficiently hard-core to deserve the title. "You have to be born with an otaku-like personality," he says. "You want to become otaku and call yourself otaku? Never. You wake up one morning to find you are otaku."
Sun Feng-tse (孫豐澤) is the uber-otaku. With thick glasses, a belt pack and eyes that look everywhere except at the person he is talking to, Sun is editor-in-chief of Dengeki Hobby Magazine, which catalogues the painstaking craft of assembling and painting Gundam robot models. To merit a feature, artists must have finished a model in less than a month, an impossible task for most devotees. Sun has made 100. Boxes from these models and other toys fill every centimeter of wall space in his room.
Coaxed out of his home and seated beside a low Japanese table in the back room of Tsai's Fatimaid cafe, Sun is accorded the position of honor, beneath a framed calligraphy scroll reading "Way of the otaku."
"Feng-tse" is a natural-born otaku," Tsai explains. "When he was three he begged his mom to watch Space Battleship Yamato. He didn't know what it was — he just wanted to see it."
"It made my blood hot," Sun says shyly.
In an earlier attempt to explain the concept, Tsai asked me about Star Trek fans. He'd heard of trekkie conventions, and I told him about a professor in the US who communicated with his child in Klingon. Tsai nodded and wrote this in my notebook: "Trekkie≒otaku."
I show this to Sun, who smiles.
"To boldly go where no man has gone before," he says. "I love that phrase."
Publication Notes
Want to 'otaku'?
Fatimaid is located at Taipei City Mall (台北地下街美食一區3號) near the No. 1 North Entrance (北一號入口). For more information call (02) 2559-2620 or log on to www.piware.com/fatimaid.
Moe Moe Center is located at 2F 17, Ln 114, Zhonghua Rd Sec 1, Taipei (台北市中華路一段114巷17號2樓). For more information, call (02) 2311-9788 or log on at www.moe2.com.tw.
Comments will be moderated. Keep comments relevant to the article. Remarks containing abusive and obscene language, personal attacks of any kind or promotion will be removed and the user banned. Final decision will be at the discretion of the Taipei Times.