Design that is skin deep
MOCA's latest exhibit, Second Skin, shows how the body's largest organ influences contemporary design practices
Human skin is both dead and alive. It regulates the body's temperature and protects against the elements. It heals when cut and reveals much about the person who it covers. As such, skin is a multilayered, multipurpose organ that shifts across the landscape of the body and, for the current exhibition at the Museum of Contemporary Art (MOCA) called "Second Skin," it serves as both substance and metaphor in recent design practice.
Curated by Ellen Lupton, a researcher at Cooper-Hewitt, National Design Museum of the Smithsonian Institute, the exhibit originally opened in New York in 2002 under the title Skin: Surface, Substance and Design. As with the earlier exhibit, Second Skin uses installations, video, lighting, architecture, interior design, biotechnology, photography and clothing, to show the influence skin has had on contemporary design.
Second Skin has five sub-themes, each corresponding to the skin's functions and metaphorically dealing with design subjects.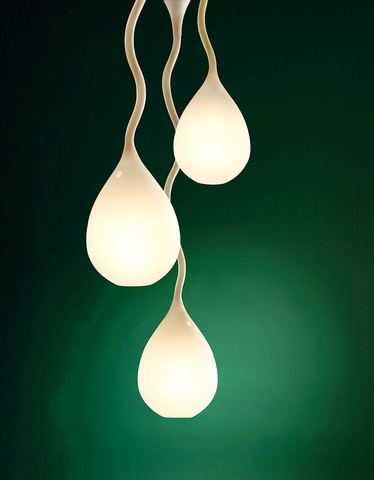 Jingzi Lamp illuminates the relationship between light and life.
PHOTOS COURTESY OF TFAM
The first category, called Beauty, Horror + Biotechnology, investigates the current obsession with aesthetic alterations of the body. Leora Farber's Four Minor Renovations: Revamp, Refurbish, Retouch, Refine, uses four videos to show the process of plastic surgery in all its grotesque beauty and is a statement of how — by altering the body — the line between what is natural and artificial is becoming increasingly blurred.
Thematically similar to Farber's video, Elke Gasselseder's Beauty, Horror and Biotechnology, is a montage of clips from Hollywood films about cyborgs, aliens and artificial life. It is difficult to distinguish between the natural and artificial skins in the shots.
Humans often wear artificial skins as a means of mediating the world. This notion serves as the underlying theme of Erotics of the Artificial and is poignantly revealed in Tonita Abeyta's line of latex clothing. As contemporary eroticism sometimes comes wrapped in latex, Abeyta has designed a line of latex garments for men and women, some of which come with built-in condoms. Nicola Costantino playfully eroticizes everyday objects such as soccer balls, handbags and shoes, by designing them with nipples and anuses — a surrealistic effect that is at once decorative and alarming.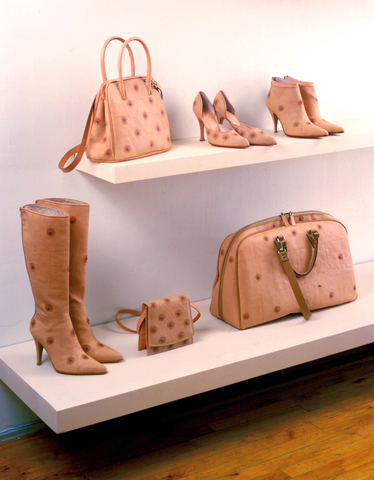 Left: Nicola Costantino eroticizes everyday objects with nipples and bums.
The various garments found in the section Body Armors, evoke contemporary fashion designers' tendency to create garments that serve as portable environments in a world defined by leisure, terror and war.
Cooling System, a jacket designed by the US military and manufactured by Grando Zero Espace Ltd, evokes the feeling of separation from the environment by wearing protective skins.
Taking the luminescence of skin as its starting point, Luminous Objects, Luminous Surfaces is a series of objects that characterizes the delicate relationships between lighting and life. The multifunctional Jingzi Lamp designed by Herzog & de Meron resembles a giant, tail waggling, spermatozoon. Its exterior is made of silicon with the electronic components wrapped inside its translucent silicon skin.
Living Architecture, the exhibition's fifth category, investigates how challenges faced by contemporary architects today are differ from past considerations.
INVERSAbrane is a building material created by KOL/MAC, a two-man team of architects from New York, and serves the basic function of forming a hard, fire-resistant facade that can be freely adjusted to environmental conditions. The wall also functions as a collector of solar energy and can filter pollutants that are washed away with rainwater.
For existing structures, Jan and Tim Edler have invented a lighting system that converts the traditional surfaces of architecture into facades with continuously changing, computer-controlled video montages that morph passive buildings into ones that are active and alive. The architectural duo thus forms an uninterrupted dialogue with the public.
Publication Notes
Exhibition notes:
What: Second Skin
Where: Museum of Contemporary Art (MOCA, 台北當代藝術館), 39 Changan W Rd, Taipei (台北市長安西路39號)
When: Now through May 6
Details: Call (02) 2552-3721 or visit www.mocataipei.org.tw for more information
Comments will be moderated. Keep comments relevant to the article. Remarks containing abusive and obscene language, personal attacks of any kind or promotion will be removed and the user banned. Final decision will be at the discretion of the Taipei Times.