Beauty up, dumb down
'Beauty Up' is an independent-minded study of the Japanese beauty industry by an author who stubbornly refuses to see any profound significance in most of it
Since time immemorial human beings have adapted what nature has given. Virtually everywhere on earth it's illegal to walk around naked in public. We cook our food, live in houses, communicate via the Internet, fly around in aircraft and have sex without a thought of reproduction. For millennia women have painted their eyes and men shaved off their beards. In the last decade young men in certain affluent countries have started to beautify their faces as well (though historically this is nothing new), as well as acquiring body-piercings, toning their skin and dyeing their hair. There's nothing abnormal in any of this — the fashionable young are merely following in the steps of their ancestors in attempting endlessly to improve on nature. Human beings adapt and invent as if by instinct. It's our most distinguishing characteristic.
Beauty Up is an independent-minded study of the Japanese beauty industry. The author, Laura Miller, stubbornly refuses to see any profound significance in most of it, but she's very well-informed nonetheless. And she asks some cogent questions, in particular why during the last 15 years or so men in the developed world have started to adopt many of the strategies previously confined to women, generally abandoning the older male ideal of the hairy and moneyed monster grudgingly confined inside an ill-fitting business suit.
In order to understand her answer to this, we have to appreciate just who Laura Miller is. Nominally an academic working in Chicago, she more interestingly defines herself as "an unreformed hippie," albeit one who for most of her professional life has studied "inbreathed fricatives, diminutive suffixation, and other aspects of linguistic anthropology." But during a stay in Kanazawa in Japan she became interested in the nation's beauty parlors, magazines and very extensive personal practices. This book is the result of that fascination.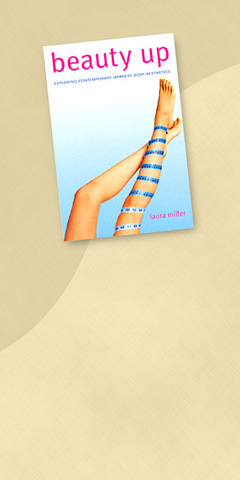 Beauty up By Laura Miller 256 pages California
Her early experience led her to adopt the ideal of personal liberation, and subsequent academic life pointed her in the direction of challenges to traditional gender roles and power structures. In addition, she describes herself as being physically far from the American ideal (at least as perceived in Japan) of the long-legged, big-busted blonde. She was shorter than most of the Japanese women she interviewed, she says, and is descended from Afro-Mestizo-Spanish ancestors. As a result of all this, perhaps, she regards Japan's beauty industry with a considerable degree of skepticism.
Essentially Miller rejects the idea that East Asians in general are simply trying to copy the West. In this context she mentions Taiwan's weddings culture, citing Bonnie Adrian's Framing the Bride: Globalizing Beauty and Romance in Taiwan's Bridal Industry (Berkeley, 2003). That book, she says, demonstrates that supposedly international ideals of female beauty are modified in Taiwan to suit distinctly local ideals. The ancient practice of "pulling the face" — twisting taut strings across the cheeks in preparation for the application of bridal make-up — is incidentally subjected to scrutiny there as well.
In answer to her big question as to why sales of cosmetics and other beauty products have rocketed in the past decade and a half, to both women and men, she rejects the claims that it's something to do with the rejection of patriarchy and old-style male dominance. Little personal liberation is going to come from whitening your skin or shaping your eyebrows, she concludes. The beauty industry may enable individuals to perform "a minor ritual of rebellion" (albeit at considerable financial cost) but it does little to challenge ancient hierarchies. Instead, she argues that it's best explained as a product of capitalism's need to make people spend more, for instance on eating more than they need, then on expensive diets to get rid of the excess fat they've so unfortunately acquired.
Skeptical as she may be, Miller nonetheless describes the Japanese personal hygiene and beautification industry with relish. Few things escape her gaze. We learn of the nation's recent obsession with breast size, though nothing in Japan, she writes, "could top the fact that millions of American women have had plastic baggies of gel sewn into their chests" [her italics]. She also treats us to the phenomenon of products aimed at decreasing the unpleasant odor of feces, sold to the likes of one informant who explained that she was going away for a night with her boyfriend and didn't want to spoil the sweet ambiance of their love when she visited the bathroom. One such product is called Etiquette Up, and the use of the term "up" in so many Japanese beauty items gives this book its strange title.
She's interesting on skin-whiteners, too, as popular in Japan as they are in Taiwan, and sold in Asia by American companies with advertising that proclaims the need to rid oneself of "problem" (dark skin) that needs to be "fixed" — terminology that would be entirely unacceptable in print in the US.
It's all very well for Laura Miller to resist the idea that Japan's beauty preferences derive from the US, but such visions of loveliness have to come from somewhere. It wasn't so long ago that high-class Japanese women blackened their teeth, bound their breasts so as to flatten them, cultivated plumpness and considered the fold-less eyelid as highly desirable. All of these preferences have now been reversed. American ideals with local modifications would appear to explain the nature of today's ideals of physical beauty in East Asia.
There's much else in this book. There's a section on blood types, for instance, and the personality traits they supposedly bring with them. Being asked about my blood type was one of the things that surprised me most when I first came to Taiwan — even in nearby Hong Kong no one had ever asked me that question. As in so many other areas, Taiwan here appears to be welcoming cultural influences from its former colonial master.
At one point Miller exclaims that she is opposed to surgical intervention for cosmetic reasons in any culture. Such ideals from the 1970s of the beauty of the natural within us are certainly admirable, and there are signs they may soon become dominant again. Even so, I suspect humanity's age-old penchant for alteration and adaptation will win out in the end. It's certainly in control today. Whether it's fitness clubs, depilation, cosmetic dentistry, cellulite reduction, eyebrow styling, seaweed shampoos, nipple bleaching or studs through the tongue, profits have never been higher. I sometimes wonder if I'm the only person left who feels that, even if I could afford half these things, they wouldn't in the final analysis make that much difference. But at least I have the consolation that the perspicacious author of this wise book appears to agree with me.
Comments will be moderated. Keep comments relevant to the article. Remarks containing abusive and obscene language, personal attacks of any kind or promotion will be removed and the user banned. Final decision will be at the discretion of the Taipei Times.