Last call at DV8
When Kenbo Liao (廖褚健) rolled into DV8 Tuesday night, he wanted to share the good news. The man he says squealed on him in kindergarten, former Taipei City mayor and erstwhile Chinese Nationalist Party (KMT) chairman Ma Ying-jeou (馬英九), had been indicted earlier in the day on corruption charges, and Liao felt like gloating.
But another recent development was taking the edge off his glee. There are just a few nights left for DV8, a popular local dive and occasional den of intrigue. For almost 20 years of beer-soaked, cigarette-fueled operations, DV8 has been the site of many a newly-arrived expats' first Taipei night out, countless hedonistic going-away parties, flamboyant musical acts and dangerous liaisons. Its owners sold the building last month, and DV8 will serve its last tequila shot sometime during the early hours of Feb. 27.
The story of DV8 has all the elements one would expect from a bar that stays open late and has been around for two decades: hungover regulars in a failed holiday excursion, disgruntled customers who came back with a golf club and a gun, male bonding over drinks during natural and manmade disasters. But more often than not it was simply a great place to go for friendly conversation, where patrons about to embark on alcohol-fueled journeys exchanged pleasantries with the owner's father, an old man from Shanghai who sidled up to the bar most nights around 9pm, nursing a large glass of tea. It was never pretentious. People came to DV8 to meet people and relax, not to strike poses or otherwise show off.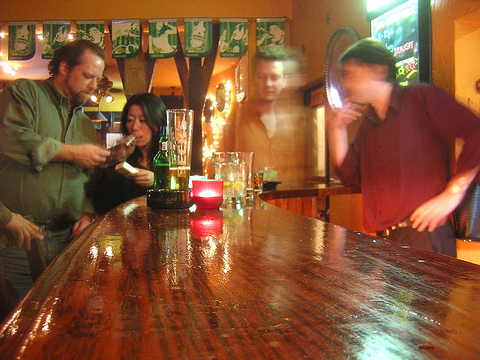 The writing's on the wall for one of Taipei's oldest expat watering holes.
PHOTOS: RON BROWNLOW, TAIPEI TIMES
"The bartenders were always reasonably friendly and down to earth," said Niall Clinton, who tended bar at DV8 for 20 months until 2002 and now applies the lessons he learned there as co-owner of On Tap, a pub west of Guangfu South Road. "You could go there and talk to the Jimmy or the Mary beside you and have a grand old chat until four in the morning," he said. "There's not too many places in the city like that any more."
When asked to give her favorite memory of DV8, Michelle Wong (王風鶯), the owner's wife, said it was a couple of years after the bar opened when patrons fielded a team for a dragon boat race. "They always drank too late and could not get up in time. Just one or two would go to each practice," she said. The result was that on race day Team DV8 rowed around in circles and took 15 minutes to cross the finish line.
Ask a lot of people about DV8 and you get a similar story. "I got way too drunk there," or, "It's all a tequila haze." Kenbo Liao remembers one such hazy moment in 1996, when China was launching missiles over Taiwan. Lots of people had left Taiwan, but he was here with a few regulars. "The missiles were probably shooting over our heads," he said. Around 2am they got together and pledged to defend Taiwan against China. "We were comrades," Liao said.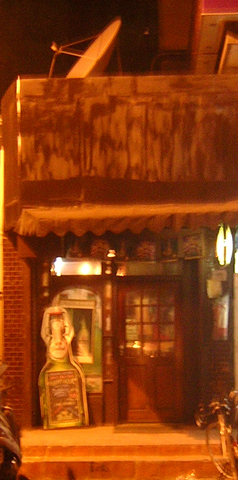 Like many regulars — and unlike DV8's owners — Liao is of the pan-green persuasion. The bar's resident yarnspinner, at 10pm on Tuesday he was regaling a reporter with his story about how, while attending Jingxin Kindergarten (靜心幼稚園), he was punished by his teacher after Ma Ying-jeou (馬英九), who is a year older than Liao, saw him teaching a few of his classmates how to speak Japanese. "I want you to print that," Liao told a reporter. "I want him (Ma) to sue me!"
Former China News editor Brian Kennedy was with Liao that night in 1996. He was also at the helm for DV8's dragon boat fiasco. "I can tell you practicing with four oars and practicing with 18 oars is a different experience," he said by phone from Kaohsiung. "We ended up speeding down the lane in reverse. We just had forward momentum, and when the boat flipped around we kept going."
DV8 was and remains a frequent haunt for foreign journalists working for Taiwan's English-language newspapers. It was here back in 1998 where the founders of the Taipei Times wooed copy editors from what was then called the China News, now the Taiwan News, over drinks in DV8's basement, which at the time smelled like dry-cleaning fluid.
Former Taipei Times Web editor John Diedrichs has been visiting DV8 three or four times each week for the last 10 years. He was there during the 1999 blackout and the 921 earthquake. "One of the things that made this bar stand out is that it was listed in Lonely Planet from the early days," he said. "So we'd get a lot of foreigners who were fresh off the boat."
It was a good place for them to go because DV8 was known as being one of the safest bars in Taipei. This was because former chief of the general staff Peng Meng-chi (彭孟緝), known as the "Butcher of Kaohsiung" for his role in the 228 incident, and later former premier Yu Shyi-kun, lived across the street in a guarded compound with barbed wire and its own police box. It was also because owner Tom Chien had a well-deserved reputation for maintaining order. "He brooked no bullshit from anybody and was more than ready to give somebody a beat down if they were causing trouble," Kennedy said.
But one night, when Chien wasn't there, two men expelled for bad behavior returned with a handgun and a golf club. Clinton and another bartender fled by climbing out the back to the roof. While the gunman kept watch, the man with the golf club used it to bash the bar's glassware and glass cooler doors.
There were other misadventures that Chien, had he been present, might not have tolerated. "I got laid there once downstairs behind the pool table," said one man, who will remain anonymous for obvious reasons. "It wasn't a bad place to go if you wanted to have a bit of a smoke," said another.
By the late 1990s DV8 was eclipsed by newer, glitzier nightspots, and the crowd got a little older. The wooden benches and tables are still there, and the two televisions are still often tuned to sports channels, but the smoke-yellowed, graffiti-scarred walls were repainted orange with abstract cartoon characters a couple of years ago. Fewer people wait their turn to DJ, fewer wait downstairs to shoot pool.
Wong said she may open a new DV8 in a year or so, but the little things that made her bar special can probably never be recreated.
"It's always sad to lose a familiar watering hole," Kennedy said. "It has that unpretentiousness of a good dive that's hard to find anymore."
Then he added: "The real question is where's Tom Chien's father gonna drink tea?"
Feb. 26 is the last night at DV8, located at 233 Jinhua St, Taipei (台北市金華街233號), tel (02) 2393-1726
Comments will be moderated. Keep comments relevant to the article. Remarks containing abusive and obscene language, personal attacks of any kind or promotion will be removed and the user banned. Final decision will be at the discretion of the Taipei Times.