Kirov brings ballet extravaganza to town
In a season that has seen some outstanding shows, the Kirov puts icing on the cake with its program of rarities and popular favorites
Christmas is coming two weeks early this year for Taipei balletomanes. It arrives on Tuesday with the return of the Kirov Ballet to the stage of the National Theater for a six-performance run.
It has been just a little over two years since the Taiwan debut of the Kirov Ballet of the Maryinsky Theater, St. Petersburg. The Kirov's dancers stunned audiences with their technical virtuosity, especially in what has practically become the company's signature piece, Swan Lake. One of the great joys of their performances was the fact that the Kirov Orchestra was accompanying them. The link between a dancer's performance and live music cannot be underestimated and luckily for us, the orchestra is also making a return trip, under the baton of conductor Alexander Polyanichko.
No visit by the Kirov anywhere in the world is considered complete without an appearance of its swan corps de ballet and Taipei audiences will have another chance to see why next week. But the company is also bringing several other ballets, and if you have been very good, maybe Santa will get you tickets to the three different shows.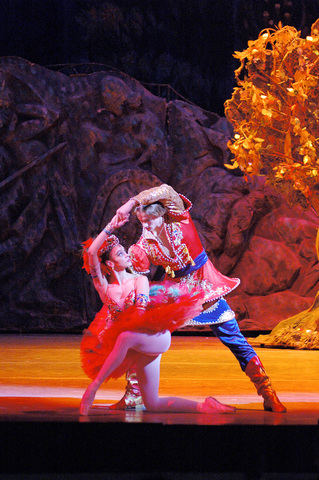 The Kirov makes a welcome return in time for Christmas.
PHOTOS COURTESY OF MNA
The Kirov is opening its run with two nights of Giselle, one of the great classics of romantic ballet, but one that has not been seen in Taipei for far too long. Thursday and Friday will be what the Kirov calls the Fokine Triplet of Chopeniana (known outside Russia as Les Sylphide), Scheherazade and Firebird. Swan Lake rounds out the bill on the weekend.
Giselle should be a hit with local audiences. It has all the elements of a great 19th century drama: sickness, love, betrayal, revenge and ghosts. There is even murder thrown in for good measure. But is the Wilis, the vengeful ghosts of women who died before their wedding day and who are cursed to haunt the forests late at night seeking men to take their revenge upon, that will be the most familiar. Think of all the Chinese legends about fox spirits who entrap unwary men and lure them to their deaths.
But above all Giselle is a love story. And fittingly it began as an ode to love — the love of French writer, poet and ballet fan Theophile Gautier for one of the prima ballerinas of his day, Carlotta Grisi. Gautier came up with the story idea, but to flesh it out into a full libretto he turned to fellow writer Jules-Henri Vernoy, the Marquis de Saint-Georges, author of 12 ballets and scores of operas. Adolphe Adam composed the music, and the choreography was credited to Jean Coralli, the senior ballet master of the Paris Opera.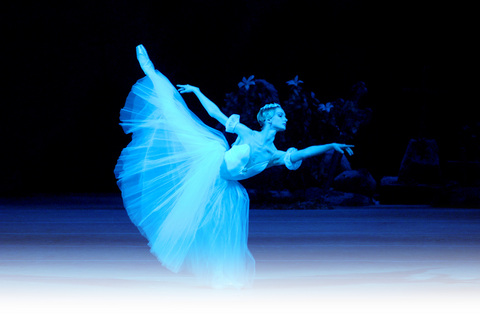 Giselle premiered at the Paris Opera in June 1841. It was an immediate hit, and copies (or ripoffs) of it quickly appeared in other companies in Europe and the US. The version that most audiences today are familiar with is the Russian one, revised by Marius Petipa, the ballet master of the MarinskyTheater, in the late 1800s.
Giselle is the story of a frail young village girl who captures the attention of a bored young nobleman, Albrecht, who is engaged to a woman of his own class. Albrecht disguises himself as a peasant in order to pursue Giselle. She falls madly in love with him and believes that they will marry. Fellow villager, Hilarion, who has loved Giselle for years becomes jealous of Albrecht and exposes him. A broken-hearted Giselle collapses and dies and both Hilarion and Albrecht are overcome with remorse.
Act Two opens in the graveyard where Giselle has been buried and where Hilarion is keeping a vigil. Albrecht appears and Hilarion flees into the forest, where he is discovered by a group of Wilis. Marta, the queen of the Wilis, orders her followers to dance with Hilarion until he dies from exhaustion. When Albrecht appears, Marta orders a similar fate for him, but Giselle intervenes and her help keeps him alive until dawn, when the Wilis lose their power. Giselle forgives Albrecht, but then departs as one of the Wilis, doomed to roam with them until the end of time.
Diana Vishneva will dance Giselle on opening night, partnered by Igor Kolb as Albrecht, while Olesya Novikova and Vladimir Shklyarov tackle the roles on Wednesday.
Choreographer Mikhail Fokine was one of the dance world's greats to emerge from the Marinsky Theater in the beginning of the 20th century. His Chopeniana and Le Spectre de la Rose have been in the repertoire of ballet companies the world over for decades. On this occasion they have matched it with two other Fokine short classics, Scheherazade (music by Nikolai Rimsky-Korsakov) and Firebird (Igor Stravinsky).
If you have a choice between Thursday and Friday nights, I'd recommend the latter because of an added bonus — Uliana Lopatkina performing Fokine's The Dying Swan. She was absolutely breathtaking in this role two years ago: Six minutes of heartbreaking fluttering, lyrical beauty and arms that you would swear were really wings.
Audiences will have a chance to see Lopatkina be a swan again on Sunday night, when she dances the main role of Odette/Odile in Swan Lake, partnered by Evgeny Ivanchenko. On Saturday night, Yulia Bolshkova and Leonid Sarafanov are the two leads.
This second visit gives one hope that Taipei might join Japan as a key destination on the Kirov's touring calendar. Even after a year of several extraordinary dance performances, ticket sales have been brisk, so let's keep our fingers crossed that the promoters will bring this wonderful company back for another visit soon.
Publication Notes
For your information:
What: The Kirov Ballet and Kirov OrchestraWhere: The National Theater, TaipeiWhen: Tuesday, Dec. 12 through Sunday, Dec. 17 at 7:30pmTickets: The lower priced tickets are mostly sold out; remaining ones start at NT$2,400, and run to NT$6,000
Comments will be moderated. Keep comments relevant to the article. Remarks containing abusive and obscene language, personal attacks of any kind or promotion will be removed and the user banned. Final decision will be at the discretion of the Taipei Times.