Events & Entertainment
Theater
One Little Monkey Jumping on the Bed is the wonderful story of a 45-year old woman's discovery that she is pregnant and her concern that she is not up to the task of motherhood. The play is a series of dream sequences the mother experiences both before and after birth and the experiences she has as a mother.

* At the Experimental Theater, Taipei (國家實驗劇場)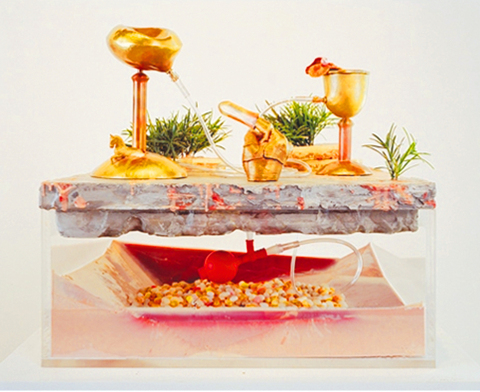 The Council of Cultural Affairs Go West Artist Residency Program exhibition is a chance to see the works of 17 artists who have gone overseas, specifically to western nations, to find inspiration and hopefully for them, cement careers as international artists. This is the sixth time that the show has been held, and if nothing else, is a chance to judge how well the favored few have done from a government sponsored exercise to broaden artistic horizons and make Taiwan a center of the arts in Asia. The theme Go West (西•遊記) is taken from the famous story of Monkey or Journey to the West in which a Buddhist monk from China makes the long and dangerous journey to India to obtain the scriptures of his faith. The exhibition opens tomorrow at the Huashan Culture Park (華山文化園區), located at 1 Bade Rd Sec 1, Taipei. * For more information call (02) 2392-6180 or visit www.cca.gov.tw/ huashan * Opening hours are from 9am to 10pm 22 (closed on Mondays and national holidays)
PHOTO COURTESY OF HUASHAN CULTURAL PARK
* Today at 7:30pm, tomorrow at 2:30pm and 7:30pm and Sunday at 2:30pm

* Tickets are NT$350 and are available through NTCH ticketing
Assassination Q2 … GO (暗殺Q2…GO) is a black comedy that will keep you on the edge of your seat.

* Guling St. Theater (牯嶺街小劇場), 2, Ln 5, Guling St, Taipei (台北市牯嶺街五巷二號)

* Today at 7:30pm, tomorrow and Sunday 2:30pm and 7:30pm, Tuesday, Wednesday and Thursday at 7:30pm

* Tickets are NT$350 and available through NTCH ticketing
Memory Puzzles — Ku & Dancers (記憶拼圖 — 古名伸舞蹈團) is a combination of dance, digital and stage performance and is an intricate and mesmerizing visual display that combines digital art with dance.

* Red Theater (紅樓劇場), 10 Chengdu Rd, Taipei (台北市成都路10號)

* Today at 7:45pm, tomorrow and Sunday at 2:45pm and 7:45pm

* Tickets are NT$500 and are available through ERA ticketing
Events
Tellus Theatre Acting Workshop, under the Thalie Theatre director, is still open for applications. The workshop which runs from 2pm to 5pm this and following Sundays, deals with many different aspects of acting. The workshops cost NT$1,800, or NT$1,200 respectively for students or applicants starting this week. Former members of Thalie Theatre will only be charged NT$800. More information can be obtained at the Tellus Web site at www.wretch.cc/blog/tellus. Enquiries can also be directed to tellus_drama@yahoo.com.tw, or call Leslie at 0939-872-083.
2006 A-ha Hakka Arts Festival (2006 a-ha客家藝術節) presents a feast of local performances starting tomorrow. The festival will take place over four days at different locations around the island, showing the richness and diversity of the Hakka culture. Tomorrow it will take place at the at the Meinung Hakka Folk Museum (美濃客家文物館) in Meinung, Kaohsiung County. This will be followed by events on Nov. 11, Nov. 25 and Dec. 12 at the Luo Family Complex in Chiatung Township, Pingtung County (屏東縣佳冬鄉羅家夥房), the Chiang Kai-shek Performance Hall in Fengshan City, Kaohsiung County (高雄縣鳳山市國父紀念館演藝廳), and the plaza outside the Kaohsiung City Music Hall (高雄市立音樂館). Details of the performances can be found at www.hakka.gov.tw.
Classical Music
An Evening of Nanguan Music (弄樂—玩南管的日子). As part of the Taiwan the NTCH's Taiwanese folk music series, the concert will feature conductor Chen Kun-jing (陳焜晉), director of the Pear Garden Music Ensemble (梨園樂坊). Chen will lead a group of young and brilliant musicians to perform musical pieces in a theatrical setting. The first half of the program will follow the traditional style to get people immersed in the elegant tranquility of Nanguan music. The second part is a musical interpretation of the Chinese fantasy classic The Classic of Mountains and Seas (山海經).

* At the Recital Hall, Taipei

* Seats are still available from NT$400 to NT$500 through NTCH ticketing

* Tomorrow at 7:30pm
The St. Petersburg Philharmonic Orchestra (聖彼得堡愛樂管絃樂團) is Russia's oldest symphony orchestra. Featuring prize-winning Georgian pianist Elisso Virsaladze and conductor Yuri Temirkanov, the orchestra will present two different concert programs today and tomorrow. For the first concert, the program will include Tchaikovsky's Polonaise from "Eugene Onegin" and Piano Concerto No.1, and Shostakovich's Symphony No.5 Revolution; for the second concert, the program will include Weber's Overture Euryanthe, Grieg's Piano Concerto, and Tchaikovsky's Symphony No.5.

* At the National Concert Hall, Taipei

* As of press time, NT$800 to NT$1,800 tickets are sold out, but seats are still available from NT$2,400 to NT$4,200 through NTCH ticketing

* Today and tomorrow at 7:30pm
Nobuko Imai Viola Recital (今井信子中提琴演奏會). Nobuko Imai enjoys the reputation as the godmother of contemporary violists. An outstanding performer, she is the only artist honored with winning both the Munich and Geneva International Competitions. She will be joined by special guest Kei Itoh, the first Japanese pianist to win the Munich International Competition. The program will include Schumann's Fantasy Pieces Op.73 for viola and piano, Fantasy Pieces, No.1-5, Op. 12 for solo piano, Bach's Chaconne in D minor for solo viola, Takemitsu's A String around Autumn, and Brahms' Sonata in F Minor, No.1, Op.120 for viola and piano.

* At the National Concert Hall, Taipei

* Tickets from NT$500 to NT$1,500 are available through NTCH ticketing

* Sunday at 2:30pm
Staatskapelle Dresden — The Night of Brahms and The Night of Beethoven (德勒斯登國家交響樂團—布拉姆斯之夜與貝多芬之夜) Founded in 1548, the Staatskapelle Dresden is one of the oldest orchestras in the world. It has been nicknamed "the Orchestra of Richard Strauss," as it premiered several operas written by Strauss, including Salome, Elektra, and Der Rosenkavalier. The orchestra will be visiting Taiwan under the direction of Korean conductor Chung Myung-whun. He will lead the Staatskapelle Dresden to perform Brahms' Symphony No. 1 and 4 on Tuesday and Beethoven's Symphonies No. 6 and 5 on Wednesday.

* At the National Concert Hall, Taipei

* As of press time, most tickets are sold out, but NT$2,400 and NT$3,000 tickets for the Brahms concert and NT$2,400 tickets for the Beethoven concert are available through NTCH ticketing.

* Tuesday and Wednesday at 7:30pm
Gordon Shi-wen Chin Music Festival — Chamber Music Concert (金希文樂展—室內樂之夜). Taiwan-born musician Chin's compositional style has received critical acclaim in the world. Since 1985, his works have regularly been commissioned by the world's leading musical groups and musicians. In this special program, Chin will work with cellist Felix Fan (范雅志), pianist Andrew Russo, percussionist David Cossin, and soprano Xu Yi-lin (徐以琳).
Joined by the YinQi Symphony Orchestra, Chin will direct his chamber music works, including Wind, the Colliding Sound of Time (風,時間碰撞的聲響) for cello and percussion, Uncertain Skies (不確切的天空) for piano, percussion, and cello, Fantasy for Piano, and Three Poems for Soprano and Chamber Orchestra for voice and strings.

* At the Recital Hall, Taipei

* Tickets cost from NT$300 to NT$800 and available through NTCH ticketing

* Thursday at 7:30pm
Contemporary
The Wall (這牆) presents 2006 Tom Chang Memorial Concert tonight with Yang Pei-an (楊培安), Oriental Express, Last Checkout (陶土飛靶), Open Smile and Day Tripper, among others. Tomorrow features DJ Aki with support from FunkStar, Elvis.T, MC Beemer and VJ Big Floor. On Sunday it's So What, Wednesday is Chai Hsin-yuan (蔡欣圜), Hsieh Chung-chi (謝仲其), Li Wei (立威), Yan Chun and Yao Ta-chun (顏峻+姚大鈞)and Thursday is Mayonnaise (美乃滋) and Joker.

* Entrance for tonight is NT$400, tomorrow, Wednesday and Thursday is NT$300, Sunday is NT$150

* Tonight, Wednesday and Thursday's shows begin at 8pm, tomorrow's at 11:30pm, Sunday's at 4:30pm

* B1, 200 Roosevelt Rd Sec 4, Taipei (台北市羅斯福路四段200號B1). Call (02) 2930-0162 or visit www.the-wall.com.tw
Grooveyard presents Dirty Skies tonight and Public Radio with Johnny Fatstacks tomorrow.

* Both shows begin at 10pm

* Entrance for tonight is NT$100, tomorrow is NT$200 after 10pm and NT$100 before

* 2F, 105 Huamei W Rd, Taichung (台中市華美西街105號二樓).
Visit www.grooveyardtaiwan.com
The Living Room (小客廳) presents Black Sheep (黑羊藍調) tonight, Chit Chat Game Night on Tuesday with board games, on Wednesday it's Magic, Music, and "The Buzz" (嘰哩呱啦美語聚樂會) featuring a magic show, performances by new bands and a new weekly language club for anyone who wants to practice and improve their English. On Thursday it's Theater night.

* Tonight's show begins at 10pm, Thursday's at 9pm, the fun and games begin at 7pm on Tuesday. Wednesday's evening of entertainment starts at 7pm

* Entrance for tonight is NT$400, NT$100 on Thursday. On Wednesday, entrance for the magic show is NT$50, for the band gig it's NT$100 and for the language club it's NT$100. There is no cover on Tuesday

* 3F, 8 Nanjing E Rd Sec 5, Taipei (台北市南京東路五段8號3樓). Call (02) 8787-4154 or visit www.livingroomtaipei.com
Velvet Underground(地下絲絨) presents BSD, Undo and Shock tonight, Lips tomorrow, TS on Tuesday, Loaded on Wednesday and Question on Thursday.

* All shows begin at 9pm except Wednesday's, which begins at 9:30pm

* Entrance for all shows is NT$300 (students NT$200)

* B1, 50 Zhongxiao W Rd Sec 1, Taipei (台北市忠孝西路一段50號B1) Call (02) 2314-1868 or visit www.velvet-underground.com.tw
Exhibitions
2006 Taipei Biennial: Dirty Yoga (2006台北雙年展-限制級瑜珈). The fifth Taipei Biennial invites more than 30 artist and groups from around the world to participate in different forms in the discourse of between-ness by suggesting a different way of understanding the world.

* Taipei Fine Arts Museum (台北市立美術館) at 181 Zhongshan N Rd Sec 3, Taipei (台北市中山北路三段181號) Open Tuesday to Sunday from 9:30am to 5:30pm. Call (02) 2595-7656

* Until Feb. 25
Walk into the People — Three Giants of Russian Literature (走向人民-俄羅斯文學三巨人). A special exhibition on Pushkin, Tolstoy and Sholokhov, featuring around 500 rarely-seen personal items and documents of the three masters on loan from the National Pushkin Museum, The State Memorial and the Natural Preserve Museum-Estate of Leo Tolstoy and National Sholokhov Museum.

* National Museum of Taiwanese Literature (國家台灣文學館), 1 Chungcheng Rd, Tainan (台南市中西區中正路1號) Open Tuesday to Sunday from 10am to 5pm. Call (06) 221-7201

* From Sunday through Jan. 12
Special Exhibition on Taiwan's Wetland(揭開台灣濕地的神秘面紗特展). The exhibition aims to raise public awareness about the importance of wetlands preservation. It offers a comprehensive introduction to types of wetland and biodiversity.

* National Taiwan Museum (國立台灣博物館), 2 Xiangyang Rd, Taipei (台北市襄陽路2號). Open Tuesday to Sunday from 10am to 5pm. Call (02) 2382-2699

* Until April 22
The First Taipei Modern Ink Biennale Exhibition(時尚水墨-第一屆台北當代水墨雙年展) features works by acclaimed artists and literati from Taiwan, China, South Korea, France and the US, which explore the possibilities of ink painting related to themes such as video, fashion design and literature.

* Cathay United Art Center (國泰世華藝術中心), 7F, 236 Dunhua N Rd, Taipei (台北市敦化北路236號7樓). Open Monday to Saturday form 10am to 6pm. Call (02) 2717-0988

* Until Dec. 2
Taiwan Artist Today at MOCA 2006. Featuring multimedia works by four acclaimed local artists from different generations, the exhibition is intended to serve as a combined commentary to explore the century-old question of "how art conducts dialogue with the real world from a created space that is not reality."

* Museum of Contemporary Art (台北當代藝術館), 39 Changan W Rd, Taipei (台北市長安西路39號). Open Tuesday to Sunday from 10am to 6pm. Call (02) 2552-3721

* Until Nov. 19
Comments will be moderated. Keep comments relevant to the article. Remarks containing abusive and obscene language, personal attacks of any kind or promotion will be removed and the user banned. Final decision will be at the discretion of the Taipei Times.