The Vinyl Word
If music be the food of love, then turn it up. The Vinyl Word this week brings you two interviews, the first with the crew behind The O-Brothaz Sound System that will burn up The Wall tomorrow night with an array of reggae, dancehall, soca, zouk and calypso. The group is Taiwan's first Jamaican-style sound system and has set up the nation's first foreign-owned music label and is on a mission to promote Caribbean music and culture and nurture local talent.
Also, Johnny Fiasco reveals his thoughts on his monthlong sabbatical in Taiwan when he played a weekly residency at Luxy and produced two tracks in the studio taking the island as his inspiration.
Sound systems took off in Jamaica over 50 years ago and were set up to play music that wasn't aired on the radio. These mobile party crews worked with artists to produce music and provided an avenue for up-and-coming musicians to be heard.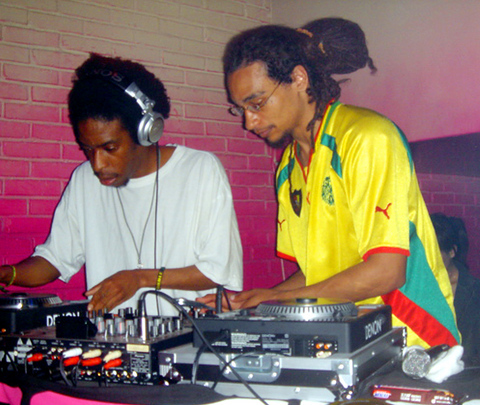 The O-Brothaz Sound System brings Caribbean vibes to Taiwan.
PHOTO COURTESY OF TAHRIC FINNEY
The O-Brothaz Sound System was set up two years ago by Lion and Young Blood, both from Jamaica and Assassin who hails from Martinique.
After a series of gigs at Barrios on Dunhua South Road the crew played a few gigs at the Living Room, then secured a regular slot at TU.
Assassin: Corbit [The Living Room's boss] gave us a chance to do a few shows. We were free to do what a sound system was really about. And that was when Young Blood came into the picture, he was from Jamaica ... and had been operating a sound system in Toronto.
Lion: In the Caribbean there was a lot of music you couldn't hear on the radio. So what happened was people would buy records of popular Jamaican music and get out on the street, or a small yard, and play it there. Doing that involved a whole culture.
Assassin: More and more people are starting to appreciate the music... . We are not just playing the music, we want to promote Caribbean music. Taiwanese people don't really know about this type of music.
Lion: At the beginning a lot of people would just be standing around at our shows thinking, `what is this?'
(O-Brothaz played TU for one year, until the club changed hands.)
Assassin: Then we took a break, and we did some gigs at The Wall.
Lion: When we were playing at TU we saved and saved and bought our own equipment. We have a studio now, in Beitou.
Assassin: We want to produce. The feeling I have always had playing clubs is that the bosses always try to control what you do. And we wanted a place with more freedom.
Lion: It's been really good at The Wall.
(Tomorrow night's bash is the sound system's third at the venue that was once the preserve of local alt rock outfits.)
Lion: From the first gig at The Wall in January, the word just spread.
Lion: The technical thing about mixing reggae is quite different from mixing say techno. Because a lot of the music in the Caribbean is still live, it's an off-beat music. Whereas a techno DJ may have four or five bars of the same beat he can mix in, we might get two, and then it will change.
(The O-Brothaz Sound System, unlike systems back in the Caribbean mixes it up, and plays a wide spectrum of beats and sub-genres.)
Lion: With reggae you have about five different kinds; dub, which is instrumental, close to the original kind and also close to drum and bass and you have dancehall, like our club music, then you have roots which would be like Bob Marley and Peter Tosh, then lovers' rock.
Assassin: More for Dancing like our R&B.
Lion: Then, the last, which some people call "conscious," and more like Rasta man music, but you can dance to it. Calypso is the father and soca is the son. Calypso's home is Trinidad but all the Caribbean islands have a version of it.
(Employment legislation and laws governing entertainment establishments make it illegal for most foreigners to DJ part time. )
Lion: DJing in Taiwan is often illegal, if we wanted to base our thing here we had to be legal.
Assassin: So we started a company.
Lion: In Taiwan we are the first foreign registered label. The accountant would ask the government what the rules were, and then they would have to work out what to do and the process ended up going on for a year and a half.
(The trio had to set up a company in Hong Kong then register a branch office in Taiwan. The paper work was stamped and in May the production company became a legal entity.)
Lion: The studio was set up at the same time. We want to promote Caribbean music in Asia [and] we want to attract Taiwanese artists and to give them a place to work.
Back in the US after a monthlong stint at Luxy, Johnny Fiasco, Luxy's first Sabbatical resident is positive about the club's bold programing move.
Vinyl Word: Did you dig Taiwan?
Johnny Fiasco: Honestly, I think that city has been a well-kept secret. I have played there three times in two years and I've had a great time ... every time. What was nice, is this time I was actually able to absorb more of the local culture and really get to know some of the friends I've met in the past.
VW: What did you get up to in the studio?
JF: I was asked to do one recording at first, but I decided that one was not going to really go where I wanted it to. The first track is more of a 7am deep and lush vibe ... very sensual. The second is going to represent a more avant-garde style of tech and house mixed with some serious prime time grooves ... with a little native tongue as well.
VW: Did you use any inspiration from Taiwan for the tracks?
JF: Yes I did. It was nice to see so many sunrises ... it really struck a chord in me. I'm a sucker for the sun coming and going and that's why I decided to do more than one project (this is where the deeper ... moody track came in). When you're anywhere but home for an extended amount of time (26 days) every day does become a slower version of what you're normally used to (and sometimes immune to). So you really appreciate all the little things we take for granted.
VW: How do you feel about the response to your Sabbatical?
JF: I thought it was great. Every week the turnout got bigger and better and I really tried to mix my DJ sets to give it enough variation of music every week. I'm not about playing the same old choons every week. So this was a great exercise in playing the role of a club DJ... not the parachuting two-hour DJ set and then see ya!
VW: Do you think the Sabbatical has the potential to raise the level of music produced in Taiwan?
JF: I think there is enough talent in Taiwan to make some noise for sure. This is a great way to really shed some light on it, as well as motivating them
[producers] to find the time to do it. You need the strength in numbers ya know.
Comments will be moderated. Keep comments relevant to the article. Remarks containing abusive and obscene language, personal attacks of any kind or promotion will be removed and the user banned. Final decision will be at the discretion of the Taipei Times.