Creating a world in miniature
Cute, colorful and lifelike, the miniatures created by Lin Ching-i serve a range of functions, from decoration to memorials
Located in Taipei's bustling Shida Night Market (師大夜市), there is a shop in which everything you see, from the flowers in the window to the meat, fish and vegetables inside, is not real -- and often very much smaller than you might expect. This is the Mini House (迷你屋), a store run by former graphic artist Lin Ching-i (林靜宜), 33, who specializes in making resin models of flowers and other items. The store's interior is like one of the worlds of Gulliver's travels.
Sitting in her shop, Lin works at a table making miniature models of vegetables, bread, and bacon, each the size of a finger nail.
"This was commissioned by a nutritionist," she said. "She wants to use these as teaching aids to show diabetic sufferers how to eat healthily. Pictures are boring, my work attracts the eye and leaves a stronger impression."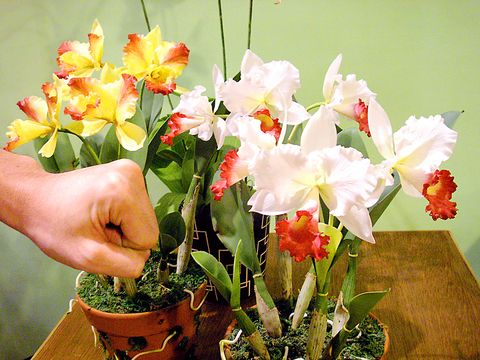 Lin Ching-i's miniature flowers.
PHOTO: GINGER YANG, TAIPEI TIMES
Lin works in resin; a strong and pliable material. All her works look almost exactly like the real thing. The resin, even after it is dry, has a soft feel, and the leaves and petals of her miniature plants bend under the touch.
Her work is largely inspired by the world she sees around her. It is quite different from the Miniatures Museum of Taiwan (袖珍博物館), the country's best known display of Dolls Houses and other miniatures. For example, she makes displays of seafood and vegetables, just like those seen at local traditional markets, except that the market stand, with 15 different vegetables and seafood, is only the size of a sheet of B4 paper.
These small stands bring to mind the boisterous market: the shimmering greasy food, fresh fish laid on ice, and colorful tropical fruit.
Her favorite theme is flowers, such as orchids and tulips. These are the same size as the real plant, and from stem to petal are made of resin.
"The resin I use is a new product. It's soft and flexible so that my artwork is not fragile. Also, as it has a semi-transparent quality, it has the watery glow of a living thing," Lin said.
Displayed beside the flowers are vivid sculptures of dogs, cats and frogs. These sculptures are often ordered by pet owners, sometimes as a memorial to animals that have died. For these, Lin works from photographs.
While many may think that the skills of the miniaturist are hard to acquire, Lin said she took to the work very easily. Her first work, a bowl of lotus flowers, took her 14 days to complete, and is on display in the store.
Meeting with such success, she decided to dedicate herself to creating miniatures and models for the next two years, after which she opened her first shop.
"I do this for my own interest. Making beautiful things always gives me a feeling of serenity," said Lin. "I don't care about making a profit out of it."
Comments will be moderated. Keep comments relevant to the article. Remarks containing abusive and obscene language, personal attacks of any kind or promotion will be removed and the user banned. Final decision will be at the discretion of the Taipei Times.