Restaurant: Haxen Gaststatte 老德廚房
Address: 225, Fuxing N Rd, Taipei (台北市復興北路225號)
Telephone: (02) 2546 3046
Open: 11am to 11pm, Tuesday through Sunday
Average meal: NT$700 including service charge
Details: Menu in English; credit cards accepted
Haxen Gaststatte has been open 10 years, so it must be doing something right, although within 10 minutes of entering this German restaurant several grumbles presented themselves: the proprietor was a little cold and the lighting was garish with florescent lights running along the edge of the ceiling.
The decoration sticks to the safety of beige and cream. The walls are filled with tourist paraphernalia, several framed sets of playing cards that show photographs of German landmarks and a large picture of a nondescript mountain scene hangs on the back wall.
The one window table affords patrons a vista of Fuxing North Road.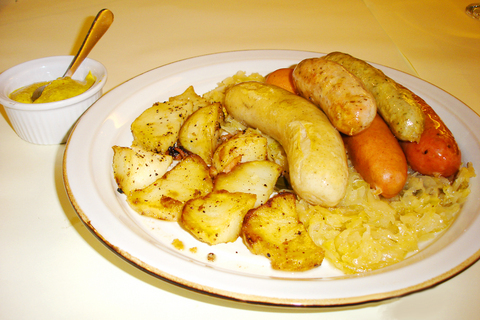 Eyes down to what really matters -- the food.
PHOTO: STEVE PRICE, TAIPEI TIMES
A reviewer on the American Chamber of Commerce Web site described the place as a "nicely decorated venue." Inoffensive would be more to the point.
Many German restaurants in Taipei include the usual variations on the theme of sausages, pork knuckle, spatzle and black forest gateau: Haxen Gaststatte is no exception.
But as more German restaurants open their doors the bar gets higher.
A set menu is available 11:30am until 2:30pm from Tuesday through Friday. Choices include sausages with bread, smoked pork loin, vegetable spatzle and beef stew, all of which come with salad, soup and tea or coffee.
For appetizers the a la carte menu includes mushroom gratin, deep fried camembert, potato pancake and swiss hashbrown. Main course choices include veal sausages, pork sausages, pepper sausages, Nurnberger sausages, spatzle with tomato sauce, gnocci in pesto cream sauce and boiled pork knuckle. For an extra NT$190 dishes come with soup, salad, dessert and coffee or tea.
So what does this place do well?
After a small bowl of highly seasoned mushroom soup and a plate of salad that consisted of grated carrot, red cabbage and potato salad topped off with two slices of lightly smoked ham the waitress brought over the main course -- mixed sausage platter. Five sausages of various shades of brown and pink were presented on a generous bed of sauerkraut, accompanied by pan-fried potatoes and a pot of honey mustard.
The tart sauerkraut was a good counterpoint to the meat fest and potatoes. The mustard was mild with a sweet edge. All in all a satisfying combination of flavors and textures.
Comments will be moderated. Keep comments relevant to the article. Remarks containing abusive and obscene language, personal attacks of any kind or promotion will be removed and the user banned. Final decision will be at the discretion of the Taipei Times.