Restaurant: Mei-Men Tavern 梅門客棧
Address: 2F, 104, Zhonghua Rd, Sec 1, Taipei (台北市中華路一段104號2樓)
Telephone: (02) 2375 5905
Open: 11:30am to 9:30pm, Tuesday through Sunday
Average meal: NT$120 for lunch, NT$380 for dinner
Details: No English menu provided. Credit cards not accepted
Mei-Men Tavern's Chinese name sounds rather unique in that it gives an impression of a place where Chinese swordsmen or body guards stayed overnight during their trip in times gone by.
The restaurant, opened some six months ago by the renowned kung fu master Lee Feng-san (李鳳山), who founded the Mei School of martial arts, is managed entirely by his volunteer disciples.
According to Lee, every dish was designed and approved by himself and he adjusts the menu for each season using the five elements (五行) of nature as inspiration.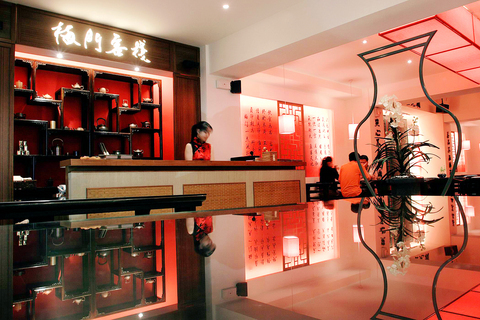 Mei-Men Tavern is full of classic Chinese elegance and food.
PHOTO COURTESY OF MEI-MEN TAVERN
The vegetarian restaurant promotes qigong exercises.
Lee believes that a peaceful world "is built by people with peaceful minds, and a peaceful mind is the result of a healthy body. Only these people can match their actions with their ideals."
This philosophy underpins many aspects of the restaurant.
Mei-Men Tavern is decorated in classical Chinese style. The elegant wooden dinning tables and chairs look antique and were imported from Vietnam. The friendly and smiling wait staff wear black kung fu attire.
Natural ingredients are strongly emphasized here and salt is the only seasoning used for preparing dishes.
Popular food items such as noodles and jiaotze (餃子) are all handmade by the chefs. From this week on, a new set menu is available. For lunch, the tomato tofu set meal is served with noodles. Another choice is curry flavored with coconut milk and served with rice.
Portions are large and are reasonably priced at NT$120 for each set. Besides the delicious main course, the peanut soup, which comes with each set meal, is a knock-out.
A la carte choices include vegetables baked in cheese with noodles, or handmade sesame paste noodle, which is highly recommended. You'll fall for the unusually chewy noodles. The Chinese hamburger makes an excellent side dish. The bean curd filling is rich and tasty. Set dinners, such as fu te borscht soup and enjoy oneself cabbage soup, or lu yun kai turnip soup are recommended for first timers. Prices range from NT$320 to NT$380.
After a full meal, the plum juice or the Mei-Men Chinese milk tea gives your digestive system a helping hand. The restaurant holds qigong, taichi and kung fu demonstrations on a small stage from 7pm to 8pm on Saturdays and Sundays. The restaurant is usually packed out during those hours, so reservations are recommended for weekend evenings.
Comments will be moderated. Keep comments relevant to the article. Remarks containing abusive and obscene language, personal attacks of any kind or promotion will be removed and the user banned. Final decision will be at the discretion of the Taipei Times.