London gets its groove back
Vogue's Anna Wintour is back in Britain, a sign that London is fashionable again
With catwalks set up across London in typically diverse settings -- from the Freemason's Hall to the Royal Opera House to the inevitable cold warehouses in east London -- London fashion week began Tuesday in a decidedly more optimistic mood than in the past few years.
Usually seen as the ugly, amateurish sister to the Cinderella prettiness of New York, Milan and Paris fashion weeks, London has been ignored by the international fashion world and is often not even mentioned in American fashion magazines. The exodus of most of London's best known designers, including Alexander McQueen, Stella McCartney and Matthew Williamson, compounded the idea that London had little to offer in terms of serious fashion.
But the mood has changed faster than the switch from gypsy to pencil skirts. Much of this rests on the famously slim shoulders of Anna Wintour, the editor of US Vogue, arguably the world's most influential fashion magazine. Despite being British, Wintour has not attended London fashion week for several years. But this season she is back, signalling that British designers are, at last, worthy of serious consideration and the seven-hour flight from New York."It is very exciting for the designers that she is coming," said Louise Chunn, the editor of the rival publication In Style.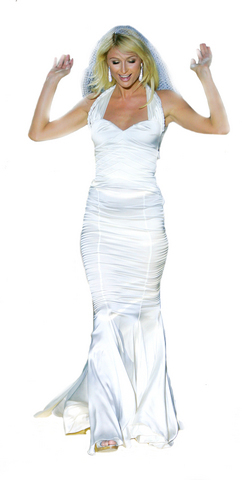 Paris Hilton in London.
PHOTO: AP
The British Fashion Council is making strides to widen London's appeal. It has changed the dates of the shows, moving the end of the week closer to the start of Milan's, to make it easier for the non-British press to attend and then head over to Italy.
The appointment of Hilary Riva as the chief executive of the fashion council in December has also been welcomed.
And then there are, of course, the designers. The biggest expectations are focused on one self-effacing, bespectacled artist, Giles Deacon. His show, which will take place on Friday under the name of his label, Giles, is undoubtedly the one of the week. His elegant, quasi-couture dresses have garnered an impressively A-list selection of fans, including Linda Evangelista.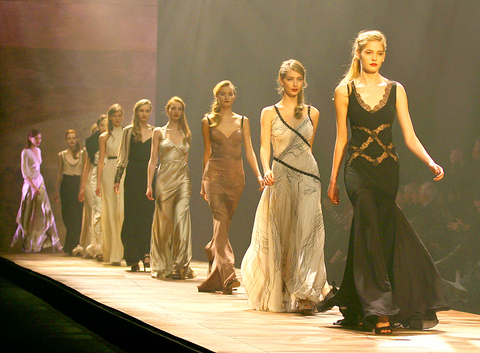 Models display clothes by fashion designer Amanda Wakeley on the first day of London Fashion Week, at the Natural History Museum, in London.
PHOTO: AFP
"You can't manufacture a buzz; it has to come from the work," Chunn says. "But it also comes from confidence, and things like changing the dates [of the week] and changes within the British Fashion Council will give everyone more confidence."
Comments will be moderated. Keep comments relevant to the article. Remarks containing abusive and obscene language, personal attacks of any kind or promotion will be removed and the user banned. Final decision will be at the discretion of the Taipei Times.