Fishing for answers in seas of trouble
The warming of seas, lakes and rivers could devastate fish stocks, environmentalists have warned
Fish are under growing threat as climate change fuels a rise in temperatures in rivers, lakes and the world's oceans, the environmental group World Wildlife Fund (WWF) warned yesterday.
In a report, WWF International said that hotter water means less food, less offspring, less oxygen and more disease for marine and freshwater fish, and that other species, including humans, will feel the impact.
"The balance is set to tip, as climate change continues the pressure on fish populations already strained by overfishing, pollution and habitat loss," said Katherine Short of the WWF's Global Marine Program.

"We must act to protect fish," she said. "They are one of our most valuable biological, nutritional and economic assets."
The report said that warmer temperatures are expected to stunt the growth of some fish, resulting in fewer offspring.
Fish metabolisms normally speed up in line with temperature increases, accelerating competition for food -- and insufficient food supplies can slow growth and reproduction rates, the WWF study said.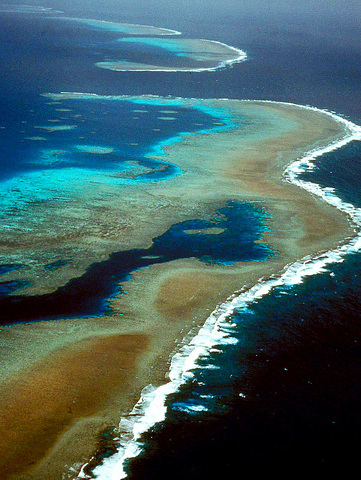 The corals of Australia's Great Barrier reef have experienced bleaching from an increase in sea temperatures.
PHOTO: NY TIMES NEWS SERVICE
In addition, some temperate fish such as salmon, catfish and sturgeon cannot spawn at all if winter temperatures do not drop below a certain level, the study said.
In lakes in particular, warmer temperatures hamper the circulation of the oxygen that fish need to breathe. Fish filter oxygen from water, but the amount of oxygen dissolved in water decreases as temperatures rise.
The impact on other species is another cause for concern, the WWF said.
Warming could cause fish to move to deeper, cooler waters as they seek to maintain the temperature normal for their habitat, and this can leave other species in dire straits.
In the Gulf of Alaska in 1993, as fish moved into cooler waters, around 120,000 sea birds starved to death as they were unable to dive deep enough to reach their relocated prey, the WWF noted.
Worldwide, marine and freshwater fisheries generate more than US$130 billion annually, employ at least 200 million people, and feed billions reliant on fish as an important source of protein.
New fish seeking cooler climes can wreak havoc on ecosystems as they compete with existing fish residents, the WWF added.
Parasites and microbes also thrive in warmer waters, and are better able to attack fish whose immune systems are stressed by higher temperatures, lack of oxygen and crowding.
Toxic algae grow more readily in warming lakes, and that increases the risk to humans who consume fish from such waters, the WWF added.
It urged governments meeting later this month in Montreal to agree to begin talks on deeper cuts in greenhouse gases, which are blamed for the warming trend in the Earth's climate.
It said they should go beyond the 1997 Kyoto Protocol, which sets legally binding targets for developed countries to reduce emissions of carbon dioxide and other gases by 2012.
"If we fail to secure deeper reductions in greenhouse gas emissions we will increase the pressures on fish and billions of people that depend on them," said Stephan Singer, head of the WWF's European climate and energy policy division.
Comments will be moderated. Keep comments relevant to the article. Remarks containing abusive and obscene language, personal attacks of any kind or promotion will be removed and the user banned. Final decision will be at the discretion of the Taipei Times.