Playboy Bunnies are revamped
It's out with the old restrictive outfit and in with the new slinky uniform
The Playboy Bunny is not what she used to be. As retooled by the Milanese fashion designer Roberto Cavalli, the once softly voluptuous, Barbie doll-sweet symbol of the Playboy
empire has become a brazen new icon for a sexually jaded age.
She still wears her trademark abbreviated tuxedo, but it has been subtly updated with S and M overtones. In a Cavalli sketch depicting her with hooded eyes, a vixenish swag of blond hair, a cigarette dangling from her lips and bondage-style cuffs on her wrists, she is more Donatella Versace than Barbie.
"The bunny costume has become old fashioned, something like vintage," Cavalli said at his Madison Avenue boutique, "so you need to interpret it in the new direction of fashion, the young way."
His young new bunny is ready to bow, tray of cocktails in hand, with the return of the Playboy Club. For the first time since 1991, when the last of the clubs were shuttered, Playboy plans to open a new one next spring at the Palms Casino Resort and Spa in Las Vegas. The club is intended to be a showpiece in Playboy's larger effort to revitalize its image and reverse its declines of recent years.
"Bringing the bunny back is a natural part of that," said Playboy's founder, Hugh Hefner, who turns 80 in the spring.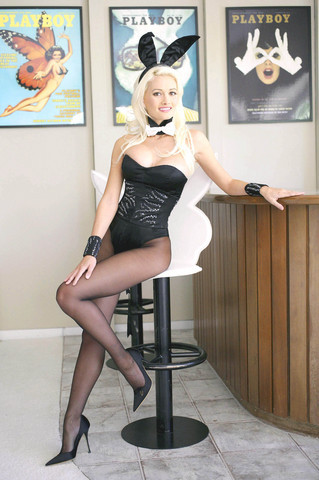 Staying ahead of the pack means attracting a new generation of consumers to the Playboy brand.
PHOTOS: NY TIMES NEWS SERVICEN
Playboy is hoping its new mock-sleazy bunny outfit will help convey a more irreverent, aggressively youthful image as the company courts an 18-to-34-year-old hipster market for its consumer empire, which now encompasses not just Playboy magazine and its racy online counterpart, www.playboy.com, but a successful reality show on the E! Network, games and electronic entertainment, and a growing array of licensed products and apparel. Playboy hopes the new ventures can offset a slump at the magazine, which has been hard pressed to compete with a proliferation of men's magazines and adult entertainment on the Web.
The bunny's update is "part of a conscious strategy to make sure we are attracting the next generation of Playboy consumers and bringing women into the franchise as well," said Christie Hefner, Playboy's chairwoman and chief executive and Hefner's daughter.
Cavalli's bunny retains its familiar features -- a tuxedo collar and cuffs, a tightly corseted midriff, and its signature cottontail and satin bunny ears. But in structure if not in spirit, it is far from the kitschy whale-boned riff on the one-piece satin bathing suit that Hefner designed in 1960 -- a uniform worn in its heyday by the likes of Debbie Harry of the rock band Blondie, Lauren Hutton and even Gloria Steinem, who wrote about her 11-day stint as a bunny in the early 1960s.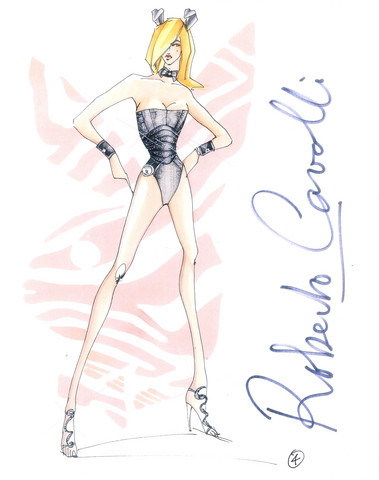 Roberto Cavalli raised the leg line of the new outfit to reveal more hip.
PHOTO: NY TIMES NEWS SERVICEN
As former bunnies attest, that costume could be downright painful. "Some girls unzipped their costumes" after work, "and their backs were bloody from the stays," Judy Vander Heyden De Serio recalled in Kathryn Leigh Scott's 1998 collective memoir, The Bunny Years. "Some bunnies tried to line the inside of the costumes with tissue paper or napkins to keep the boning from pressing into their skin."
Cavalli has added an external corset, softened the stays and the bosom, raised the leg line to reveal more hip and elongated the bunny ears, giving them a playful droop.
Gussied up and streamlined though it is, the costume may still wind up appealing mainly to affluent men with a paunch, some marketing specialists say. "Baby boomer males are Playboy's primary target market," said Daniel Howard, a professor of marketing at Southern Methodist University in Dallas. "They are the people who gamble in Las Vegas, the ones with the money to spend."
Not so fast, others counter. Alex Proud, a London art dealer, said he believes a young generation has indeed rediscovered the brand. He said he was surprised to find that about 75 percent of the visitors to Playboy Exposed, a current show of Playboy photos from the 1970s at his Camden gallery, have been under 40, and that about 40 percent have been women.
A new generation began embracing the slick, fastidiously groomed Playboy style of the 1960s four or five years ago. Since then its appeal has broadened. George Maloof, the owner of the Palms in Las Vegas, said the brand was hip enough to appeal to the kind of young, moneyed visitors the resort has attracted since opening three years ago, including contingents of MTV executives and, most notoriously, Britney Spears, who checked in after a hasty first marriage was annulled. Playboy consumer products are licensed in more than 100 countries and distributed in more than 2,500 stores in the US, the company says. It recently opened its first independent stores in Caesar's Palace in Las Vegas and in Melbourne, Australia, and plans five to seven new stores a year. Some will sell premium denim, evening and beauty products.
In the US, Playboy has reported this year more than US$600 million in sales of apparel, accessories and other products, 80 percent of which are being bought and worn by women, Christie Hefner said. She characterized them as "trend-conscious, fashion-forward women" who identify with the Playboy brand.
Cavalli seemed to have those women in mind the other day, when he suggested variations on the bunny outfit. "This costume you can do long, you can do short," he said. "This can be a dress, because it's fashion, you understand."
His customers will no doubt understand. Judging from the racy lingerie, tight-fitting jeans and scanty swimsuits they're buying at stores like Fred Segal in Los Angeles and at chains like Urban Outfitters, some would seem to be as sexually uninhibited as, say, one of Playboy's online playmates this month, who manages to sound as coy as her predecessors of the 1960s while casually raising the ante on sexual permissiveness.
"I like to switch positions, to bring out some sex toys and try role playing," she tells her readers.
"I just want my man to say, `Whoa!"'
Comments will be moderated. Keep comments relevant to the article. Remarks containing abusive and obscene language, personal attacks of any kind or promotion will be removed and the user banned. Final decision will be at the discretion of the Taipei Times.