Three small links fail to excite Kinmen
A year ago, the people of Kinmen were expecting thousands of tourists from China. But that has not happened...
The great-crested grebes are flocking to Kinmen. Rarely seen in other parts of Taiwan, they fly to the nation's westernmost archipelago from central and northern China to enjoy the islands' drier, more temperate winter climate. Together with great cormorants and lesser-pied kingfishers, they come in the thousands.
While the residents of Kinmen are happy to host their yearly visitors, they've lately been pining to be paid a visit by a different species of guest from China: the tourist.
Unfortunately, the windfall of Chinese visitors originally expected from the opening of postal, transport and travel links with China's Fujian province has failed to materialize.
Traveling to China via Kinmen saves Taiwanese businessmen money and time.
PHOTO: DAVID MOMPHARD, TAIPEI TIMES
Politicians point to problems in policy that have hobbled the development of the island's tourism industry, but local business leaders say economic factors are also to blame.
Although Taiwan opened its doors to visitors from the mainland via the "three small links" in January 2001, the government in Beijing did not allow its citizens to take advantage of the travel links until September last year, when Fujian Province Deputy Governor Wang Meixiang (王美香) announced that the government would allow private citizens to make the journey.
Previously, only politicians and businessmen were allowed to travel to Taiwan's Kinmen and Matsu islands to facilitate the part of the three links China was taking full advantage of, the transport of Chinese goods to the islands.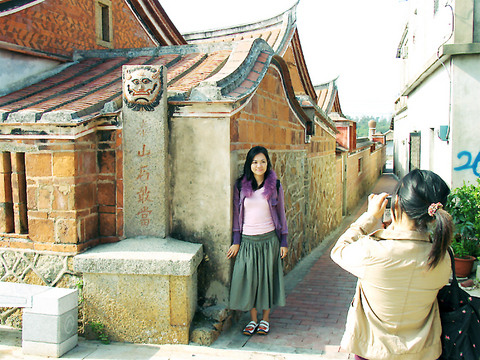 Chinese government restrictions on travel to Kinmen deter many potential tourists.
PHOTO: DAVID MOMPHARD, TAIPEI TIMES
Over 15,000 port calls have been made in Kinmen and Matsu since 2001, with 55 percent being Chinese cargo ships. Of the 2.3 million tonnes of products handled at Kinmen's Shuitou Port since 2001, 2.2 million were imports from China.
The remaining 1 percent was mostly Kinmen's famous Kaoliang liquor being shipped to the Chinese ports of Mawei and Xiamen, the latter of which is a mere 2km from Kinmen.
Of the 951,000 passengers who have made the journey between the two nations, 94 percent were China-bound Taiwanese. Residents of Kinmen and Matzu have bought some 4,000 houses in Xiamen and spent nearly NT$3 billion.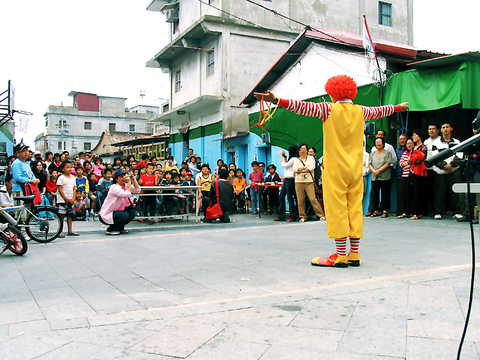 After the demilitarization of Kinmen economic growth picked up, but not as quickly as many local residents would like.
PHOTO: DAVID MOMPHARD, TAIPEI TIMES
"The opening of these transportation and travel links were supposed to be a boon for our businesses," said Kinmen County Commissioner Lee Chu-feng (李炷烽).
"A year ago our township heads were clamoring to attract hotel and resort developers. When the first group of mainland tourists came in December of last year we met them at the airport with banners and flowers. And since then, only 2,000 have come. There were 10 million people from all parts of China that visited Xiamen last year and only 2,000 of them made the half-hour boat ride to Kinmen."
Instead, Lee and others said, the three small links have been a boon for Taiwanese businessmen who operate in China. Since 2001, Kinmen's population has grown from 50,000 to 60,000. The influx is due to Taiwanese businessmen who have switched their household registrations from Taiwan proper to Kinmen in order to take advantage of travel links.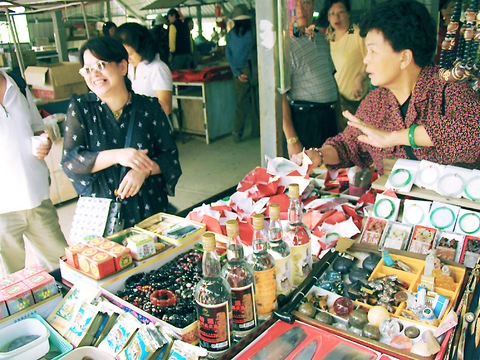 Traders in Kinmen have different prices for local residents and Chinese tourists.
PHOTO: DAVID MOMPHARD, TAIPEI TIMES
An alternative route
After having been registered for six months, new residents can apply for a permit that allows them to board boats bound for Fujian Province. On the other side, they are issued five-year permits allowing them to board boats to return to Kinmen, where they can fly inexpensively to their actual homes on Taiwan proper.
"With my factory located in Fujian, it's cheaper for me to travel via Xiamen and Kinmen than to have to go through Hong Kong," said Wu Ching-chung (吳慶忠), who manufactures shoes. "It's also a lot faster."
Locals complain that these taishang (台商), as China-based Taiwanese businessmen are known, add little to the community economically.
"They get off the plane at the airport and take a bus to Shuitou Harbor and they're gone," said one local restaurant owner. "They don't stop for a meal because they're afraid of getting sea sick. And when they come back through they don't eat because they've got a plane to catch!"
Kinmen County Legislator Wu Cheng-tian (吳成典) leveled a more serious charge against his new neighbors, saying they were actually squeezing Kinmen's tourism industry.
"The airlines that operate flights to Kinmen used to offer discounts to attract more tourists," he said. "Now all the flights are taken up by taishang and the airlines don't feel a need to offer discounts. As a result, there are fewer actual tourists coming."
Kinmen's two main islands have enjoyed a steady stream of visitors from Taiwan since martial law ended in 1992. A more recent demilitarization has brought an even larger influx of tourists wanting to crawl into abandoned bunkers, traipse through the several kilometers of tunnels burrowed into the island and gawk at the giant megaphones once used to broadcast propaganda to China.
Huge swaths of land remain mined, but the government is working to clear these to make way for development.
The problem is that the ferries returning to Kinmen from Fujian were supposed to be filled with China tourists, themselves curious to get a closer look at the island on which, in 1958, they'd dropped half a million bombs.
When the Taiwanese government capped the number of visitors at 600 per day (each was allowed to stay a maximum of three days and two nights) Kinmen officials protested. Though the cap remains it has come to naught; the number of Chinese visiting the island in a single day has yet to come close to that number, according to Lee and local tourism officials.
The reason is two-fold: an added layer of red tape on the Chinese side and an economic disincentive. For residents of Fujian to come to Kinmen or Matsu, they need to start their application procedure seven to 10 days in advance, provide all the pertinent paperwork, and often return to the application office more than once. There are too many hoops to jump through for the causal visitor.
What's more, tour packages are priced at around NT$3,500 for three days and two nights, about the same as the average monthly salary for residents of Fuzhou, the seat of Fujian province. For those who can afford it, a trip to Hong Kong costs about the same, but involves far less hassle.
The tour packages are what's known as zero-dollar tours, meaning the travel agencies booking tours don't make money off the package itself, but earn a commission from sales at the various places they take the tour groups; restaurants and the several novelty boutiques unique to Kinmen. But even here, according to local tourism officials, there is little money to be made.
"If you're [in Kinmen] long enough, you discover that everything has three prices: one for locals, one for guests from Taiwan and one for guests from China," said chief of the Kinmen County Culture Affairs Bureau, Lee Hsi-rong (李錫隆). "Visitors from the mainland are given the lowest price because everyone knows they don't have much money. But it's still too expensive."
Betting on the future
One potential fix to the problem favored by a majority of residents is gambling. In May of this year, Premier Frank Hsieh (謝長廷) threw his support behind the legalization of "entertainment-style" casinos that offer more than just gambling and could be enjoyed by whole families. Previously, only the islands of the Penghu archipelago were being considered for such development. The bill, however, has run into opposition in the legislature.
"The people of Kinmen are literally stuck in the middle," Lee said, adding that he wishes the island could have a greater say in its own future beyond what the government allows.
But not everyone is unhappy with the current situation and these people say living standards have improved drastically since the days when Kinmen was a fortified bunker and the closest target for aggression from China.
"All you hear about is how businessmen in Kinmen can't make money," said a life-long resident who gave his name as Huang. "But life here is better than it has ever been and they're still richer than businessmen in Fujian."
He mentioned the birds that every year fly from China to Kinmen's wetlands and the fact that this, as last year, they bring with them the specter of avian flu. "If a disease like that came to Kinmen it would ruin us economically if it didn't kill us. People think that if weren't for politics we could be a lot closer to China, but I think there is more than one reason to keep our distance."
Comments will be moderated. Keep comments relevant to the article. Remarks containing abusive and obscene language, personal attacks of any kind or promotion will be removed and the user banned. Final decision will be at the discretion of the Taipei Times.