'Totally Board' and completely corporate
Chiang Kai-shek Memorial Hall will be obscured this weekend by a 10-story ramp, 300 tonnes of snow and an international lineup of riders hurtling themselves down the artificial mountain in the center of the park. Nokia Totally Board is a two-day festival that brings professional athletes to demonstrate their boarding skills against a backdrop of live music. It's fresh, extreme and corporate.
Representing some of the biggest names in skiing, snowboarding, BMX and skateboarding, 38 athletes from 16 countries have been invited, alongside a lineup of local musicians and DJs. In its seventh year, this is the first time Totally Board is being held in Asia, after six shows in Europe and one in South Africa.
Tackling the 90m tower will be previous snowboard champions Jonas Emery and Simon Ax, alongside world cup notable Matevz Petek. A 14m vert ramp for BMX and skate demonstrations will see the likes of six skaters including veteran Jocke Olsson from Switzerland and four BMX riders.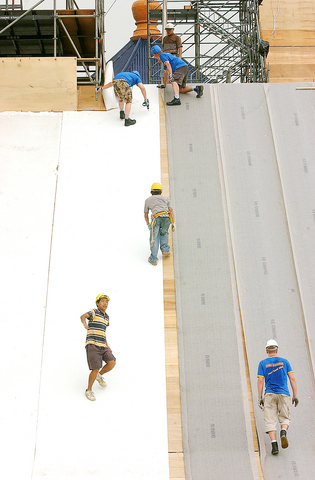 Setting up for what is said to be the biggest outdoor event in Taiwan's history.
PHOTOS: LIU HSIN-DE, TAIPEI TIMES
More than 100,000 spectators are expected to turn up over the two-day event and if they feel up to it they can check out their snowboarding skills on a 5m-high slope set up for general public use. A mix of local DJs and pop idols will provide the musical backdrop for the extreme action. Headlining the show is a flash from the past, with Coolio set to take the stage for a short set both nights.
The only thing missing from this "gangsta's paradise" is the female representatives. When asked why all 38 athletes invited were male, the head of Nokia marketing in Taiwan, James Yau, said they didn't have any specific plan to exclude women but, in his words, "Our invitations were based on a list of top competitors and most on that list were male." He added that a third party, an international firm co-organizing the festival, compiled the list.
Some of those in the board sports industry in Taiwan had their take on the issue. "The problem is you get all these PR middle people and they don't know anything about the sport or they don't care and they don't know who to invite," Jimmy Sun (孫益民), a skate equipment distributor.
"It's all just about image, extreme sports is popular and a lot of people equate it with young guys so that's who they market it to," he said. "All the riders are like actors selling mobile phones. Its sad for the sport but great for the company image."
Much like the beer company fueled Snow Jams in Canada and the US, or Volkswagen Drivers Fest in Europe, Totally Board, is aimed at branding Nokia alongside other "extreme sports" sponsors targeting the next generation of consumers.
Rather than pay well-known athletes to advertise their products, Nokia sponsors up and coming riders and sends them to competitions to flash their logo. Nokia might not know anything about snowboarding but like other major brands, it knows all about marketing.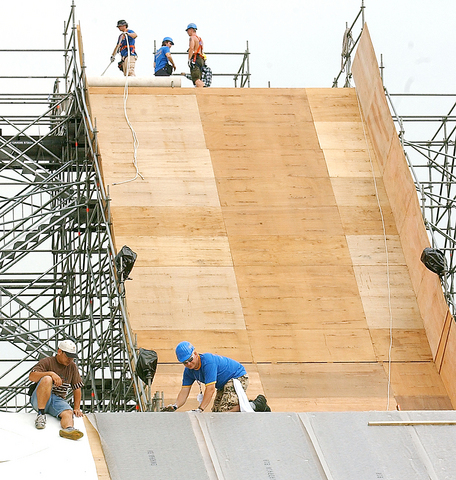 "Our youth target is 15 to 25 year olds and we think extreme sports and music is very important to utilize with our target," Yau said.
He believes, the spirit of extreme sports is to challenge the status quo and this alternative lifestyle is the image Nokia would like to be associated with, he said.
The cost of the affair is confidential information, but according to Yau, it is the most costly outdoor event in Taiwan's history.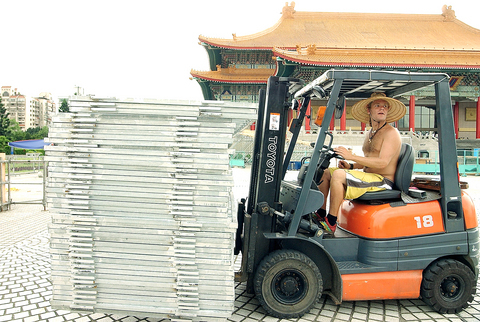 To make sure the organizer doesn't get upstaged by local or international talent Nokia has its own "Nokia So Cool Tent" set up with games, music, and previews of the latest phones and mobile technology. The market savvy company has also managed to get consumers to advertise for them by offering limited edition "Totally Board 2005" logo clothing for anyone who buys a mobile phone before July 25.
As a distributor and Taiwan representative for major sport companies that sponsor skaters to skate and snowboarders to ride, Sun is the first to admit that corporate sponsorship is a bit of a catch 22.
"I have boycotted competitions in the past and asked my riders not to compete, but corporations have the money. ? In a place like Taiwan where snowboarding and skiing don't exist, it also helps to introduce these sport to people and in a way that's cool, but you can't take it too seriously."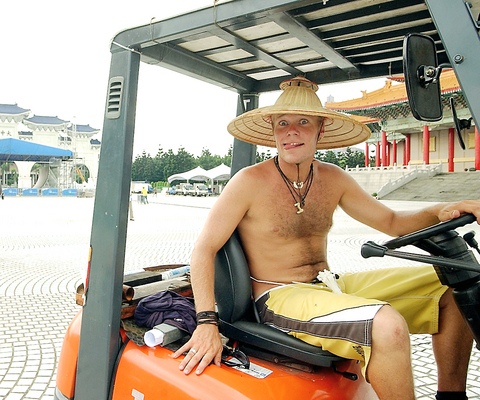 Like most seasoned skaters and distributors, Sun picks his battles with the brand names wisely.
"Nokia has the money to bring snow to Taipei in the summer and that's hard to criticize," he said.
The official big air competition takes place tomorrow afternoon but it's worth catching some of the action during the warm up tonight. From 9pm onwards skate and BMX demos will take place on the vert ramp. The snow sport stars begin their runs at 2pm tomorrow and wrap up around 10pm with the snowboard and ski finals.
Performance notes:

What: 2005 Nokia Totally Board

When: Tonight from 7pm to 11pm and tomorrow from 1pm to 11pm

Where: Chiang Kai-shek Memorial Hall (CKS Memorial Hall) at 21, Zhongshan S Rd, Taipei (台北市中山南路21號)

Tickets: Free

Website: www.nokia.tb.tw
Schedule of events
A) Pro Snow Ramp (Ski/Boarding Competition)

Fri: Closed

Sat: Preliminary: 2pm to 4pm and Finals: 8pm to 10pm
B) Skateboarding and BMX Vert Ramp

Fri: 9pm to 10pm

Sat: 1pm to 2pm and 5pm to 7pm
C) Public Sno Ramp

Fri: 7pm to 10pm

Sat: 1pm to 7pm
D) Concert Stage

Fri: 7:30pm to 11pm

Sat: 4pm to 11pm
E) Nokia Tent

Fri: Closed

Sat: 1pm to 11pm
Comments will be moderated. Keep comments relevant to the article. Remarks containing abusive and obscene language, personal attacks of any kind or promotion will be removed and the user banned. Final decision will be at the discretion of the Taipei Times.