Malaysia Airlines offers a brand new experience
A US$180 million overhaul of its first-class and business-class cabins is aimed at increasing the airline's share of the market for high-paying travelers
On March 24 in Kuala Lumpur, Malaysian Prime Minister Datuk Seri Abdullah Ahmad Badawi officially launched Malaysia Airlines' new customer service program titled "An Experience Redefined," which includes a comprehensive aircraft cabin upgrade aimed at securing a greater segment of the premium travel market.
As part of the FM700 million (US$180 million) upgrade program, the cabins in 17 Boeing 777-200s and 17 Boeing 747-400s are to be progressively refurbished with the latest technologies, styles and innovative designs and brought into service over the coming year and a half.
The upgrading of aircraft at Malaysia Airlines, the country's national carrier, is in line with the prime minister's call issued last week to elevate the production value of Malaysian products. The prime minister said Malaysia should "promote itself as a global brand with a corporate image," highlighting the need to improve the standard of the service sector to gain new markets for its value-added products.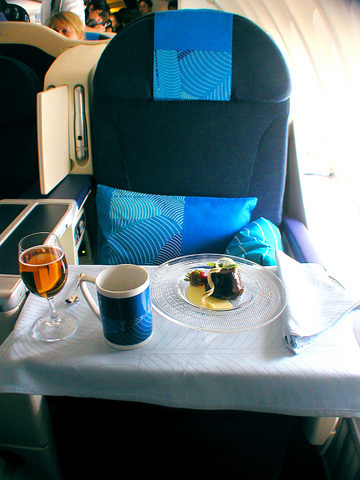 Malaysia Airlines, the prime minister said, sets the standard for high-quality Malaysian products, having consistently earned awards in numerous categories, notably earning the best cabin staff distinction for several years running.
At the unveiling of the new cabins, Managing Director of Malaysia Airlines Dato' Ahmad Fuaad Dahlan said: "It is all about creating an entirely new experience for our premium passengers, from seat luxury and comfort, to high-end inflight entertainment and fine dining. All these within a cabin ambience created to appeal to the senses, and delivered by cabin crew who have done us proud by being rated the world's best, year on year."
During the course of the cabin and service upgrade program, more than 3,000 crew members will be trained to provide increased interaction with passengers.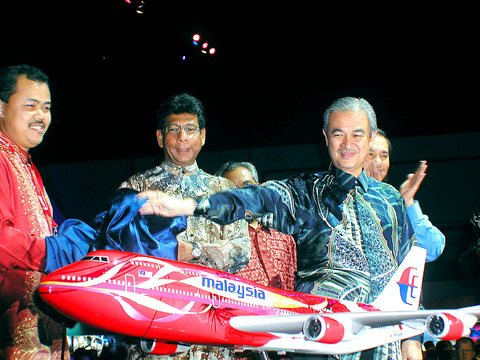 Malaysia Prime Minister Datuk Seri Abdullah Ahmand Badawi unveils a model of a newly redesigned 747-400.
As the main feature of the cabin upgrade, front-end passengers will be able to take advantage of improved seat comfort with an 203cm seat pitch and flat bed facility in the first class of the B747-400 aircraft, and a 147cm seat pitch with angled flat beds in the business class of both the B747 and B777 aircraft. The Kuala Lumpur to Taipei route will be served initially by B777 aircraft with the possibility next year of the Kuala Lumpur to Los Angeles route flying via Taipei with a refurbished B747.
The new first-class cabin on the B747-400 aircraft will provide a completely new interior, the centerpiece of which is the new privacy shell with an electrically operated seat that reclines into a full-sized flat bed or in its upright position allows space for a large dining table with an extra seat that permits dining for two.
The business-class seats in both aircraft types will also be fully reconfigured. The seat can recline to an angle of 8? made possible by additional legroom that has been built into the design. In addition, a sliding divider between seats will provide a higher level of privacy than in previous configurations.
The upgrade program is also extended to inflight entertainment. The new entertainment system will be provided throughout all aircraft, meaning that all passengers, regardless of class, will be able to watch up to 40 movies, 60 short features and listen to a library of 200 CD titles selected on new touch-screen monitors. The new system also includes functions for all passengers to send and receive text messages and e-mails from their seats.
With regard to the new inflight entertainment features and their inclusion in the economy class cabins, Dato' Ahmad Fuaad said: "We value this class of passengers too -- increasingly younger, more IT savvy, and who are our potential premium passengers."
The B777-200 aircraft design will convert the three classes into a two-class configuration: business and economy. There will be 42 business-class seats and 247 economy-class seats. The B747-400 will still have all three classes but fewer seats overall, with 12 in first class, 41 in business class and 306 economy class seats.
The final feature of the upgrade will be newly designed exteriors for the planes, which will employ unique hibiscus, heliconia and ribbon motifs, which will mirror the red and blue tones of the refurbished cabins. The hibiscus is Malaysia's national flower.
Comments will be moderated. Keep comments relevant to the article. Remarks containing abusive and obscene language, personal attacks of any kind or promotion will be removed and the user banned. Final decision will be at the discretion of the Taipei Times.