Spunky divas ready to set stages alight in Taipei
Avril Lavigne and Vanessa-Mae are two of music's edgiest artists, and they'll both be in Taipei this week
Napanee, Ontario's biggest export -- Avril Lavigne -- will be blazing through Taipei Tuesday for a stop on her world tour in support of her second album Under My Skin.
The pint-sized, spunky 19-year-old has become the voice of adolescent female rage in the two years since releasing her debut Let Go, which sold over 14 million copies around the world on the popularity of guitar-driven tracks like Sk8er Boi and I'm with you.
Now, in her second appearance in Taiwan in less than a year after a mini-concert organized by Taipei City, Avril will be headlining a full-sized show at Taipei's Municipal Stadium, a monster venue that can pack up to 40,000, though whether that size crowd can be mustered on a Tuesday will have to be seen.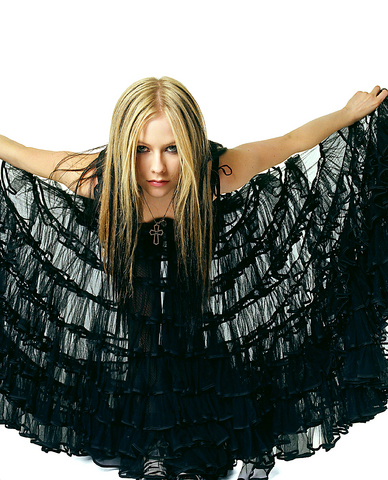 Plenty of rocker rage is bottled in this doe-eyed package.
PHOTO COURTESY OF SONY-BMG
She's expected to play mostly the tracks from the new album, which pick up quite clearly from the manic rock of the first album where she established her reputation singing about some of rock's perennial themes: dysfunctional relationships, disgust with authority, discrimination, etc.
She does so, though, through the slight figure of a fresh-faced, blonde-haired, blue-eyed teenager, which stops her well short of Courtney Love analogies and makes her far more accessible -- 14-million-albums accessible.
Her in-your-face attitude has only partially mellowed with age on the new album and the themes remain mostly the same, assuring her a continued role in the pop world as the anti-Britney girl pop icon.
Vanessa-Mae will melt the International Convention Center next Thursday and Friday.
PHOTO COURTESY OF SONY-BMG
Avril will and Vanessa may:

What: Avril Lavigne

When: Tuesday, 7:30pm

Where: Taipei Municipal Stadium, intersection of Bade Road and Dunhua North Road (八德路敦化北路口)

Tickets: NT$1,500 - NT$2,500, available through Era ticketing at www.ticket.com.tw or at venue.
On Thursday and Friday, another blazing lady will whip through Taipei on a regional tour in support of a new album. Vanessa-Mae (陳美), the comely violin virtuoso credited with popularizing classical fusion music and brining it an unprecedented degree of sass and edginess, will come to the city's International Convention Center in support of her latest album Choreography.
The native Singaporean first had a violin thrust into her gifted hands at age five and by 10 was performing in orchestras. She released her first album at 11, but it was The Violin Player, released when she was 16, that launched her career and her reputation into the stratosphere. Her albums have sold over eight million copies and established the template for the innumerable crossover copycats that have followed.
An inveterate multi-tasker, she's been a model, soundtrack composer, charity activist and personal performer to the British royal family. She's also reputed to be an explosive performer onstage, releasing all that energy that led her to fuse pop with classical in the first place.
The new album Choreography follows her tried-and-true formula, this time mining the various traditions of dance rhythms from places like Africa, Spain, Argentina, Ireland and India. Always tending toward the grandiose, the songs aim for theatricality in a way that brings to mind Ennio Morricone.
Avril will and Vanessa may:

What: Vanessa-Mae

When: Thursday and April 1, 7:30pm

Where: Taipei International Convention Center, 1 Xinyi Rd, Sec 5, Taipei (台北市信義路5段1號)

Tickets: NT$1,200 - NT$6,000, available through Era ticketing at www.ticket.com.tw or at the venue
Comments will be moderated. Keep comments relevant to the article. Remarks containing abusive and obscene language, personal attacks of any kind or promotion will be removed and the user banned. Final decision will be at the discretion of the Taipei Times.