Gene Wilder stars in 'Kiss Me Like a Stranger'
The actor's autobiography is endearing as it presents Wilder's friendships, loves, projects and struggles with striking candor
First a word about the title of Gene Wilder's autobiography, Kiss Me Like a Stranger: ouch. In the rough-and-tumble world of celebrity memoirs, it's not helpful to trumpet a phrase so redolent of daytime soaps and warmed-over molasses.
Fortunately, this is such a gracious, endearing book that even the stickiness of its name develops a certain gallantry.
As Wilder writes on the closing page, the title came from Gilda Radner, his third wife and one of the many friends, lovers and colleagues about whom he writes with striking candor.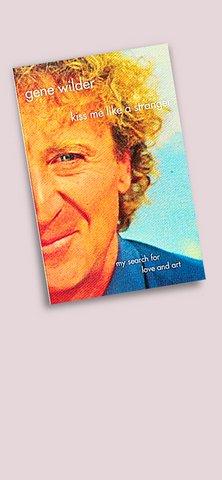 Kiss Me Like a Stranger: A Kindly Comic Willing to Tell All By Gene Wilder 272 Pages St. Martin's Press
"I had no idea why she said it or what the title meant," he explains. But there is a courtliness to his having resurrected those words no matter what the cost.
There's a sting here too, since Wilder does not intend the title sentimentally; he uses it to convey anger. Why couldn't Radner have been as kind to a husband as she was to people she didn't know? Though this book is true to the nice-guy persona that Wilder has used to such fine comic effect as an actor, it is not without claws. But he writes with an introspection that keeps these opposite sides of his nature reconciled.
Nice guy or not, Wilder has led a tumultuous personal life. And he has sustained a Zelig-like presence in interesting realms of show business.
This book isn't long, but it spans a lot of territory. The former Jerry Silberman (who took his stage name from Eugene Gant, the main character in Look Homeward, Angel, and the playwright Thornton Wilder) came from Milwaukee and studied with Lee Strasberg at the Actors Studio. He appeared in a production of Mother Courage starring Anne Bancroft. As fate would have it, he quickly bonded with her boyfriend, Mel Brooks.
Wilder had already been cast in the landmark film Bonnie and Clyde in 1967 when Brooks handed him the role of a lifetime in The Producers. Wilder also became a last-minute addition to the cast of Blazing Saddles. And he hit the Brooks trifecta when they collaborated on Young Frankenstein, writing it together.
They fought furiously but productively over one of Wilder's typically crazy-like-a-fox contributions: The idea that Dr Frankenstein and his monster ought to do a song-and-dance number, Puttin' on the Ritz.
He also played Willy Wonka, a character beloved by children. And he helped create the heyday of the buddy movie in his collaborations (including Silver Streak) with Richard Pryor.
While acknowledging Pryor's talent, Wilder describes Pryor's extreme touchiness about racial issues and includes a dictionary definition of "sullen" to describe him.
Meanwhile -- and it's a big meanwhile -- Wilder accrued the kinds of experiences that will be catnip on the talk show circuit. He underwent what he says was a kind of demonic possession that forced him to pray. He had a job administering electroshock therapy at a psychiatric hospital. He spent enough time being analyzed to include dialogues with his therapist throughout the book.
And he experienced a sexual awakening that he describes with both graphic, intimate detail (he bought his first condom shortly after the death of his mother) and discretion.
When he and Radner made a film together and their affair began, he writes, "with a proper invitation I would occasionally visit her room at night." Having seen two previous marriages end badly, Wilder was naturally wary of Radner's volatility (not to mention the fact that she was married when they met). He describes having been alarmed by her clinginess ("as much as I loved being with her, I wanted to breathe again without having to worry about her") and self-involvement ("I began to resent how much energy she poured into her fears and childish needs").
He is also surprisingly specific, and not at all lurid, about living with her bulimia and, once it was in check, trying to conceive a child with her. In the course of being treated for infertility, Radner was diagnosed with ovarian cancer.
"While Gilda was throwing up in our bedroom in Connecticut, I was writing a comedy in the room just below her," he writes. "It sounds oxymoronic, but absurdity was a familiar guest now."
Wilder is honest enough to describe how he met Karen Webb, who would become his fourth wife, while dealing with the worst of Radner's fatal illness.
Wilder writes one chapter that takes its name from Radner's trademark Saturday Night Live phrase, "It's Always Something." For him, that something turned out to be non-Hodgkins lymphoma in 1999. The course of his treatment required a stem-cell transplant and a long period of quarantine. While isolated, he became the rare celebrity very nearly killed by a tabloid reporter.
A spy from the Star intended to sneak into his hospital room by delivering flowers at a time when Wilder was too weak to fend off contamination.
However, in "a story out of Grimm's fairy tales, except that it had just happened in the lobby downstairs," she had a change of heart, realized the error of her ways and left him alone. Readers of this quirky, unabashed book will easily understand what it is about Wilder that made the reporter want to be kind.
Comments will be moderated. Keep comments relevant to the article. Remarks containing abusive and obscene language, personal attacks of any kind or promotion will be removed and the user banned. Final decision will be at the discretion of the Taipei Times.