Slowing down images for a quiet talk
A cross-cultural project at Taipei Artist Village uncovered new ideas about the themes of location and identity
The Lake: Towards a Cross-Cultural Dialogue is an exhibition of photography, experimental sound art and text from artists in Australia and Taiwan on view at the Taipei Artist Village until March 31 and funded by the National Culture and Arts Foundation.
The Taipei Times spoke with the exhibition's organizer Yeh Weili (葉偉立) to learn more about how the exhibition was conceived and what the results have been.
Taipei Times: You recently exhibited your photographic work in the Taipei Biennial 2004. Is this your first time as a curator?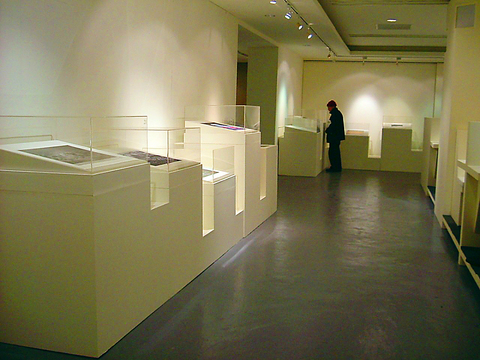 The Lake: Towards a Cross-Cultural Dialogue is a collaborative project between Taiwanese and Australian artists.
Yeh Weili: I never set out to be a curator. I function more as an artist collaborator using curatorial practice as a strategy for making work.
TT: How did The Lake get started?
YW: I knew before my three-month art residency at Sydney's Artist Space in 2003 that I wouldn't produce artwork there. It contradicted my interests, because my work is a long-term quasi-documentary pursuit on the city in which I live. I thought about artist exchange as a problem to solve. What can I do to maximize exchange? I wanted to use something that printmakers do. They make editions and exchange prints with other printmakers.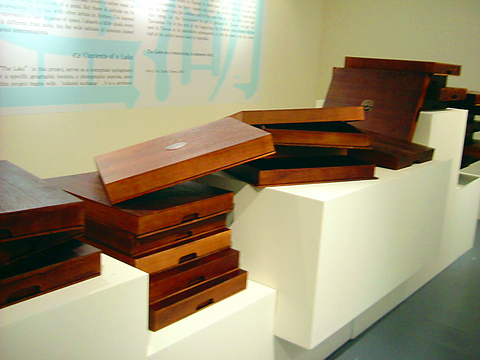 PHOTO COURTESY OF SUSAN KENDZULAK INTERNATION VIEWS
For The Lake, Australian and Taiwanese photographers exchange photos with each other. The wooden boxes on view are portfolios for each photographer's collection of everyone else's work. And the lake represents a specific location.
How geographic location can be utilized in the context of cultural difference is that Taiwanese people can see different sites through Australian eyes and vice versa, so it's really a very literal cultural exchange of different works of art.
This project required a lot of trust and respect as I asked photographers to give me a set of 27 prints that are 16 inches by 20 inches. Eight months later prints were starting to be sent here and that was the first time I had seen them.
TT: Since the premise of the show is about photography why did you include sound artists?
YW: That happened by chance, as I asked Eric Lin (林其蔚) to participate and he felt more comfortable to create a sound piece instead of a photograph.
However, if you think about a lake you would also smell it and hear the sounds. Including the sound and text in the exhibition makes the theme more complete.
TT: There is a broad interpretation of the theme as many of the artists didn't shoot a lake per se.
YW: I was surprised to see how my request was interpreted. That is why I don't consider myself a curator, as many curators wouldn't have accepted the work.
TT: That is where the trust is.
YW: The participants had to provide an anecdotal text about their work and that showed how some people closely followed my guidelines or not. For example, Ryszard Dabek's image is obviously a view of the sea and not of a lake. His text was a historical reference of refugees being rejected by Australia.
In certain ways, his work relates closely to my idea of history and geography, defining a sense of place, but I didn't see the connection with a lake. He responded to my query saying he thought a lot about the concept of a shore.
So one idea generated something else. In that sense there is a polar relationship with the original idea.
TT: Are there well-known Australian artists included?
YW: Yes, Anne Ferran, Peter Burgess and Maureen Burns. Upcoming artists are Sean Cordeiro and Claire Healy. The rest are not as well known, but they are all fine artists.
And in the Taiwan group, I was able to choose people closer to my intentions as there are fine artists, commercial photographers, a photojournalist and a cinematographer -- a wide genre.
Commercial photographer Yu Hung-Tsiang's (游宏祥) floating bottle really stands out. That piece is the most technically intricate, with multiple layers photographed with digital and traditional film and all put together seamlessly.
TT: The photos are not displayed on the walls but in cases, along with reading stations with headphones and texts.
YW: Experiencing the image is part of the meaning of the work. If we count from the time we wake up to the time we go to bed, we probably experience photography in a hundred different ways.
TT: Photography is a fast medium, but your show is very slow.
YW: I like the story behind images and to see the photos slowed down. That is why there are 41 texts by writers, sound artists and photographers. I see it as people telling different stories about where they are from.
Exhibition notes:
What: The Lake : Towards a Cross-Cultural Dialogue
Where: Taipei Artist Village (台北國際藝術村), 7 Beiping E Rd, Taipei (台北市北平東路7號), (02) 3393 7377
On the Web: www.artistvillage.org, www.thelakeproject.com
Comments will be moderated. Keep comments relevant to the article. Remarks containing abusive and obscene language, personal attacks of any kind or promotion will be removed and the user banned. Final decision will be at the discretion of the Taipei Times.