`Fockers' tops the box office at year's end
Meet the Fockers claimed the top North American box office spot over the lucrative Christmas holiday weekend, grossing US$44.7 million, according to preliminary figures released this week. \nThe sequel to the 2000 comedy Meet the Parents, featuring Robert De Niro, Ben Stiller, Dustin Hoffman and Barbra Streisand, has grossed about US$68.5 million since opening, according to Encino, California-based Exhibitor Relations, Inc. \nCartoon-turned-live-action comedy Fat Albert debuted in second place, with a two-day gross of US$12.7 million. \nLast week's top film -- Lemony Snicket's a Series of Unfortunate Events -- fell to third place, earning about US$12.5 million. \nIt was followed by the debut of the Howard Hughes biopic The Aviator with US$9.4 million dollars, and Ocean's Twelve which pulled in US$8.6 million. \nIn sixth place was another new film, Darkness, which is expected to earn US$6.4 million by the end of the weekend. \nRounding out the top 10 were The Polar Express with US$6.2 million; "Spanglish" at five million; The Life Aquatic With Steve Zissou, at US$4.8 million, and the debut of The Phantom of the Opera, the Andrew Lloyd Webber smash, which has earned US$4.2 million since debuting. \nThe hunt is on for Oscars \n \nThe race for the Oscars was heating up, with Martin Scorsese's The Aviator, Clint Eastwood's Million Dollar Baby and the road movie Sideways dominating Hollywood's awards chatter. \nScorsese, always a bridesmaid but never the bride at the Oscars, may finally be in line for cinema's top honor with his epic biography of eccentric billionaire Howard Hughes, awards pundits said. \n"It looks as if a Marty Scorsese film finally is flying high in the Oscar best picture race," said Tinseltown awards guru Tom O'Neil, adding that the film was pulling ahead because of its size, scope and overdue director. \nDespite turning out classics such as Taxi Driver and Goodfellas, Scorsese has never won the best director Oscar, heightening speculation among awards voters that 2005 may be the year to correct past oversights. \nThe Aviator will no doubt lead with the most Oscar nominations and that has in the past overwhelmingly foretold the winner of the best picture award," said O'Neil, who runs the awards-monitoring Web site \nGoldderby.com. \nThe Aviator picked up six Golden Globe nominations, including best drama film nods for director Scorsese and a lead actor nomination for Leonardo DiCaprio. \nThe Globes, frequently seen as an Oscars bellwether, will be handed out on Jan. 16, just over a week before the 77th annual Oscar nominations are announced on January 24. \nHowever, the grand-scale Aviator faces intense \ncompetition from Eastwood's movie about a female boxer, starring Hilary Swank, and from Alexander Payne's critically adored movie about two ordinary men on a road trip, Sideways. \nSideways, a moving yet funny film about two oddly-matched pals searching for happiness while on a wine-quaffing car trip, led the Golden Globe nods with seven and has also swept the US critical awards. \nThe film by About Schmidt director Payne has picked up best picture honors from influential critics groups based in Chicago, New York, Los Angeles and San Francisco. \nMillion Dollar Baby is also generating major Oscars buzz for best picture and best actress for Swank, for her turn as determined boxer Maggie Fitzgerald. She won the gong once before for 1999's Boys Don't Cry. \nSwank stars opposite the film's director, Eastwood, as Maggie's reluctant manager, and Morgan Freeman. \n"Clint's status as a beloved academy member certainly helps to bolster his chances in the best-picture and best- director races," O'Neil said. \nIronically, the three early favorites for the coveted best-picture Oscar have not been seen by wide audiences as they are in limited pre-Oscars release only in major US cities. \nAlso packing serious Oscars heat, according to the pundits, are Finding Neverland, the story of Peter Pan author JM Barrie starring Johnnie Depp; Kinsey, starring Liam Neeson as the famed sexologist; and Closer, starring Jude Law and Julia Roberts in the story of a love quadrangle. \nJamie Foxx is also the focus of major Oscar speculation as a contender for the best actor award, after turning in a remarkable performance as the late Genius of Soul,Ray Charles, in Taylor Hackford's biopic Ray. \nFoxx is likely to face off Don Cheadle for his role in the genocide-themed Hotel Rwanda, as well as Paul Giamatti for Sideways, Neeson for Kinsey, and DiCaprio for The Aviator, awards watchers said. \nIn the best-actress race, Swank is expected to face competition from Annette Bening for her role as a London stage actress in Being Julia, Imelda Staunton for the 1950s abortion saga Vera Drake. \nIn the early stakes, however, it was The Aviator that loomed as the movie player to watch ahead of the Feb. 27 Oscars show -- provided it does well at the box office following its general release. \nAviator may have all of those plusses, but it can't prove victorious on Feb. 27 if it doesn't already look like a winner at the box office," O'Neil said.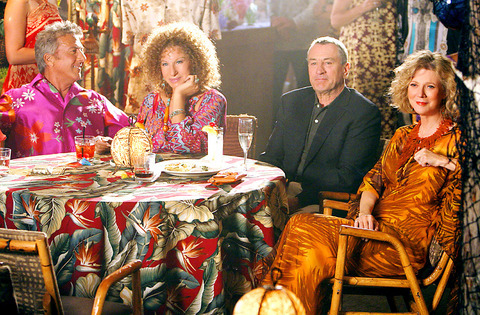 Robert De Niro, Ben Stiller, Dustin Hoffman and Barbra Streisand: Meet the Fockers.
PHOTO: AP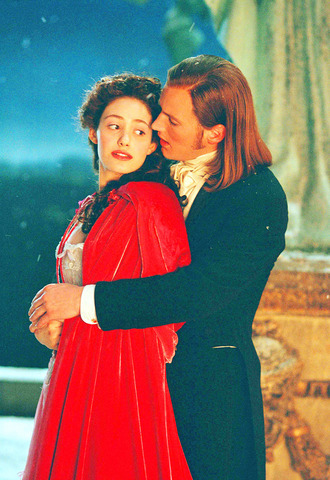 The phantom of the opera, is here!
PHOTO: AP
Comments will be moderated. Keep comments relevant to the article. Remarks containing abusive and obscene language, personal attacks of any kind or promotion will be removed and the user banned. Final decision will be at the discretion of the Taipei Times.