Jinguashi provides a welcome retreat from Jioufen's weekend getaway crowd
A former mining town near Jioufen offers an escape from tourist crowds but shars the seaside views and local lore
Every weekend countless tourists take to the winding lanes of Taiwan's northern hilltop community Jioufen (九份), while its neighbor Jinguashi (金瓜石) remains relatively quiet. The grassy hills of Jinguashi overlook Taiwan's northern coastline and the South China Sea and provide a great place to get away and do nothing at all. \nOnce a thriving mining town in the 1940s, Jinguashi is now filled with abandoned shafts and architectural reminders of its Japanese colonial past. A newly constructed and recently opened Gold Ecological Park (地質公園) documents the blood, sweat and tears of the town's mining and colonial history. \nOne of the best things about a trip to Jinguashi is that it is easily accessible on foot. Although it is possible to rent bicycles or scooters and even hire a taxi for the day, most of the trails are in the hillside and so walking gives people the opportunity to get off the beaten track. \nStarting at Jinguashi train station is a cluster of Japanese-style dormitories whose unique location in the countryside provides a popular backdrop for several Taiwanese television series. Ascending the mountain, visitors come to several points of interest with accompanying history written in both English and Chinese. To commemorate the opening of the ecological park, the former residence of a Japanese prince (菊部次郎舊宅) is now open to the public. More interesting and better preserved the royal quarters, are the remains of the Japanese Zen temple, with a view of the city. \nThe highlight of the park is the Gold Museum (金礦博物館) and the reconstructed Benshan Fifth Tunnel (本山五坑). The main floor of the museum displays both photographs and a video presentation (with English subtitles) of the changes to the surrounding area. It is while being guided through the tunnel that visitors gain an appreciation of the working conditions in the mines and the difficulties the miners experienced. Along with recreated scenes from an average workday, there is accompanying information in both English and Chinese. Jinguashi was also the site of Kinkaseki (台灣戰俘營故事), one of the worst World War II prisoner of war camps in Taiwan. There is an area reserved in the museum as a memorial to the men who were held at the prison camp. \nNear the park's exit are a series of snack shops selling food and beverages, as well as local specialties such as dried fruits and peanut candy. There is also a traditional lunchbox meal (NT$180) that comes packed in a metal box and cloth bag as a souvenir replica of those used by the miners. \nThere might not be any gold left in the hills but there are plenty of paths to take for a leisurely stroll with charming views of the sea. One route takes visitors from Gold Waterfall (黃金瀑布) up a 15-minute walk to the rooftop of an enormous 13-level abandoned refinery (十三層舊礦場). From there, visitors can walk down toward the town, sea or or another lookout point which is close to a residential area. \nWith an early start, it is possible to spend the first part of the day at the ecological park and the afternoon wandering around either Keelung (雞籠山) or Wuerchahu Mountains (無耳茶壺山). From there, visitors can retire to a quaint guesthouse or join the crowds in Jioufen for shopping and tea. \nA guide service is available at NT$700, however requests for guided tours must be made two weeks in advance. For more information on how to apply and where to send the request contact the Northeast Coast National Scenic Area Administration. \nMost of the guesthouses provide a free breakfast and offer lunch and dinner for NT$200 per person. Jinguashi doesn't boast any particular local specialty foods, but most people don't leave without trying the taro and sweet potato dessert soup (芋圓) served either hot or cold. Because Jinguashi does not see as many tourists as Jioufen it is not saturated by small stalls selling local snacks and pre-packed items to take home. It's easy to find something to eat but finding souvenirs is not so simple. \nOvernight \nJinguashi can be done as a day trip or turned into a more relaxed two-day excursion, especially if combined with Jioufen. Guesthouses are springing up in both locations and offer simple lodging for an average of NT$2,000 per double room. Rooms fill up quickly on weekends so it is recommended to reserve in advance. \nCloud Village (雲山水渡假小築): Situated in Jinguashi, this guest house and restaurant offers unique rooms furnished with antiques. Like many of the other guesthouses, the main floor is a restaurant and provides free breakfast for all guests. Lunch and dinner are also available for NT$200 per person. \nPrices: NT$1,600 room per weekday NT$2,000 on weekend. (Based on double occupancy) \n93-1, Ln 13, Sanjin Rd, Jinguashi, Taipei County (台北縣瑞芳鎮金瓜石石山里山尖路93-1號). \nA free shuttle service is provided from the Rueifang train station (瑞芳車站) and can be arranged by calling the hotel manager. \nTelephone: (02) 2496 2291. \nFor pick up service: (0910) 105 148 or \nhttp://www.cloudvillage.net \nGetting There \nBy Rail: Take the Taipei-Hualien line and off at Jinguashi Train Station (金瓜石車站). \nSeveral trains leave daily from Taipei Main Railway Train Station. Estimated travel time is one-and-a-half hours by express train. \nBy Car: From Taipei, take Badu or Keelung exits off of the Sun Yat-sen Freeway to connect with the Coastal Highway (Provincial Highway 2) or take the Taipei-Ilan Freeway and exit onto the Coastal Highway. \nFurther Planning: \nTourist Service Center Hotline: (02) 2499 1115 ext. 221 \nNortheast Coastal National Scenic Area Administration: \n(02) 2499 1115 \nE-Mail: info@necoast-nsa.gov.tw \n(02) 2960 3456 \nWebsites: http://www.tpc.gov.tw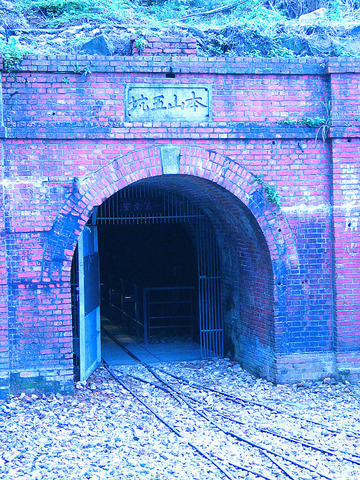 The Benshan Fifth Tunnel has been reconstructed and is now open for public tours.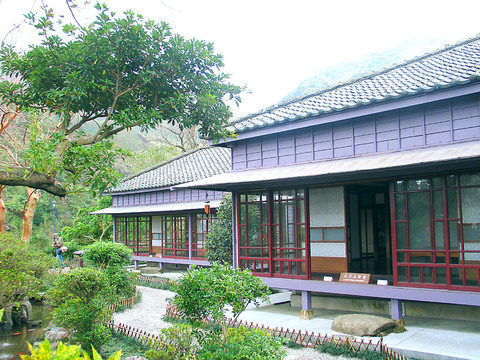 To commemorate the opening of the ecological park, the former residence of a Japanese prince is now available for an inspection.
The rooms at Cloud Village Guest House in Jinguashi are quaint and quiet.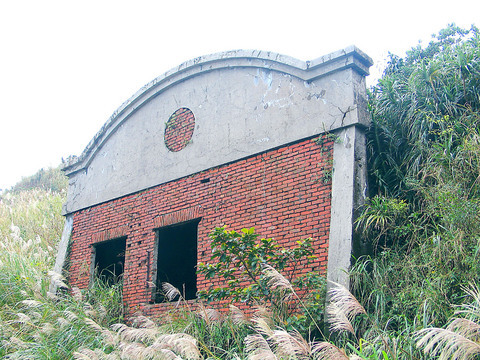 Remains of a mine can be found near the entrance to the ecological park.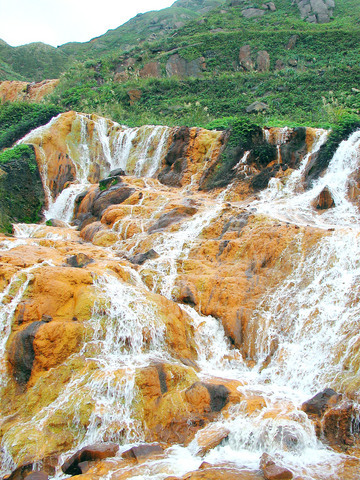 Gold Waterfall can be found along one of the many trails in Taipei County's Jinguashi.
Comments will be moderated. Keep comments relevant to the article. Remarks containing abusive and obscene language, personal attacks of any kind or promotion will be removed and the user banned. Final decision will be at the discretion of the Taipei Times.