The 4th Taiwan International Documentary Festival: Desperately seeking elves
Dorthe Eickelberg tried to find elves in Iceland for her film and ended up finding herself
Do elves really exist? Or do they only live in people's minds? Or in fiction, like in The Lord of the Rings books? German filmmaker Dorthe Eickelberg traveled all the way to Iceland, spending two and half months in the Arctic, to find out for her film Fairies and Other Tales. \nOnce in Iceland, a psychic tells her that elves still live behind his home in the polar wilderness and that they live inside stones and don't want to be disturbed. \nEickelberg then began to interview people on the streets, at gas stations and in stores to gather more information. She was told to keep her camera running at night. "Sometimes cameras can reveal what you cannot see with naked eyes," the psychic tells her. \n"I always wanted to travel to Iceland. Whenever I read travel books, I always picked Iceland. And when I read about the legendary elves and the widespread belief of their existence in Icelanders' hearts, I said to myself that I would make a film about it," Eickelberg said yesterday in Taipei, while visiting for the ongoing Taiwan International Documentary Festival. \nWith a tiny budget from her Berlin film school, Eickelberg and her best friend went on the adventurous shooting trip. The result is a beautifully shot film, with stunning pictures of the glaciers, the northern lights and the mountains. Eickelberg also nicely weaves the pictures with lively animation elements (about the stones and elves) and music. \n"It's a road movie, basically," Eickelberg said. \nIn fact it's a road movie about seeking and experiencing the supernatural at the same time. In the film, Eickelberg talks with a woman who claims to be able to communicate with the elves. The woman also foresees an accident that will happen to the film crew. \n"One day we were trying to shoot the stones [of the elves], but the next day, we found that the camera was not working, and, worse, 70 percent of the footage we shot was destroyed. We gave up and returned to Germany," Eickelberg said. \nWhen the crew finally went back to Iceland to re-shoot the footage, local people told them "You might not see the elves. But they have seen you." \nOther eerie moments occurred during the shooting, as when Eickelberg's car became stuck in the snow or mud immediately after shooting the legendary stones. \nThe film recently won the best documentary award at the Cinema delle Donne festival in Turin, Italy and is part of the international competition section of the Taiwan International Documentary Festival. \nFor Eickelberg, the most important reward for shooting the film was that it became a trip of self-discovery. "I feel there is a lack in my heart and perhaps it's the same for many Germans of my generation. That is, we want to feel something and believe in something that is bigger than us," she said. \nSo, did she see the elves in the end? "It will depend on how the audience sees it in the film." \nFILM NOTE: \nFairies and Other Tales \nDirected by Dorthe Eickelberg \nRunning time: 55 minutes \nScreening times and location: Today, 4:50pm, Showtime Cinema; Wednesday, 10:30am, Showtime Cinema \n童話謎蹤 \n陶樂絲艾科堡 \n 德國 \n一位名叫合曼德的靈媒說,他在冰島老家北極區的邊陲地帶,仍然有些精靈生活著。據說,精靈住在石頭裡,不要人家去打擾。作者的腦海裡始終懷疑冰島人把相關的資訊隱藏起來,好比在首都的那位音樂監督、停車場裡的青少年、在某個不知名地點一家加油站裡的那個人。儘管作者小心謹慎地追蹤這些精靈,可是為什麼他們還是不現身?合曼德說:「你應該持續讓攝影機處於待機狀態,有時候,攝影機反而能呈現出肉眼所無法看見的真相。」
Dorthe Eickelberg's film Fairies and Other Tales is competing in the festival.
PHOTO COURTESY OF TIDF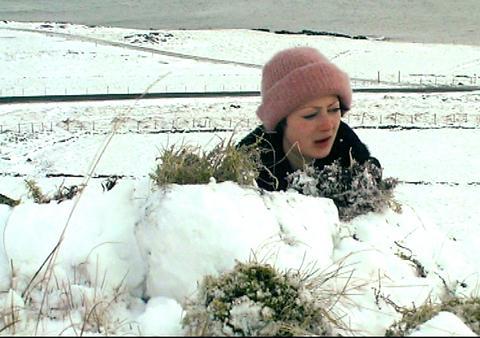 Looking for elves in Iceland.
PHOTO COURTESY OF TIDF
Comments will be moderated. Keep comments relevant to the article. Remarks containing abusive and obscene language, personal attacks of any kind or promotion will be removed and the user banned. Final decision will be at the discretion of the Taipei Times.