An English cartoonist with a treat for the young at heart
`Fantasia: Brian Wildsmith and His World of Illustrations and Picture Books' is on show in Kaohsiung
"Brian Wildsmith from Yorkshire" as introduction may conjure images of a rough Heathcliff type swinging a frenzied anvil. Nothing is further from the truth. The subject is a genial, Hobbit-like book-illustrator who has enchanted imaginations for decades. With 166 original paintings revealing his unlimited, benign and humorous imagination, a most unusual summer treat for Taiwan's young at heart has opened at Kaohsiung Museum of Fine Arts (KMFA) till mid-August.
The works hail not from the UK where Oxford University Press publishes them, nor from Castellaras, France where the Wildsmith family live, but from the Brian Wildsmith Museum in Izukogen, Japan, founded in 1994 to preserve and display his illustrations of famous European fairy tales, nursery rhymes and learning aids.
The show is an overseas stopover arranged by Tokyo Fuji Museum whose founder, IKEDA Daisaku (池田大作), is also founder of the once-notorious Soga Gakkai (創價學會), a religious corporation that has since settled into genteel patronage of the arts. Ikeda himself wrote tales that Wildsmith has illustrated in a cooperative venture that seeks to inspire and promote love and compassion across the world through its young.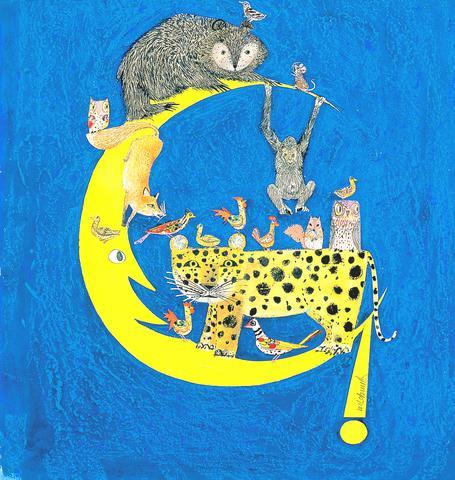 ?
In Kaohsiung, you will find samples of Wildsmith's early works like the ABC book (1962), reflective of Slade School training with its rich, unctuous and passionate colors glowing from a deep purple ground.
But once he headed full tilt to do children's books, Wildsmith's colors take on a new transparency affording mutability, mystery and subtle emotional shifts denied opacity.
An accomplished draughtsman, he often handles a huge cast, be they umpteen children in a classroom, a fortified citadel and the teeming countryside around it burgeoning with wild poppies, sheep and goats, or a bustling townscape whose motor traffic is stalled by a donkey reluctant to draw his cart any further.
We can peek into nooks and crannies and discover yet more, often gentle sight-gags that fill Wildsmith's world not only with exciting details but with chuckling humor that courses through all his narratives.
There are individual up-close portraits, too, when Lazy Bear is having a second thought, or when Red Squirrel is napping luxuriously wrapped in his huge furry tail, deep in a burrow filled with fluff of dreams.
The wonder of Wildsmith's imagery is his untrammelled reach: where a penguin lifts up a rhino with just one finger or when a gaping hippo finds himself inside the lower jaw of a flying pelican. Wildsmith wants to show children (of all ages) that anything is possible, once we take up pencil and paper and let our inner self take flight.
When Wildsmith illustrates Ikeda's stories, he goes on a cultural journey. People have Japanese names (albeit still wearing Wildsmith colors), live in wooden houses and sleep on the floor, and animals now include the raccoon-like tanuki -- beloved protagonist of many Japanese folktales -- who, like the English badger, live in large burrows beneath tree roots.
Here the colors become more transparent and blush in pastels, and subtle references to traditional Japanese painting techniques and motifs make a delightful addition to Wildsmith's already extraordinary repertoire.
The familiar color droplets sprinkled like stardust, in Japanese stories resemble kirigane -- tiny cut gold and silver foil sprinkled into cloud forms to quicken the emotions of a painted scene. In Princess in the Moon (1992), they cascade down a Milky Way spinning with planets and stars, looking like confetti, but resembling cut-shapes with straight edges.
Most amazing are the wild swans taking off from swampy marshes in The Snow Country(1990). Evoking magnificent Rimpa masters Sutatsu (宗達) and Kurin (光琳), whose wild geese in gold and silver had served as foil for breathtaking poetic inscriptions in jet-black ink, Wildsmith is not copying those images. A large number of white swans, heading toward reddening skies, fly in typical Wildsmith perspective, diminishing in size from the largest leader close to us, to those less than a fraction of its size in the distance, even as other smaller birds, and children, watch their departure from rushes and shore in rapt awe.
Exhibition notes:

What: Fantasia: Brian Wildsmith and His World of Illustrations and Picture Books.

When: Until Aug. 15.

Where: Kaohsiung Museum of Fine Arts, Galleries 303 to 304, at 804, Meishuguan Road (高雄市鼓山區美術館路80號).
Comments will be moderated. Keep comments relevant to the article. Remarks containing abusive and obscene language, personal attacks of any kind or promotion will be removed and the user banned. Final decision will be at the discretion of the Taipei Times.