How the pace of life just got quicker
Innovators made the world a smaller place by increasing the speed of travel and communications
With his title Conquerors of Time the author is referring to the scientists, inventors and technicians who made the world effectively a smaller place from the mid-18th to the mid-20th century by reducing the time everything took, whether traveling from Bombay to London or sending a message from Beijing to New York.
And it's true that the technological developments during that period were astonishing. The feeling this book conveys us that there's scarcely anything that Trevor Fishlock, a journalist and author based in London but with a special affinity to Wales, doesn't cover. Whether it's the introduction of copper bottoms in ships to combat the rot caused by the teredo or ship-worm, the surveying of India, mapping the moon, faster mail from China, attempts to speed up overland travel prior to the invention of railways, semaphore, the camera, barometers, gas lights, canals, shock-absorbers, the six-horse stage coaches that Wells Fargo preferred, the cataloguing of plants, the discovery of Neptune, or railways themselves and then the internal combustion engine, it's all here, in a fast-talking, chatty style, ennobled here and there by flashes of poetry.
Sea journeys are at the heart of this author's preoccupations. He begins and ends with recollections of a voyage on a ketch he was invited to join from the UK to America and back. This experience puts him in contact with how things were for immemorial centuries, and provides him with a rule with which to measure everything that came later. As a result, epic sea journeys such as those of Cook are recounted with particular enthusiasm.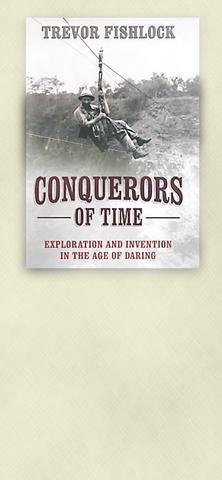 Conquerors of Time By Trevor Fishlock 444 pages John Murray
But there's no end to Fishlock's list. And, in fact, this profusion proves to be his undoing. There's too much of everything for there to be very much of anything. Once we've had a thumb-nail sketch of a technological advance, it's time to move on to the next. Whole lives pass by at the turn of a page.
The experience of George Everest, the man who completed the bulk of the Great Trigonometrical Survey of India is a case in point. We learn that he used a giant theodolite that had been tested on Lord's cricket ground in London and took six men to carry; that he was offered a knighthood for his life's work but declined, saying he deserved something better, then later accepted it; that the world's highest mountain -- judged to be such by the use of his own team's instruments -- was named after him by a motion of the Royal geographical Society in London, though he himself never set eyes on it; and finally we're told he pronounced his name, not as we call the mountain today, but instead "Eve-rest." And that's it. No time for more -- on to the next intrepid figure.
Politically, too, the book is somewhat naive. About this very survey, for instance, we're told that Indians at first weren't involved, and that the very practice of science itself became linked to the Europeans perceived superiority in their imperial domains. This is a fascinating idea, and Michel Foucault would have much to say on the matter. But it's not developed. Similarly, Fishlock points out that the survey followed in the wake of a similar survey of Scotland after the defeat of the Stuart-led uprising there in 1745. He writes that it followed "the defeat of the rebellious clans," and hints at a connection between mapping and control. But this promising idea too never has a chance to breathe. There's simply no time, because the next invention awaits, and Fishlock, his source books stacked from floor to ceiling, must keep his nose to his computer monitor and press on.
In a way this author resembles his own subjects. He's as frantic as the imperial explorers and inventors themselves, endlessly working away, never pausing to wonder why. They've infected him, you feel, and caught him up in their ambition to reduce the globe to manageable proportions. It's not a bad method, allowing your subject to take you over, succumbing to its forward momentum. But it wearied the empire-builders, it no doubt wearied Fishlock, and now, sadly, it's likely to weary the average reader.
It's always important to remember that the excerpts from reviews printed on a paperback's cover are the very best things the publishers can find on the subject. When you read them, remember that no critic ever wrote anything more laudatory than this. In the case of this book, the excerpts mention such things as "scope" and "teeming bustle of discovery," but stop short there.
Reading the book, you're breathless after 40 pages, and yet there are another 400 to go. But if you want to know that for millennia man traveled on land at little more than 6.4kph, then, after he domesticated the horse in Central Asia, at around 16kph, then suddenly in the 1840s, with the perfection of steam transport, accelerated to 112kph and even 160kph, then you'll find it here.
These were the years when everything changed, not only in transport but in the communication of information. And, of course, the process has continued past the period the author covers. Are we approaching some sort of end? Can anything be quicker than e-mail? Perhaps not, but other advances in information technology are in the pipeline, offering enhanced capacity and scope, if no longer actual increases in speed. All this awaits a new Fishlock. This one, I imagine, will be too horrified by the prospect to attempt a sequel.
Comments will be moderated. Keep comments relevant to the article. Remarks containing abusive and obscene language, personal attacks of any kind or promotion will be removed and the user banned. Final decision will be at the discretion of the Taipei Times.