Crowded island, deserted beaches
Taiwan may be an island, but there is little in the way of beach culture to be found
The days are growing longer and the mercury is climbing higher. Time to put on the sunscreen, grab your board and head to the beach? Not necessarily. Despite 1,566km of coastline, a good beach can be a rare find in Taiwan. Geology has denied the island all but a few golden sand beaches and politics and sociology traditionally kept these from being very popular destinations. \nMorning rains have cleared in Taitung County's Donghe Township and Luo Ke-chang (羅柯昌) has parked his car on the shoulder of Highway 11, filled a satchel with a few necessities and made his way to a favorite stretch of beach. He steps into a nearby grove of bushes and a moment later reappears like Superman clad in tight red Spandex. Snapping his waistband and sucking in his gut, he romps off into the rolling waves, but never gets more than waist-deep. \nThis is the East Coast National Scenic Area, where the surf competes with the sky to see which can be a deeper shade of blue, where the smell of jasmine drifts down lush mountains that are crowned with clouds. The sun is rising fast and it's going to be a hot day, but Luo is alone on a beach several kilometers long. It's Tuesday, granted, but where are the retirees taking a morning stroll? Where are the young mothers building sand castles with their toddlers? Where are the kids skipping school to come skip through the surf? \n"There's never anyone here," Luo says returning to his bag with a collection of rocks he's pulled from the surf. "I come here maybe two or three days each week during the summer and usually have the place to myself." \nA life-long resident of Taitung County, the 50-something Luo says that few locals are interested in beaches. Shanyuan, a beach-side recreation area to the north of Taitung City, can see a crowd on weekends, he says, but rarely is there a spillover onto neighboring beaches like this one that Luo favors -- beaches that are more picturesque but lack restrooms and restaurants. \nA call to the Tourism Bureau under the Ministry of Transportation and Communications offers insight into the lack of interest in Taiwan's beaches. Despite plans to double the number of tourists to the island, the bureau has all but left out developing the island's several beautiful beaches. Along with Shanyuan, the bureau offers travelers tips on getting to Fulong Beach in Taipei County, Kenting's Dawan Beach, Jichi Beach in Hualian County and Jinzun in Taitung County. \nTopping the list of recommended activities at beaches in the East Coast National Scenic Area are whale watching and sunrise viewing. \n"Most of Taiwan's coastline is rocky and many of the best beaches are far from major cities," says the Tourism Bureau's Roger Lu. "So you have a lot of people at places like Fulong and very few people further down the east coast." The west coast, he says, has been developed by industry and doesn't have the clear blue water that's found on the east coast. \nAnother reason Taiwan lacks widespread beach culture can be seen in the gun turrets and cement barricades put in place after the Chinese Nationalist Army fled to Taiwan in the late 1940s. Meant to deter an attack by the People's Liberation Army, they also deterred anyone from going to the beach. Not that you could have gone anyway; before martial law was lifted in 1987, most beaches were off limits to everyone except soldiers. \nLuo has his own ideas as to the lack of interest. "Chinese people don't like the water," he says. "We think that the ghosts of people who have drowned will pull you under. That's why I never go very deep into the water." \nBut for Luo and other beachcombers, the lack of tourism to the Taiwan's beaches is a blessing. "I'd rather be here alone than have thousands of people around." \nFulong (福隆) \nThis is where all of Taipei goes sunbathing on weekends. The government hauled in tonnes of sand last year after it was discovered that construction of a wharf in Kungliao was eroding the beach. It was not because the sand had slowly been taken back to Taipei in the shoes of the tens of thousands of people that come here on Saturdays and Sundays. Fulong is a popular place for "swimming" because it's only knee-deep for 100m off shore. Lifeguards and sausage vendors are on duty during weekends. \nTahsi (大溪) \nIf any more foreigners rent a house in Tahsi they could elect one of themselves borough chief. Not long ago, this little seaside community was the quiet alternative to Fulong, but weekend crowds have grown steadily over the years. Many regulars have anted-up for a place to store their surfboard and lay their head and enough campsites dot the beach on weekends that it could be given its own zip code. The reason: a good beach for swimming and surfing that's not as crowded as Fulong but still convenient to reach from Taipei. \nChihsingtan (七星潭) \nThis is the Fulong of Hualien County; a popular weekend destination on the city's northern coastline. Despite its convenient location, it remains uncrowded on the weekends, perhaps because it's large enough to accommodate half the city, perhaps because so few citizens are interested in spending the day at the beach. Most tour buses bypass here en route to the more popular Taroko Gorge. \nJichi (磯崎) \nLying 40km south of Hualien City, this 3km beach at Fongbin Township lies in a picturesque bay surrounded by hills. During winter, the tides bring up dark stones and sand from the seabed, turning the sand black. During the lower tides of the summer season, the beaches recover their golden color. Jichi is a popular recreation area for swimming, camping, sunbathing, paragliding and other water sports. Trails wind through the surrounding hills offering an opportunity to observe the local landscape. \nChangbin (長濱) \nChangbin lies halfway between Hualien and Taitung and, as such, is pretty much in the middle of nowhere. The friendly locals in the area will tell you the best place to get wet is a small stretch of beach near the harbor on the south side of town. They're wrong. To the north is a seemingly endless stretch of fine gravel beach and some of the bluest ocean to be seen in Taiwan. It's remote and there are no facilities. Even a patch of shade is hard to come by. But if you find one, you'll likely have it all to yourself. It's a remarkably clean beach, perhaps because there's a dump just inland from the beach. \nShanyuan (衫原) \nLocated 12km north of Taitung City, Shanyuan is a popular place for summer fun. It's a 1.5km-long sandy beach that is bustling with people playing volleyball and making sand sculptures. The coral reefs at the northern and southern ends of the beach are popular with divers. The water is also good for sailing, surfing, windsurfing and swimming. Facilities include a wooded campground and outdoor restaurant area. Admission is NT$60 for adults and half that for children. Call (089) 28 1151 for more information. \nJinzun (金樽) \nThe crown gem of east-coast beaches, Jinzun might just be the best beach in Taiwan. It's also an excellent example of how scenic areas can be developed without being overdeveloped. A cafe sits atop a 50m cliff that walls in the beach itself. The problem is that the sole wooden stairwell that leads down this cliff was destroyed in an earthquake months ago and has yet to be repaired. You can access the beach from behind the roadside binlang stand south of the cafe. Just off shore is an anchor-shaped coral formation that makes bringing a mask worthwhile. But be warned: As with much of the east coast, the sea bank falls off rapidly and swimming can be dangerous. \nJialeshui (佳樂水) \nLeave the crowds at Kenting's Dawan Beach by driving around the southern tip of the island to Jialeshuei, a long stretch of sand that sits at the bottom of windswept cliffs. Make your way down the sand slopes from the road, but first make sure you have everything you need -- it's a lot further down than it looks from the top and a slog to walk back up. Perhaps that's one of the reasons there are rarely crowds here on weekends and during the week you may well have the place to yourself. There's good surfing, but most people that come seem content to contemplate the curve of the earth.
Taiwan doesn't have much of a beach culture, which is great for those who enjoy a day by the sea. Shanyuan, shown below, is one of Taiwan's characteristically empty beaches. Pictured above from left to right are beaches at Changbin, Tahsi, Jinzun and Shanyuan.
PHOTO: DAVID MOMPHARD, TAIPEI TIMES
PHOTO: DAVID MOMPHARD, TAIPEI TIMES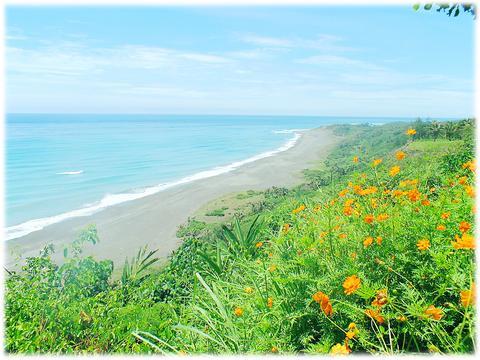 PHOTO: DAVID MOMPHARD, TAIPEI TIMES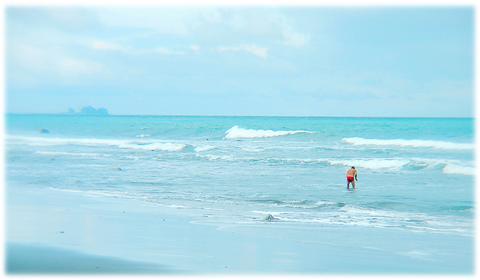 PHOTO: DAVID MOMPHARD, TAIPEI TIMES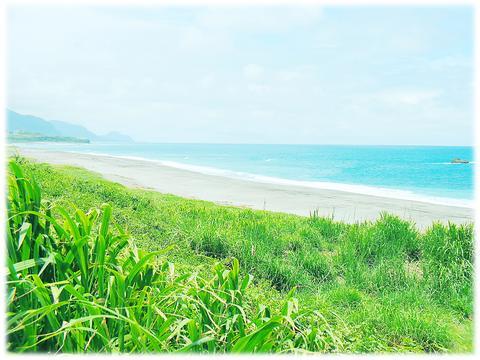 PHOTO: DAVID MOMPHARD, TAIPEI TIMES
Comments will be moderated. Keep comments relevant to the article. Remarks containing abusive and obscene language, personal attacks of any kind or promotion will be removed and the user banned. Final decision will be at the discretion of the Taipei Times.