Sideburns to Fu Manchu to freestyle goatee
If growing facial hair seems like an odd competition sport,don't say that to the competitors in the World Beard and Mustache Championships
Here's the buzz: At least one competitor used a banned substance at the World Beard and Mustache Championships last month in Carson City, Nevada.
In a sport where Vaseline provides more of an edge than creatine, one top-ranked competitor in the Goatee Natural division was later found to have used mustache wax -- more of a controlling substance than a controlled substance but illegal nonetheless -- to help keep every whisker shiny and in its proper place.
Rather than causing a tousle trying to determine a real winner, first-place trophies were presented to both competitors. (There was no splitting hairs in the Goatee Freestyle, won by Jurg Biland, a butcher from Switzerland.)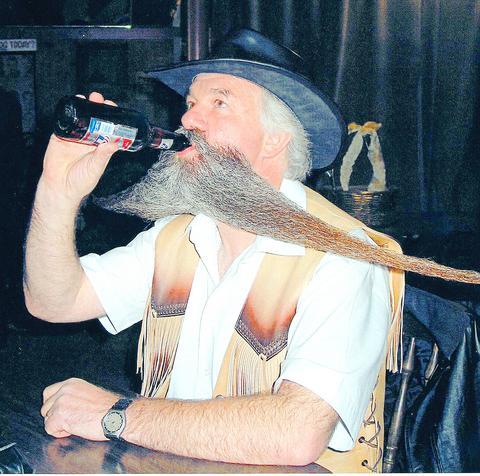 The World Beard and Mustache Championships, held last month in Carson City, Nevada, featured 123 contestants from nine countries who competed in categories like Imperial Mustache, Wild West Mustache, Full Beard Freestyle and Sideburns. Jurg Biland of Switzerland, took first place in the Freestyle Goatee division.
PHOTO: NY TIMES
"We handled it like they did in the Olympics with pairs figure skating," said Phil Olsen, a bearded, 54-year-old lawyer who organized the event. Olsen's side gig helps decide such matters -- he is a settlement conference judge for the Supreme Court of Nevada.
Judges included the mayor of Carson City, Ray Masayko (mustache); the chief justice of the Nevada Supreme Court, Deborah Agosti (no mustache); a Mark Twain impersonator named MacAvoy Layne (beard); Miss Nevada 2003, Christina O'Neil (no beard); and Danny Rotter, the Carson High School senior class vice president (the president, apparently, had other obligations).
Held for the first time in the US -- previous championships were in Norway, Sweden and Germany -- this festival of facial hair featured 123 contestants from nine countries who competed in other categories like Imperial Mustache, Wild West Mustache, Full Beard Freestyle and Sideburns.
Official programs (US$3) included a ballot for spectators to predict champions in each category. The winner received a T-shirt, US$100 and two plane tickets to Berlin, where the next championship will be, in 2005. Guidelines for each category were strict. Rules of the Fu Manchu mustache, for example, read: "Areas other than the upper lip or up to 2cm past the corner of the mouth and downward along the side of the chin must be shaved. Ends long and pointing down."
The overall champion was Karl-Heinz Hille of Germany, 60, representing the Berlin Beard Club and Imperial Mustache wearers everywhere.
Each look was accentuated by a costume that reflected the spirit of the individual style. Hille looked razor-sharp in an 1890s-style silver tuxedo and top hat with white gloves and a cane, and one Wild West hombre rode into town wearing a 10-gallon hat and a six-gun (or was that a hair-dryer?) dangling from his holster.
"Beards can be a sign of great character; think of Abraham Lincoln, Santa Claus and Jesus Christ," said Olsen, who is co-producing a DVD documenting the event with Firelight Films of Tahoe City, California, to be released tomorrow.
"When it comes to sporting mustaches and beards," Olsen said, "Germans are the most competitive."
And so they came. Not just from Germany, but from Switzerland, Britain, Sweden, Norway, Italy and Hong Kong, all fit to be trimmed, their duffel bags filled with the tools of a trade necessary to groom potential champions -- shampoos, conditioners, hair spray, hair pins, gels, foams, combs, tonics, brushes, curlers (curlers?), picks, razors, scissors, rubber bands, shaving cream, compact mirrors and, yes, mustache wax.
That morning, some of the biggest names in bearding marched past 40,000 spectators at the annual Nevada Day parade. Among them was Ted Sedman, president of London's Handlebar Club, who took first place in the Fu Manchu category.
Contestants from the host country included Bruce Roe, the first American to win a trophy at these championships, as well as the six-time beard champion of the Iowa State Fair, Gary James Chilton.
Chilton, 60-something, took it on the chin-whiskers in Carson City, finishing fourth in the Full Beard Natural division. While his 1.04m salt-and-pepper beard hid his kneecaps, nothing could hide his displeasure.
"Yes, I was disappointed," said Chilton, a celebrity in his hometown of Sioux City, Iowa. "I didn't wear a costume, and that probably hurt me. But just based on sheer length, I should have won at least third place."
Chilton, whose beard recently celebrated its 26th birthday (that's how long it has gone unshaven), describes a man with a beard as "open-minded, nonjudgmental and a free spirit."
He describes a clean-shaven man as "someone who has been told what to do." He added, "The kind of man who walks around and says, `No, my wife wouldn't like that.'"
And a man with a mustache?
"Well, that's more of a compromise," Chilton said. "The wife wouldn't allow a full beard, but a mustache? Well, OK, honey."
Comments will be moderated. Keep comments relevant to the article. Remarks containing abusive and obscene language, personal attacks of any kind or promotion will be removed and the user banned. Final decision will be at the discretion of the Taipei Times.