Back to normal nudity for Rio
A 1994 ban on nudism at a beach in Rio de Janeiro, Brazil, been repealed in order to tempt back foreign tourists
Ironically in a country known for skimpy bikinis that reveal more than they cover, Rio de Janeiro has balked for the past nine years at allowing a nude beach, but that is now changing. \nThe city is "as famous for its natural beauty as it is for Carnival reveling with televised samba parades and belles in their olympic nakedness," said one Brazilian judge. \nAnd with these words last month, he dismissed a 1994 ban on nudism at a beach called Abrico, ruling that arguments of immorality did not apply to well-behaved naked sunbathers on the outskirts of merry Rio. \nOn a recent sunny weekend after the lifting of the ban, dozens of nudists filled Abrico beach, the city's only nude beach which sits on a secluded strip of sand between the mountains and next to surfers' favorite spot of Grumari. \nOne man stood on a rock, talking on a mobile phone that made his ear the only covered part of his body. Others played volleyball or jumped in the waves. \nSome swimsuit-clad bathers walked rather sheepishly along the shore, past a sign saying: "Beyond this point you may find naked people." \nVictorious organizers didn't mind the onlookers. \n"The curious today are followers tomorrow," said Pedro Ribeiro, president of the Abrico Naturist Association. \nMecca for visitors \nAbrico is one of very few nudist beaches in an urban area in Brazil and the only one in the international tourist mecca that is Rio. \nThe drive to lift the ban was motivated in part by nudists' arguments that foreign tourists, especially from Europe, would flock to Rio if they had a place where they could bare all. \n"We just reopened and we already have foreigners from Germany, Spain and the US, and people are asking for the address," Ribeiro said. \nBrazil, with its nearly 8,000km of mostly beautiful sandy coast has about 20 nudist beaches or colonies. In Spain there are 400, according to court documents. France, a much smaller country, has five million nudists, compared with Brazil's 500,000. \nElias Alves Pereira, president of Brazil's National Federation of Naturists, says that the number of nudists has doubled in the past three years and is convinced that the growth will continue. \nBrazil is also way ahead of fellow Latin American nations Argentina and Mexico, with less than 10,000 nudists each. \nAlthough Latin American countries are viewed as puritanical in many ways, Rio's nudists say the problem they had been fighting all those years was neither public opinion nor the country's habits, but just one person. \nAbrico beach was officially opened to nudists in 1994 under the mayor who is again at the city's helm. But lawyer Jorge de Oliveira Beja filed a court challenge alleging that Brazilian culture was not accustomed to "immoral" nudism in public places and won an injunction closing the beach. \nNot for arousal \nDespite the recent lifting of the ban, uncertainty still hangs over otherwise sunny Abrico. Ribeiro said Beja would likely challenge the ruling in a higher court. \nDespite Beja's objections, nudists insist Abrico will remain a wholesome spot. "The beach is not for those who are looking to get sexually aroused, although it may happen ... In such cases people are supposed to get dressed or go for a splash to calm down, or members of the association ask them to do so or to leave," Ribeiro said. \nOrganizers sometimes have to talk sense into the curious when they go too far in staring at nude bathers. \n"As for love games, a wee kiss or a hug is OK, but we try to restrain such things from going further as without clothes there is so little left to the real thing," Ribeiro added. \nTo the international philosophy of nudism that consists in unity between naked body and nature, Brazilian nudists add local flavor, arguing that native Indians met the arriving Portuguese in the nude 500 years ago. \nAnother pro-nudism argument in poverty-stricken Brazil is that nakedness strips people of their social differences. \n"If you are nude, you start asking questions like `Why don't I have the same right for good education if I'm equal to that other nude guy,'" said Ricardo Bezerra, who wore only sunglasses, a yellow cap and golden neck chain.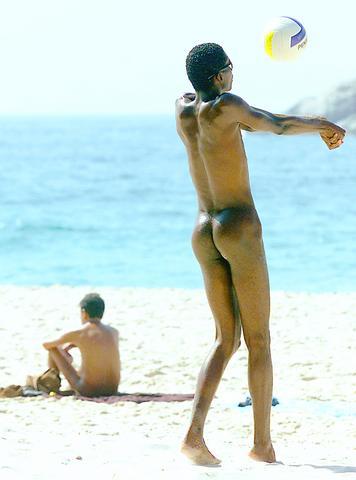 A nudist plays a game of volleyball on Abrico beach.
Comments will be moderated. Keep comments relevant to the article. Remarks containing abusive and obscene language, personal attacks of any kind or promotion will be removed and the user banned. Final decision will be at the discretion of the Taipei Times.