A bible for peace of questionable literary quality hits bookshelves
Maxine Hong Kingston's `The Fifth Book of Peace' relates to the three mythical Chinese books, but from a Californian and 20th century perspective
Initially, it's hard to feel comfortable with this new book by Maxine Hong Kingston. It begins with an account of the fire in the Berkeley/Oaklands area of California in 1991 which destroyed her home and "156 good pages" of a novel in progress. This new book consists of four sections, one of which, 172 pages long, is a reconstruction of the lost story. "There!" Kingston writes. "That's what I wrote during two years of living in friends' houses after the fire."
You're tempted to ask, "So what?" J.S. Mill and Thomas Carlyle, hard-working 19th century professionals, both lost manuscripts and simply sat down, rewrote and finished them. They didn't take 11 years to come up with a still incomplete narrative, let alone congratulate themselves for doing so in the process.
This book, as a result, has a feel of having been patched together. Its four sections -- entitled in authentic Chinese style Fire, Paper, Water, Earth -- contain links but are essentially independent texts, always a sure sign that a writer has lacked a compelling single inspiration strong enough to produce a whole book.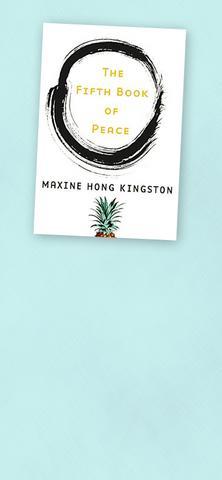 The Fifth Book of Peace By Maxine Hong Kingston Secker & Warburg 401 pages
"Fire" is a description of the Berkeley fires, with Kingston's feeling that this kind of destruction of homes and infrastructure was what the US was doing in Iraq at that time in the first Gulf War. The short "Paper" section discusses the lost Chinese classics, the Three Books of Peace, and Kingston's questions about them to academics and writers in China and, briefly, Taiwan. "Water" is a reconstruction of her incomplete fictional narrative destroyed in the fire, a story set in Hawaii (where she herself has lived) in the Vietnam War period. And "Earth" is an account of her more recent work with American war veterans in the writing workshops she set up for them in the San Francisco area.
The book's title derives from her having intended her lost novel to be a Fourth Book of Peace, a successor to the three mythical Chinese ones. That lost, this is the fifth.
Despite these shortcomings, what Kingston sets out to do in this book attracts a considerable degree of sympathy.
What she does is set herself up as a kind of river that draws into itself many different contributory streams -- Berkeley campus pacificism, the American anti-war movement of the Vietnam era, Buddhism, and Asian non-violence traditions generally. These all combine in her and at her best she adopts the role of a sort of chairperson that allows these to coalesce in more or less free form in her writing.
To a traditionalist it may look like weakness for a book to mix fiction and autobiography -- and in one way it is a weakness. But there is another way of looking at it, a way that allows the varied materials that present themselves in a particular period of life simply to coexist. The stern critic, probably a European, may say that she clearly had no one strong line of inspiration. But a more relaxed observer, probably a Californian, will say that she is what she is and does what she does, that it's up to readers to make connections between the different parts of her work, and that ends don't need to be tied up, or conclusions arrived at.
At the point where Kingston moves from her unfinished Hawaiian narrative to her account of her workshops with the war veterans, she writes, "Things that fiction can't solve must be worked out in life." This is the opposite of the usual assumption that it's life that's messy and incomplete and art that's ordered and worked out. No, says Kingston. She can't artificially make her Vietnam War story happily, because the era itself was abandoned rather than brought to a happy resolution. So she moves on in another direction, leaves the novel unfinished, and tries to create islands of peace through social action.
Maxine Hong Kingston doesn't seem a great American writer in the way, say, Don DeLillo may be. Rather, she seems someone who has benefited from academia's current interest in women writers and immigrant communities. Even so, her anti-war stance is likely to bring her still more readers as opposition to current policies grows in the US, as it seems set to, if only in the wake of a routine pendulum-swing towards the Democrats.
Kingston's virtues are honesty and compassion. Woman Warrior exposed, among other things, the ruses Chinese women had to resort to in order to gain their American passports. It was a triumphant championing of both women's and immigrants' rights, even if (as she relates in this new book) some Chinese have accused her of giving away their secrets to the public at large. Her answer is that she simply told things as they were, and that everyone knew them by that time anyway -- this last hardly possible considering the great interest Woman Warrior aroused.
But the point is that Kingston does tell the truth as she sees it, and to hold anything back would be against her actual as well as her literary character. And in The Fifth Book of Peace she tells the truth about quite a wide range of people and groups in California who, for the last quarter century and more, have been opposed to much of their country's foreign policy.
In gathering together stories and incidents involving opponents of the Vietnam and Iraqi wars, together with some of their victims, physical and psychological, Kingston does a great service. When your government is saying and doing one thing and you're thinking another, it's all too easy to feel isolated, a voice crying -- or maybe even silent -- in the wilderness. Kingston, in bringing together such people in her varied and uneven narrative, creates a coalition, and thereby gives all of its members added confidence and strength. It's no accident that she works these days as a senior lecturer in creative writing at the University of California, Berkeley, probably the strongest bastion of anti-war sentiment in the entire US.
Irrespective of its hypothetical Chinese antecedents, this is genuinely a Book of Peace in the modern sense. It may even come to be a sort of bible referred to and cited by peace activists and handed out as encouragement to the wavering and uncertain. This, then, rather than its strictly literary quality, is likely to become The Fifth Book of Peace's eventual claim to fame.
Comments will be moderated. Keep comments relevant to the article. Remarks containing abusive and obscene language, personal attacks of any kind or promotion will be removed and the user banned. Final decision will be at the discretion of the Taipei Times.