All that Taichung jazz
October is set to swing in Taichung as the city's streets, parks and night markets double as bandstands for a nearly month-long international jazz festival
Taiwan isn't a very jazzy nation, but Taichung City is looking to change that with a 22-day international jazz festival that starts tomorrow. Some of the major acts set to perform include Jon Faddis, the Lou Rainone Jazz Band, Helio Alves and the Bill Mays Piano Trio, along with local favorites Delta on Main Street, Metamorphosis Jazz Band and the Universal Project Ensemble. Best of all, many of the performances will take place in the city's parks, tourist districts and night markets, which should jazz things up a bit.
This is not only the first major jazz festival for Taichung, it's a first for Taiwan as well, said the festival's director, Amy Huang (黃淑琳). "It's not just filling one venue, but filling the entire city with music for a month. There will be food, exhibitions, lectures, contests and even radio programming dedicated to the event and public transportation provided for NT$1."
In keeping with its grand aspirations, the festival starts tomorrow with a parade. Beginning at 3pm, live jazz bands and mini cars will make their way from Taichung City's Cultural Affairs Bureau to Fengle Sculpture park for a six-hour concert in the park with Faddis, Mays, the Universal Project Ensemble and Japanese piano trio Jivestakes.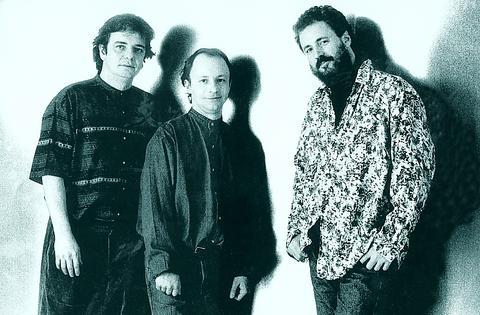 Duduka da Fonseca, Helio Alves amd Nilson Matta.
PHOTO COURTESY OF TAICHUNG JAZZ FESTIVAL
Trumpeter Jon Faddis has been called the heir apparent to Dizzy Gillespie. He spent much of his youth trying to imitate the famous trumpeter and, by some accounts, surpassed his abilities. He now serves as the music director of the Carnegie Hall Jazz Orchestra.
Bill Mays' career behind the keyboard spans 40 years as a pianist, composer and arranger. He's played with everyone from Frank Sinatra to Frank Zappa and recorded some 13 titles under his own name. He'll be joined this weekend by Taiwan's own Lin Wei-shing (林煒盛) on bass.
Another opening night highlight is the Universal Project Ensemble (UPE). Established last year by trumpeter Chiu Chien-erh (邱建二), UPE is one of the few large jazz ensembles in Taiwan. Based out of Taichung, the group's musical style ranges from the big band era of the 1930s through rock-jazz fusion of the 1970s. Other local favorites and Riverside Music Cafe regulars Delta on Main Street and the Metamorphosis Jazz Band are also scheduled for several sets throughout the festival. Taiwan's Dizzy Jazz Big Band is set to play the closing concert along with Brazilian samba sensation the Helio Alves Jazz Band, who recently recorded with Yo-yo Ma (馬友友).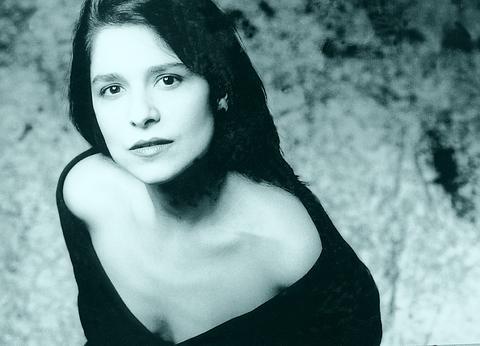 Maucha Adnet.
In the festival's second and third weeks, piano virtuoso and recording artist Lou Rainone and his band take the stage for several sets, starting on Oct. 11 with the Metamorphosis Jazz Band. Rainone is a highly sought hired gun for other artists wanting the best studio musicians they can find. He also teaches piano and is scheduled to give a jazz master class. Faddis and Mays are scheduled to do the same.
Music isn't the only thing on offer, as the venues chosen for many of the performances will showcase the best of Taichung. The opening day concert is in the city's sculpture park, the closing day concert is in Taichung Park and several highly anticipated sets will be played in a variety of locations; scenic Chingming 1st St, the Green Aisle of the Art Museum and Fengchia night market, to name a few.
At many of the venues, and particularly on the festival's opening and closing days, foreign resident restauranteurs will be serving up a smorgasbord of "exotic cuisine" and authentic Taichung snacks that festival organizers promise will "take your stomach on a trip around the world" -- for better or worse.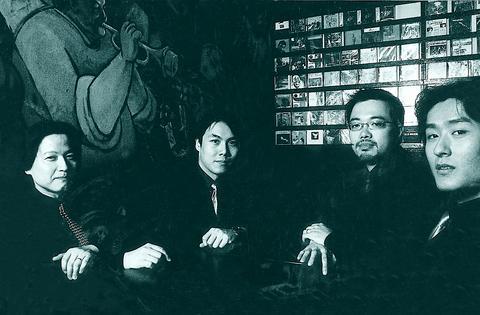 The New Decision.
Getting there couldn't be easier as Taichung's Cultural Affairs Bureau is sponsoring a "one-dollar train" from Taipei and Kaohsiung. One NT buys you a one-way ticket to Taichung tomorrow morning only. Taipei residents should meet at West Gate 3 of Taipei Main Station before the train's 10am departure. Kaohsiung residents should meet at the front gate of the city's train station for a 9am departure. Additional information and a complete schedule of events can be found on the culture bureau's bilingual Web site at http://www.tccgc.gov.tw/report/2003-jazz.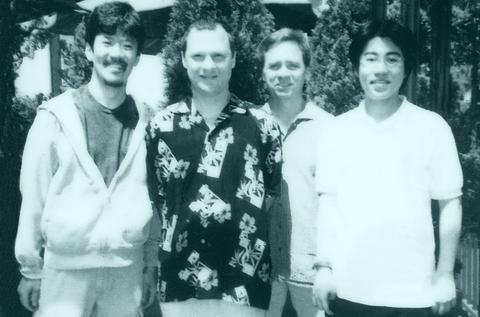 Lou Rainone's jazz quartet.
Publication Notes
Festival highlights
Saturday, Oct. 4, 3:30pm to 9:30pm, Opening day concert with Jon Faddis, Bill Mays, the Universal Project Ensemble and Jivestakes at Fengle Sculpture Park (豐樂雕塑公園文心南五路、永春東一路口).
Sunday, Oct. 5, 7:30pm to 9:30pm, Bill Mays' Piano Trio, at Shinmin High School (新民中學演藝廳三民路三段289號).
Friday, Oct. 10, 7:30pm to 9:30pm, J.E.G. Jazz Band, at La Cite (桂冠歐洲 四川路79-5).
Saturday, Oct. 11, 7pm to 10pm, Metamorphosis Jazz Band and the Lou Rainone Jazz Band, on Chingming 1st St. (精明一街).
Saturday, Oct. 18, 7:30pm to 9:30pm, The New Decision Jazz Band, on Chikuang St. (繼光街).
Wednesday, Oct. 22, 7pm to 10pm, Delta on Main Street and the Helio Alves Jazz Band, at Fengchia Night Market (逢甲碧根廣場徒步區逢甲、福星路口).
Saturday, Oct. 25, 3:30pm to 9:30pm, Blue Jazz closing concert with the Taichung Grandpa Jazz Band, the Dizzy Jazz band and the Helio Alvez Jazz Band, in Taichung Park (台中公園公園路、自由路交界 ).
Comments will be moderated. Keep comments relevant to the article. Remarks containing abusive and obscene language, personal attacks of any kind or promotion will be removed and the user banned. Final decision will be at the discretion of the Taipei Times.