Restaurant: Prego
In the alleys of Yitung Street, where quick dinners and business cafes are ubiquitous, it is a surprise to see Prego, a decent Italian restaurant.
It is a rather pleasant surprise when you see the price and later actually check the food in this restaurant. A price of NT$200, the same as you spend at those quick dinners or business cafes will buy a decent three-course meal in a Mediterranean style decor with a hotel chef's cooking skills and fresh ingredients.
The NT$200 business lunch offers a delicate salad nicoise, a main course of herb roast chicken or seafood spaghetti with tomato sauce, and a dessert choice from panna cotta or tiramisu.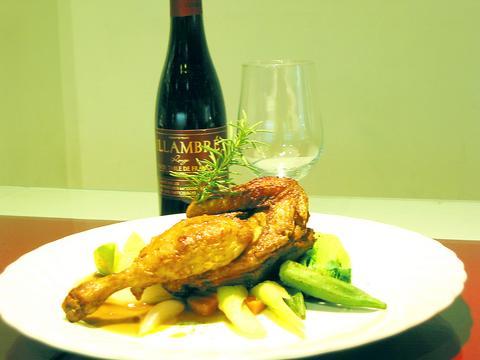 Spring chicken is a substantial main dish on Prego's set menu.
PHOTO: YU SEN-LUN, TAIPEI TIMES
Simply looking at the making of the salad you will feel the NT$200 is worthwhile. A slice of boiled potato is placed on the bottom, on top is tuna, covered with onions and olive oil and vinegar-seasoned greens. On the side are slices of tomatoes marinated in garlic, onions, basil and olive oil. And then on the very top the tuna is decorated with slices of seaweed. This is just the starter for the NT$200 lunch.
The roast chicken is recommended for its tender meat and rosemary-based fragrance. As for desserts, the panna cotta or tiramisu are not cheaply made, either. From the rich flavor of milk and fresh cream and smooth texture you can tell that the chefs must have been under solid training. And don't forget the rich espresso coffee, which is included in that NT$200 meal.
The men behind such inexpensive Italian cuisine are two fearless young chefs, Winson Lien (練旻穎) and Julian Yu (游正霖), both 24-years-old. The two insist on using fresh ingredient and painstaking cooking procedures, which they learned as hotel chefs, to present enjoyable dishes.
"We want to offer a higher class business lunch for the office employees and office ladies in the area. But we offer a price that all consumers can afford," Lien said.
Lien and Yu met at the Hsinchu Ambassador Hotel, where both of them previously worked.
Both chose not to stay in the hotel for the next 10 years to become a chief chef and decided instead to open their own restaurant four months ago. "Maybe because we're young, we give whatever it takes to make the best food," Yu said.
Publication Notes
Address: 7, Lane 106, Yitung St, Taipei (台北市伊通街106巷7號)
Telephone: (02) 2502 3336
Open: 10am to 2pm, 5pm to 10pm
Average meal: NT$200
Details: English menu, credit cards not accepted
Comments will be moderated. Keep comments relevant to the article. Remarks containing abusive and obscene language, personal attacks of any kind or promotion will be removed and the user banned. Final decision will be at the discretion of the Taipei Times.