Singing the praises of Aboriginal culture
The Festival of Austronesian Cultures, with its emphasis on spectacle, fairs poorly as a framework for efforts to promote greater awareness of the links between Taiwan's Aborigines and other indigenous island peoples
Taitung County last week set out to boost tourism and showcase Aboriginal culture in the Festival of Austronesian Cultures, which will continue through this weekend, with a number of events drawing on into early January. As the title of the festival suggests, on this occasion the county government has sought to "internationalize" by drawing links between Taiwan's Aborigines and the island cultures of the Indian Ocean and South Pacific. What evidence there is for this consanguinity is on display at the Museum of Prehistory, in the forecourt of which this festival is being held. \nThe exact nature of the relationship between Taiwan's Aboriginal tribes and the natives of say Palau, the Cook Island or Madagascar for that matter -- who all sent dancing groups to perform at the festival -- is still a subject of debate among anthropologists and those who concern themselves with these matters. For that matter, the exciting Neolithic finds at the Bunun prehistoric site, which constitute the core of the Museum of Prehistory, are somewhat tenuous. \nWhile all these links were being drawn by the nature of Festival of Austronesian Cultures, one link that did not seem to be taking hold was that between the Aborigines at the festival and the guests from the South Pacific. Joining a group of Paiwan artists and activists who had set up an enclosure at the festival, some of the bitterness over the highjacking of Aboriginal culture by government authorities came to the surface. \nIn a pavilion fashioned out of driftwood -- that it had pretensions to being art and that it sought to make a statement about alternative lifestyle at one with nature was self-evident, for this had nothing to do with traditional Aboriginal architecture -- a group of Aboriginal activists, artists and hangers on collected, talking, eating and generally making their own merriment. \nVasekalan, an elder of the Paiwan people, seemed happy to talk. He was there for the weekend to help his son Sakinu promote his new book which tells of how the author learned about hunting from his father. "It's the only reason we are here," Vasekalan said. \nAlthough Vasekalan and others were in full tribal regalia, much of it, he proudly pointed out, handmade, they did not see their role as anything beyond simply being there. \nAs for the guests from the South Pacific, when they weren't performing, they were very much ensconced in the secluded luxury of the Naruwan Hotel under the care of their Chinese guides. \n"They have no opportunity to come over here," Vasekalan said, speaking of the area of Aboriginal stalls selling cooked pork, locally brewed wines and the usual baubles and colorful jewelry. \nThis area was considerably smaller and less organized that the neat rows of stalls set up closer to the main stage, where the more conventional Chinese foods and other handicraft products were being touted. "The Chinese are much quicker than we are," Vasekalan lamented. \nThis did not affect the general mood of the gathering, and the many young people who waited on the grassy sward to perform on stage were still full of good humor and excitement. It would be unfair to say that this was some kind of Wulai style song-and dance show solely for the benefit of tourists. Too many locals were involved, and this gave the event what vitality it had. \n"During last year's event, the visiting groups and least had a chance to tour the villages," said a local journalist covering the East Coast affairs. "This time the whole event is focused on Taitung City. This shift seems to indicate a great emphasis on tourism at the expense of any real interaction between tribal peoples." \n"Workshops and such like would be much more beneficial," Vasekalan said. \nSitting around a bonfire late at night after the festival had wrapped up for the day, I listened to a heated discussion about what it meant to be Lukai, one of Taiwan's smaller tribes which has been all but swamped by the more numerous Paiwan. \nThe speaker was a young man, as indeed are many who are trying to re-create a sense of tribal identity, whether through clothing, tattoos, language or lifestyle. But for the moment, this seeking for identity seems essentially inward looking; the outward trappings were, like those seen on stage, almost discreditable by comparison, something tawdry that undermined the serious issue of who you were. \nThrough all the rifts and currents that the Festival of Austronesian Cultures brought to the surface, the excited, happy yet slightly anxious faces of dancers from a local vocational college, all decked out it their festival best, was enough to provide hope that Aboriginal culture in Taiwan, despite somewhat shallow events like this one, had an awful lot to look forward to. \nFor your information: \nFrom today until Dec. 31 there will be dance performances by visiting Pacific Islander dance groups between 2pm and 4:30pm outside the National Museum of Prehistory. In the evening from 7:30pm to 9:30pm events will move to the Taitung Cultural Bureau Auditorium. In addition there will be displays of traditional tribal rituals and \nvarious pottery and handicraft workshops. More information can be obtained at the Web site of the Taitung County Government at http://taitung.gov.tw or by calling the Tourism Bureau information hotline at tel (02) 2349-1635.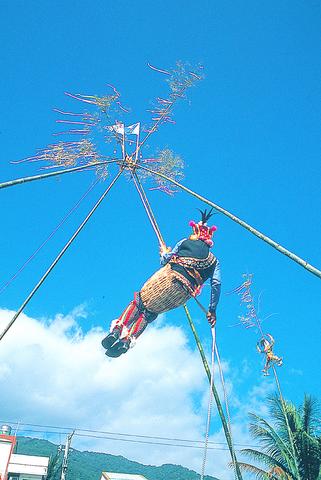 This year's festival focuses more on performances like this one than cultural enrichment, much to the disdain of some participants.
PHOTO COURTESY OF PINGTUNG COUNTY GOVERNMENT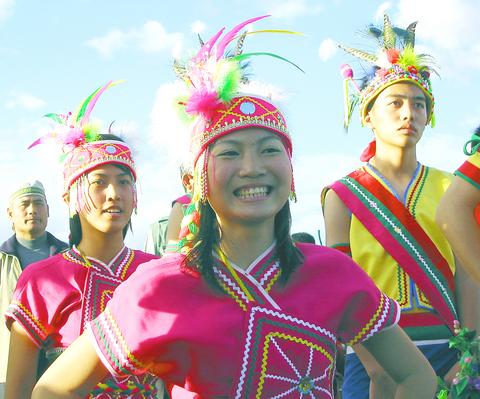 Younger participants like these dancers from a local vocational college give a much-needed shot of vitality to the Festival of Austronesian Cultures in Taitung.
PHOTO: IAN BARTHOLOMEW, TAIPEI TIMES
Comments will be moderated. Keep comments relevant to the article. Remarks containing abusive and obscene language, personal attacks of any kind or promotion will be removed and the user banned. Final decision will be at the discretion of the Taipei Times.