Bang your head to 'Beijing Rocks'
Beneath its hard rock exterior is a film whose characters explore real emotional depth, even if the plots is a bit stilted and the cinematography somewhat heavy-handed
What's your impression of Beijing? Tiananmen Square and tons of bicycles shuttling through ancient narrow alleys? Hong Kong director Mable Cheung (張婉婷) presents a different, decadent and fascinating take on China's capital city; the rock `n roll of Beijing -- seen, of course, through her unique Hong Kong eye. \nIt's late autumn in a Beijing suburb. Several old vans filled with a dozen long-haired young men and scantily-clad girls bounce down a yellow sand road en route to their next gig. Half naked when on stage, they shout out ancient Chinese poems in time with the heavy rhythms of noisy guitars. Sometimes their brand of rock `n roll is too "underground" and they're booed off the stage, replaced by young strippers wriggling to cheesy music for the crowd's entertainment. \nIt's the typical life of Chinese rock gypsies. They're poor and come mostly from the provinces near Beijing to the big city in the hopes of becoming the next Tang Dynasty (唐朝) or Hei Bao (黑豹), two of China's more successful rock acts. \nBeijing Rocks (北京樂與路) has well documented the lifestyle of such groups of rabble-rousing youth. It goes an extra step by having Shu Qi (舒淇) play a stripper-cum-groupie (or is it vice-versa?) whose relationship to one of the band members adds an interesting bit of romance to the plot. \nDaniel Wu (吳彥祖) is a Hong Kong pop singer from a rich family, who wanders around Beijing seeking "inspiration" for new songs. Fascinated with hard-rock energy -- and with Shu Qi -- he joins the band Wang Yue (望月) on their gypsy-styled Beijing satellite tour. He develops an intriguing friendship with the band's lead man, Geng Le (耿樂), and a short romance with Shu, who happens to be the girlfriend of another band member. \nIt is definitely a journey of impression for the protagonist Wu as well as the film's director and writer duet, Mable Cheung and her husband, writer and producer Alex Law (羅啟銳). Cheung's lenses reveal a great deal of passion when shooting the rock scenes -- if a bit too much use of time-lapse motion. The film's color scheme, too, is fused with neon rock `n roll reds and yellows ... and slightly blurred, as if shot through a few too many glasses of Er-guo-tou (二鍋頭), Chinese vodka. \n"I dreamed about rock `n roll in my childhood. So when I decided to make the film I intended to present an entirely different visual style," Cheung said. \nAlex Law, who produced and helped pen the story, talked about the original idea of the film. He and Cheung's previous film, The Soong Sisters (宋家王朝), had been cut substantially by the Chinese Film Bureau. \nIn order to make their case to have the film screened in its original version, the couple stayed in Beijing during the autumn and winter of 1997. There they spent considerable time hanging out with their actors around the city's underground rock scene and were impressed with what they saw. \n"[Bands in Beijing] are very much like the underground hard rock groups found in the West during the 1970s. But the people here in Beijing are poorer and even more idealistic," said Law. \nFor all its effort, the film relies too heavily on atmosphere, time-lapse photography and the filmmakers' impressions of Beijing's rock scene. The storyline is rendered a bit weak, although it vividly captures the jargon of Beijing's more rambunctious youth. There are several witty outtakes of the rockers talking about their dreams. There are even some touching scenes which deal with strained father-and-son relations: Geng Le reconciles with his train-driving father; and Daniel Wu makes up with his wealthy dad during a KTV drinking session. But these bits remain somehow fragmented by overly-romanticized lens work.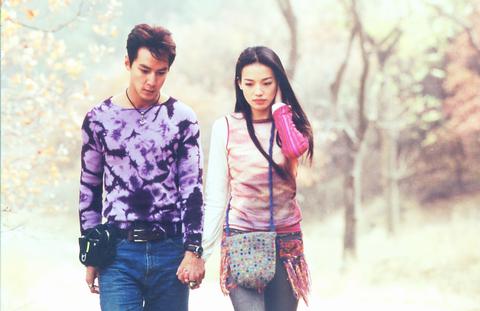 Daniel Wu and Shu Chi hope to make it from the turbulent world of the Beijing underground rock scene to the big time is Beijing Rocks.
PHOTO: COURTESY OF MEDIA ASIA
Comments will be moderated. Keep comments relevant to the article. Remarks containing abusive and obscene language, personal attacks of any kind or promotion will be removed and the user banned. Final decision will be at the discretion of the Taipei Times.