Success is on the tip of his tongue
Although junior high school student Burt Chen was born into an average family and has never attended a cram school for English, he has run circles around not only his peers, but older students. Winning the Taipei City English speech contest was just another step on his road to mastering what comes easy for him
For many Taiwanese children and their parents, English proficiency is an important symbol of academic success, but many find the obstacles -- inexperienced teachers, lack of interesting materials or absence of an environment in which to practice -- insuperable. So when 15-year-old Burt Chen (陳昱宏), the son of a postal clerk and an insurance salesperson, beat Ma Yuan-chung (馬元中), the daughter of Taipei Mayor Ma Ying-jeou (馬英九) for first place in last year's Taipei City Government-sponsored junior high school speech contest, this perennial theme got another workover. But with this story, many of the popular preconceptions were overturned.
Most people tend to imagine Chen to be a typical preppie, like Ma Yuan-chung, who attends a private school and whose well-educated parents are able to reinforce his language skills. But in Chen's case neither assumption holds true. He comes from a family in which no English is spoken, and while his parents are far from poverty-stricken, he attends an ordinary public junior high school.
Burt Chen has never enjoyed the luxury of cram schools to help him learn English nor has he gone abroad to study. Although Chen has enjoyed none of the advantages provided by either money or family background, once you have met him, it isn't difficult to understand how he might have achieved his success.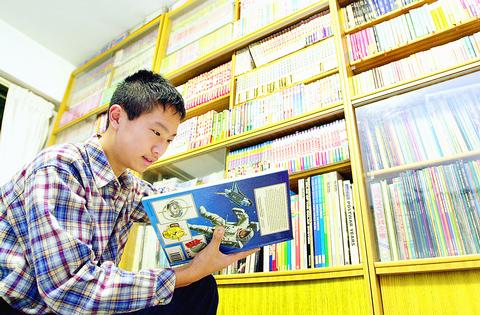 Bert Chen already has a library of over 2000 English books.
PHOTO: GEORGE TSORNG, TAIPEI TIMES
Practice makes perfect
When Chen first greeted me at his home on the hill near the Shihpai (石牌) MRT station, I immediately understood how he could have beaten the bright and advantaged daughter of Taipei's mayor. He insisted on speaking English to me, immediately displaying his near-perfect North American accent and a vocabulary that exceeds what you'd expect even from a serious college student. Chen's success destroys one "myth" after another about the problems of studying English in Taiwan.
"I learned everything on my own," said Chen. "Since I was three."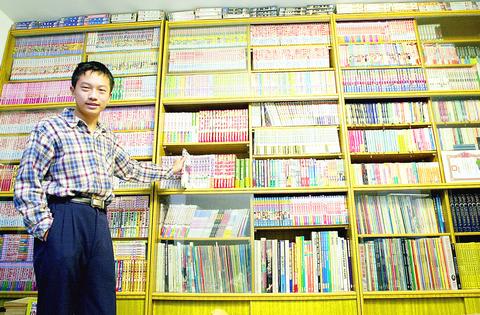 PHOTO: GEORGE TSORNG, TAIPEI TIMES
When Chen was a child, he would talk to Westerners on the street or in English bookstores to practice his spoken English.
Location may also have helped Chen.
"Moving from Sanchung (三重) to Shihpai was convenient for me," said Chen, who relocated with his parents and one younger sister to northern Taipei when he was nine. Shihpai is close to Tienmu (天母), an up-market residential area that has traditionally attracted foreigners.
"I would talk to them on the street to practice English," Chen said. Even when Chen was only six and still in primary school, people would often still mistake him for a child brought up overseas, as his attention to English studies had affected his Chinese accent. Chen's English teacher, Lisa Hsu (許欣芳) is constantly amazed by Chen's English skills. "He is better than high school kids. I have worked with senior high [students] and I know his level is above theirs." Hsu treats her exceptional student with great understanding, allowing him to study what he wants during class time.
Hsu says that Chen is a modest kid who does not show off. Nevertheless, Chen is not unaware of his own talents, and in speaking of the time he sat in on an English course at Tamkang University when only 10, he says he got "high-flying grades."
Hsu attributes Chen's success to the willingness of his parents to support his talent. "I believe the parents' attitude and attention to provide him with resources is what makes him successful today," she said.
Steven Sumsion, an American lawyer from Utah, who has been friends with Chen's family for almost two years, shares this belief.
"I have to praise Burt's parents for his achievement. They are not aggressive or pushy at all," said Sumsion, who has seven children of his own.
"What's important is that they give him the opportunity, and encourage him to read. It's more useful than having money or a high-class education."
This whiz-kid has everything in his study room to prove that. At three, he learned the alphabet, and very soon he was reading Ladybird books, 65 of which still sit in the bookcases in his study room. "I also gave away three dozen more," he said.
Chen's father is particularly careful about supplying Chen with new books regularly. Father and son go down to the bookstore a couple of times every week. And the result: about 200 books each year are added to Chen's English book collection.
Voracious reader
Though he rarely had the opportunity to speak English in primary school, Chen read voraciously, working his way through many Agatha Christie mysteries and the Puffin series, a subsidiary of Penguin for Children. Now he already reads Penguin Classics, intended for an educated adult readership. Over the years, Chen has collected a 2,000-volume library, a monument to his diligence and persistence and the support of his parents.
"My kid never had a tutor, nor has he gone to cram schools like many other kids do," said Chen's father. "But I have tried to foster in him a love for reading since he was very small."
That kind of passion for reading has gone so far that purchasing the books has almost become a ritual for the family. "At times we have heard of some good books for learning English but we couldn't find them in the bookstore, so we would ask the bookstore to order them," Chen's father said. "A few times, I even went to Hong Kong to get the books myself."
The support of friends has also helped Chen achieve his present proficiency in English. Chen started to go to church when he was five. Attending different churches, he met Americans who helped him with his English writing, such as Sumsion. Chen's confidence in his own ability is part of the reason for his success. The story behind his winning entry in the speech writing competition is revealing.
One day after the school's monthly examination, an English teacher who also was the advisor to students for the city-wide contest, asked Chen to write a draft for the speech contest. Chen went to the computer room and wrote about 500 words on his favorite movie in less than two hours. The advisor made a few changes, then asked Chen to prepare an oral presentation based on the draft.
Chen argued that he wanted to polish the draft, but his advisor refused to assist him further, so Chen decided to prepare a different speech with the aid of his friend Sumsion. On the day of the contest, the advisor was furious when Chen walked on stage and presented a speech different from the one she had approved. She walked out of the contest. Apparently she did not realize Chen's talent, that he was the winner all along.
Comments will be moderated. Keep comments relevant to the article. Remarks containing abusive and obscene language, personal attacks of any kind or promotion will be removed and the user banned. Final decision will be at the discretion of the Taipei Times.