John J. Tkacik On Taiwan: Is Washington watching Pratas Island's economic zone?
Last week in the Taipei Times ("Stars and Stripes over Pratas Island," Nov. 5, page 8), I mulled an historical footnote about a small US Navy force in World War II that once captured Pratas Island (東沙島, now administered by Taipei) and claimed it as "American territory." For readers unfamiliar with Taiwan's idyllic south sea atolls, Pratas Island is a 1.6km-long jade-green isle with a working lagoon harbor set, jewel-like, into Pratas' 24km-wide circular atoll, equidistant from Taiwan, Hong Kong, and Luzon whence it commands the deep blue waters of the South China Sea's northern approaches. A Taiwanese coast guard base on the island is quite modern and can be busy.
So, although Pratas is little known, it is neither an isolated nor inconsequential territory. Indeed, China declares that Pratas is its sovereign territory, a laughable assertion of even more questionable validity than any hypothetical American claim (given the phrasing of the peace treaties that ended the Pacific War and the US' role as both primary victorious power and the sole occupying power of defeated Japan). But set that aside.
About 13 years ago, in 2005, Chinese "survey ships" began to plow Pratas' waters in utter disregard of Taiwan's coast guard cutters assigned to protect the wide atoll's fisheries and marine environment. By contrast, the Chinese ships were bent on destroying Pratas' marine habitat. They instead supported oil exploration operations and gave cover to Chinese fishing boats which trawled the coral reefs rich in exotic seafood delicacies to fill the infinite stewpots of China. In February 2005, Taiwan's coast guardsmen expelled several Chinese fishermen on Pratas' reefs who attempted to erect a permanent facility. In retaliation, up to 200 Chinese fishing boats blockaded Pratas' lagoon harbor, demanding rights to land, build camps, and populate Pratas during bad weather.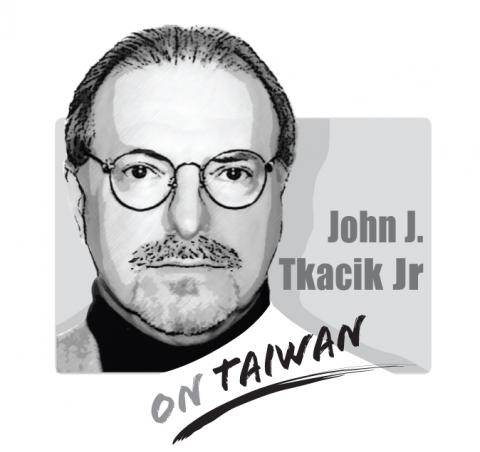 Taipei's quasi-diplomatic Straits Exchange Foundation (SEF) sent many texts and faxes to its Beijing counterpart, all unanswered. The confrontation with People's Republic of China (PRC) fishing boats was followed up in April-May by a series of incursions by two Chinese "research" ships each escorted by an invasion fleet of PRC fishing vessels. On May 27, 2005, a Taiwan coast guard cutter blocked and attempted to board one, but it withdrew rather than allow the Taiwanese to seize it. Still, the incident caused alarm among then-president Chen Shui-bian's (陳水扁) security advisors.
Of course, the American Institute in Taiwan (AIT) was well aware of the incidents, but remained aloof until June 4, when Chen's national security advisors asked the US for assistance. Just a few days before, a Chinese navy Ming (明)-class submarine suffered a mysterious breakdown near Pratas; again nerves were on edge in Taipei. The top American in Taipei at the time, Mr. Douglas Paal, did not want to get involved. He viewed Taipei's cry for help merely as part of an inter-agency power-play among the coast guard, the Presidential Office, the Mainland Affairs Council and the defense ministry. He advised Washington to pay little attention. But Taipei made a compelling case: China was employing aggressive, but non-violent, measures to gradually push Taiwan personnel off the island to allow the Chinese military to use the island as a base.
National security aide Lin Cheng-wei (林成蔚) explained that Pratas was "well-positioned to control shipping lanes into both the Taiwan Strait and, more importantly, the Luzon Strait, through which much of Japan's trade with Southeast Asia and the Middle East flows."
Another aide speculated that Beijing aimed to occupy the Taiwan coast guard's Pratas facility to provide its South Sea Fleet, particularly its submarines, vast new undersea spaces to operate undetected.
In 2005, Taiwan had sought US support in dealing with Chinese fishery and environmental despoliation in Pratas, but the US State Department pointedly demurred.
Without moral support from the United States, Taiwan's coast guard chief ruefully noted "that PRC exploration in the disputed [South] China Sea has effectively marginalized Taiwan's ability to enforce its EEZ claims there."
Tellingly, the AIT blamed the Taiwan coast guard's confrontations with "PRC survey ships" near Pratas on inadequate inter-agency coordination and personality clashes within the Taipei government rather than on Chinese new aggressive claims of authority over Taiwan's EEZ.
In hindsight, Washington's non-action seems a case of "avoidance-avoidance anxiety"; rather than address China's behavior, the State Department instead sought to minimize Taiwan's concerns. It is quite likely that Washington's scant regard for Taiwan's agitation over the 2005 Pratas encounters and its dismissal of them as Taiwan's problem alone led Beijing to calculate that the US would get into the habit of avoiding future, more aggressive, Chinese behavior in the South China Sea.
In March 2009, the American Embassy in Beijing was summoned by the Chinese foreign ministry to receive a stiff protest that an American scientific research vessel, the R/V Langseth, had violated China's sovereignty by operating in Pratas' "exclusive economic zone." American diplomats duly noted China's accusation, and soon the Langseth departed Pratas, never to return.
In their colloquy with the foreign ministry, American diplomats explained that Beijing had approved similar routing for the Langseth in 1999, 2000, and 2001, but because China did not approve the 2009 path, the Langseth route "was modified to avoid what we understand to be China's EEZ."
A Chinese foreign ministry official pounced immediately on this: "the Waijiaobu [Ministry of Foreign Affairs, 外交部] sincerely hoped that the area the United States 'believed to be within China's EEZ' was consistent with the area China regarded as its EEZ."
The Chinese official then warned: "China must reserve the right to act in our EEZ according to Chinese law," and cautioned the United States to "handle this issue carefully," not send the research vessels into "highly sensitive seas, so as to avoid clashes and disputes," and "not send armed ships into our waters." There, the conversation ended.
Rattled by the experience, the State Department informed its embassy in Beijing that the American National Science Foundation "plans to direct the Langseth to avoid conducting research in the areas claimed by Beijing in its recent demarche (EEZ generated by Pratas Islands)" [sic].
Nonetheless, Washington seemed to hope the whole affair would just go away. The US State Department failed to advocate for US vessels' freedom of navigation in Taiwan-administered waters without PRC permission.
Indeed, Chinese officials had made several complaints about the Langseth in the run-up to the April 1, 2009, meeting in London between the new American president Barack Obama and Chinese General Secretary Hu Jintao (胡錦濤). This clearly was a Chinese tactic to strong-arm a neophyte US president, who had no idea what "Pratas Island" was, into ordering the US government to restrict its survey activity in the Western Pacific.
But it sent exactly the wrong signal to China: The United States would acquiesce in China's maritime claims based on China's own claims to subsurface landforms. I can only assume that China's subsequent boldness in swooping down onto every reef it could find in the South China Sea and building huge naval bases thereon was encouraged by this American timidity a decade ago.
I am not sure that the United States has ever cared about Taiwan's EEZ before. When the Langseth wandered Taiwan's waters a decade ago, it was chased away from Pratas by Chinese ships, and the US Embassy in Beijing endured a stern talking-to from the foreign ministry which demanded that America respect China's exclusive economic zone around Taiwan. Over the past three years, China's aggressive island-building in the high seas, and its insistent claims to sovereignty over international sea-lanes in the South and East China Seas, the Taiwan Strait, and indeed to the economic zones surrounding Taiwan itself, are all security threats not only to the United States, but to all the nations of the Indo-Pacific region. And they are threats that no longer can be ignored or wished away.
In 2018, the R/V Thompson's port-call gives some observers (like me) hope that America is changing its view of who has sovereignty over what in the South China Sea, and, more significantly, that Washington now understands the incalculable value of Taiwan's strategic geography, and that of the islands and exclusive economic zones that Taiwan administers
Viewed in this perspective, Minister of National Defense Yen De-fa's (嚴德發) provocative hint last Monday that Taiwan would consider welcoming US warships to call at Itu Aba Island (太平島) "for humanitarian purposes and consistent with the interests of Taiwan's ... people" may not be as mischievous as it first appeared!
John J. Tkacik, Jr. is a retired US foreign service officer who has served in Taipei and Beijing and is now director of the Future Asia Project at the International Assessment and Strategy Center.
Comments will be moderated. Keep comments relevant to the article. Remarks containing abusive and obscene language, personal attacks of any kind or promotion will be removed and the user banned. Final decision will be at the discretion of the Taipei Times.