How the US plans to welcome 10,000 Syrian refugees
People seeking asylum in the US undergo extensive security and health checks that take between 18 and 24 months from the time the UNHCR recommends a refugee for resettlement and that person's flight to the US
US President Barack Obama has promised that the US will admit 10,000 Syrian refugees for resettlement over the next 12 months, after criticism that the US is not doing enough.
However, this would represent a huge increase in the number of families arriving on US soil. In the more than four years since fighting erupted, barely 1,800 Syrians have been welcomed there.
Meanwhile, obstacles have stretched the approval process for those already registered and vetted by the UN's refugee agency to almost two years per case.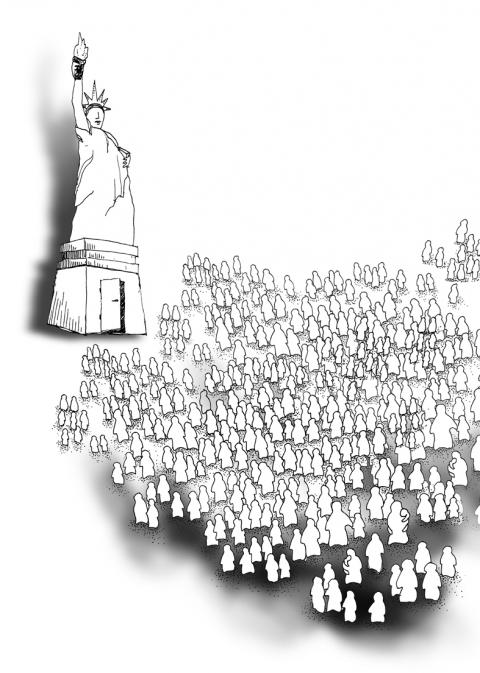 Illustration: Tania Chou
So how will Obama's promise be delivered and what hurdles are keeping the refugees from arriving sooner?
How does the journey begin?
More than 4 million people have fled the fighting in Syria since 2011 and most are living in camps in Jordan, Turkey, Lebanon, Egypt and Iraq, where the UN High Commissioner for Refugees (UNHCR) registers them.
About 18,000 of these people — chosen because they are the most vulnerable whether through family circumstances, injury or disability — have been referred to the US for resettlement.
Once the US Department of State receives their case files it employs non-governmental organization (NGO) contractors to pre-screen them for eligibility for refugee status, then they are subjected to health and security checks.
Officers from the US Department of Homeland Security (DHS) fly from Washington to the camps and conduct interviews with candidates, seeking to weed out what a US official called "liars, criminals and terrorists."
Each case file is reviewed by the National Counterterrorism Center, the FBI's terrorist screening center, the DHS, the US Department of Defense and "other agencies" — US intelligence.
"Refugees are subject to the highest level of security checks of any category of traveler to the United States," another State Department official told reporters.
Meanwhile, they receive medical tests and those with communicable diseases, most commonly tuberculosis, are given treatment before they can travel to the US, often delaying the process.
Currently, the procedure takes between 18 and 24 months from the time the UNHCR recommends a refugee for resettlement and that person's flight to the US.
It is not clear how much the screening process for Syrians costs, but the US government spent US$1.1 billion last year resettling 70,000 people from around the world, or almost US$16,000 per head.
Can the process be sped up?
Critics say that if the US takes two years to screen each of the 10,000 refugees Obama has promised to welcome, none will have arrived before he leaves office.
However, according to a US official, thousands of cases are already in the pipeline and will hopefully now be processed faster.
"We have been resettling Syrian refugees in small numbers since 2011 and it was only in June of 2014 that the UNHCR started submitting large numbers of referrals, between 500 and 1,000 per month," she said. "Those referrals have come pretty steadily since last June to the point where we now have a critical mass. We at the State Department have already prepared the cases for more than 10,000 people."
Where will the lucky 10,000 go?
Once refugees are approved, the State Department pays the International Organization for Migration (IOM) to fly them to different states in the US.
Refugees sign a promissory note to repay their airfare once they are established, and they are met at the airport by members of one of nine non-government resettlement agencies contracted by the State Department.
There are about 180 resettlement centers dispersed across the US, where NGO workers help the new arrivals settle in and find work and accommodation in their first 30 to 90 days.
Those who have relatives in the US will sometimes be assigned to live near them, and most go to cities like Atlanta, San Diego or Dallas where rents are more affordable than in New York or San Francisco.
Others end up in smaller cities like Boise, Idaho or Erie, Pennsylvania, but regardless of where they are taken they are free to move once they find their footing.
After 90 days new arrivals are no longer eligible for the State Department-funded support through the resettlement agencies, but some join support programs run by the US Department of Health and Human Services.
Comments will be moderated. Keep comments relevant to the article. Remarks containing abusive and obscene language, personal attacks of any kind or promotion will be removed and the user banned. Final decision will be at the discretion of the Taipei Times.