Thai woman finds new work for water buffalos
Ranchuan Kengtrakulsin has fought an uphill battle to build a dairy business based on buffalo milk in a country where 'stupid as a buffalo' is a common putdown
Pity the Thai swamp or water buffalo. Not only is the animal unfairly stereotyped, "stupid as a buffalo" is a much-used Thai put-down, but it has lost its erstwhile pivotal role in Thailand's rural economy.
Thailand's buffalo population has shrunk from more than 8 million five decades ago to less than 1.3 million today.
The swamp buffalo, famed for its strength and gentleness, was formerly the ubiquitous ploughing machine for Thailand's rice fields, helping the kingdom to become the world's leading rice exporter, a spot it has held since the mid-1960s when Thai rice shipments surpassed those of Myanmar.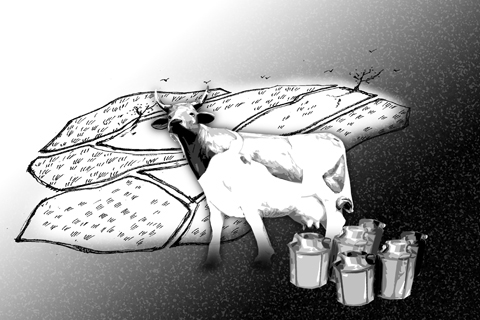 ILLUSTRATION: TANIA CHOU
But over the past three decades, Thai farmers have gradually switched to "iron buffaloes," or small tractors, which can do the field work faster and don't need to be fed or require mudholes to cool off in.
As of 2007, only about 7,000 buffaloes were still employed in the paddy fields, mostly on small farms that could not afford to rent a tractor, said Sawang Angkuro, chief of the Livestock Department's beef and buffalo promotion division.
Most buffaloes are now raised for meat or leather, he said. Meanwhile, Thailand's dairy cow population has more than doubled from 4 million a few decades ago to 9 million today, as demand for milk products increased.
One Thai businesswoman is trying to buck this trend of declining buffaloes.
Since 2007, Ranchuan Kengtrakulsin has provided a new niche for Thailand's indigenous bovines by demonstrating they can provide dairy products as good, if not better, than cows.
Ranchuan started looking into the buffalo business 10 years ago, when she realized that her shoe factory in Samut Prakan Province near Bangkok could not compete with Chinese products.
She was initially interested in making "doggy chews" from buffalo rawhide but after being introduced to Maniwan Kamophpattana, one of Thailand's leading buffalo experts, she was persuaded to set up the country's first buffalo dairy farm instead.
Maniwan, a retired professor from Chulalongkorn University's veterinary department, accompanied Ranchuan to Italy, China, India, Brazil and Bulgaria to study buffalo dairy operations.
In 2003, Ranchuan decided to set up the country's first buffalo dairy farm, using her sister's land in Chachoengsao, 60km east of Bangkok, and starting out with 46 Murrah buffaloes imported from India, and 24 Thai swamp buffaloes, as her original herd.
Milk from Murrah buffaloes, indigenous to India and Pakistan, was used to make the original Italian mozzarella cheese more than 1,000 years ago. Mozzarella lore holds the buffaloes were brought from India by Catholic monks because dairy cows could not survive in the malaria-infested southern regions of Italy.
Although the same species, the Murrah is distinct from the Southeast Asian swamp buffalo.
The Murrah has curlier horns and darker skin and prefers cooling off in running water instead of stagnant mud ponds, unlike its Southeast Asian cousin.
A more important difference is that the Murrah can produce up to 10kg of milk a day, while the swamp buffalo has an average milk output of 2kg to 3kg.
Ranchuan's Murrah Dairy Co has been cross-breeding Murrah with swamp buffaloes since 2003 in an attempt to improve the milk production of a local herd.
"We are on our third generation now," Ranchuan said. "Now our average is about 4 to 5 kilograms of milk a day per buffalo."
The farm can produce about 200kg to 250kg of buffalo milk a day, she said.
"She has found it is possible to use swamp buffaloes for milking," Maniwan said. "This is the future of her farm, perhaps a mix between Murrah and swamp buffaloes."
Since 2007, the farm has been selling buffalo milk, mozzarella and yogurt on the Thai market, distributing in Bangkok and other cities via Tops and Foodland supermarkets.
While the Murrah brand mozzarella cheese has met with success (it is the only buffalo milk-based mozzarella made locally), Ranchuan is still having trouble getting Thais to drink buffalo milk.
"When Thais hear it is buffalo milk they don't want to drink it because they are afraid of becoming stupid like a buffalo," Ranchuan said.
While little is known about the IQ levels of buffaloes compared with cows, buffalo milk is proven to have higher levels of protein, calcium and fat than cow milk.
But Ranchuan is having difficulty fighting the "stupid as a buffalo" stereotype.
"This is an obstacle in marketing buffalo milk," she said. "Buffaloes are not stupid. People are stupid."
Comments will be moderated. Keep comments relevant to the article. Remarks containing abusive and obscene language, personal attacks of any kind or promotion will be removed and the user banned. Final decision will be at the discretion of the Taipei Times.